What are the Pet Food Concerns of Dog & Cat Owners? [Survey]
The pet owner has given way to the "pet parent," as more and more Americans consider their pets bona fide members of the family.
In fact, Pew Research tells us 94% of Americans report having a "close relationship" with their dogs and 84% with their cats. That's actually better than dads—yep, dads—with whom only 74% enjoy a close bond.
Which leads to a question: How does this closeness—this concern, if you will—for Fido and Mittens factor into our pet food purchases?
Field Agent recently surveyed 300 dog and/or cat owners to gain some insight into this question. To qualify for participation, Agents were required to submit a photo of their in-home pet food supplies.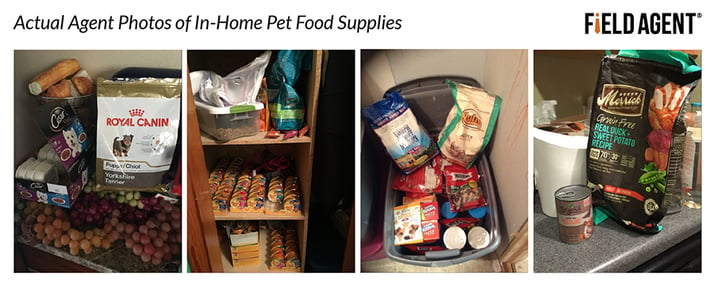 Specifically, we set out to understand 2 questions about pet food packages and labels:
1. Which characteristics/label claims do pet owners specifically look for when purchasing dog and/or cat food?
Agents were presented 24 common pet food characteristics and/or package claims—from "all natural" to "frozen." We then asked them to identify all those they deliberately seek out when shopping for pet food.
See also: Pet Supply Audit: Which Retailers are Winning the Dog & Cat Fight?
"Real meat" led the pack, something a small majority in our survey deemed important. Below are the top 10 responses: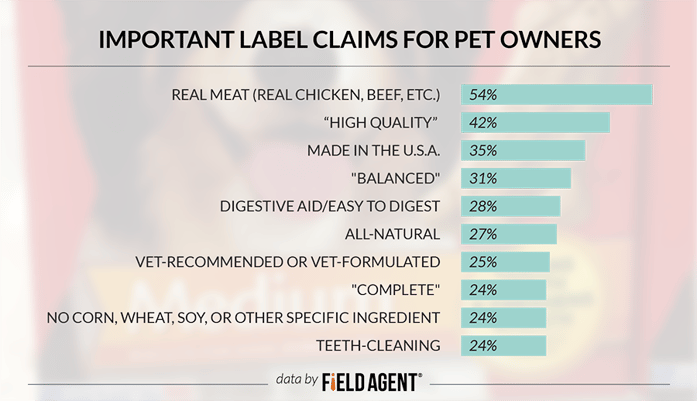 2. How important is "back label" information (e.g., ingredients, nutrition facts) to pet owners when shopping for dog/cat food?
Do pet owners scrutinize labels—mirroring many parents—when shopping for and purchasing dog/cat food?
We asked Agents how important nutritional facts, ingredients, and other back label information is to their pet food purchases.
A quarter of respondents said such information is "extremely" important, while an additional 31% said it's "very" important. That puts the majority of pet owners surveyed, 57%, at the high end of the scale.
And perhaps equally noteworthy, just 15% said back label information is only "slightly" important or "not at all" important.
See also: Pet Supply Audit: Which Retailers are Winning the Dog & Cat Fight?
Taken together, it seems many pet owners really do care about the nutritional value of the food they give their animals—something they evidence, our survey suggests, in their shopping and purchase behavior.
Companies take note: You're increasingly selling to parents when you're selling to pet owners.
Be the Alpha of Your Industry
Mobile Research meets consumers where they are to capture the insights you need, when you need them.Mobile Display Audits crowdsource hundreds of thousands of smartphones across the country to collect fast, affordable, in-store information on product displays. Together, they offer instant visibility when and where it matters most—to give brands an all-important competitive edge.
Learn more in the infographic, "Bridge the Knowledge Gap."