Holiday Showdown: Price Checking Gifts at Walmart, Target & Best Buy
They're making a list, and they're checking it twice. Festive folk worldwide are deep into their holiday shopping.
But which retailers are carrying the lowest prices on the season's hottest gifts?

That's where Field Agent comes in. We regularly help companies collect pricing information in stores across the country.
Let's see what stores are charging for popular holiday gifts this year.
Price Checking 7 Must-Have Holiday Gifts
Field Agent sent shoppers to 15 Target stores, 15 Best Buy stores, and 19 Walmart Supercenters. There, agents price-checked seven of the most-requested gifts from our 2019 holiday report and Santa Survey.
From the kitchen to the toy chest, these gifts are real winners...
Fitbit Versa 2 smartwatch
Apple AirPods in-ear headphones
Nintendo Switch game console
KitchenAid 4.5-quart stand mixer
L.O.L. Surprise! Lils Winter Disco Series dolls
LEGO Jurassic World "Dilophosaurus On The Loose" set
Barbie Glam Convertible toy
Agents recorded prices and inventory for these gifts, capturing photos along the way.
The dollar amounts below reflect the most frequently reported prices for each retail chain (i.e., mode price). In other words, of the 15 Target and Best Buy stores audited, and the 19 Walmart stores, we display the price our agents encountered most frequently. In parentheses, you'll also see the number of stores with the mode price.
Our agents also collected stock-level information. For each product, agents selected one of the following three options: sufficient inventory, low inventory (i.e., only 1-2 units available), or out of stock.
We present the "low inventory %" and "out of stock %" for each gift below. Naturally, some products (e.g., KitchenAid mixers) are larger than others, and retailers may only be able to keep a few units on-shelf.
Let's see the results.
Holiday Prices & Stock Levels
Fitbit Versa 2
Wearables are a major get this year. As reported in our 2019 holiday report, the Fitbit Versa 2 is the top gift requested by women.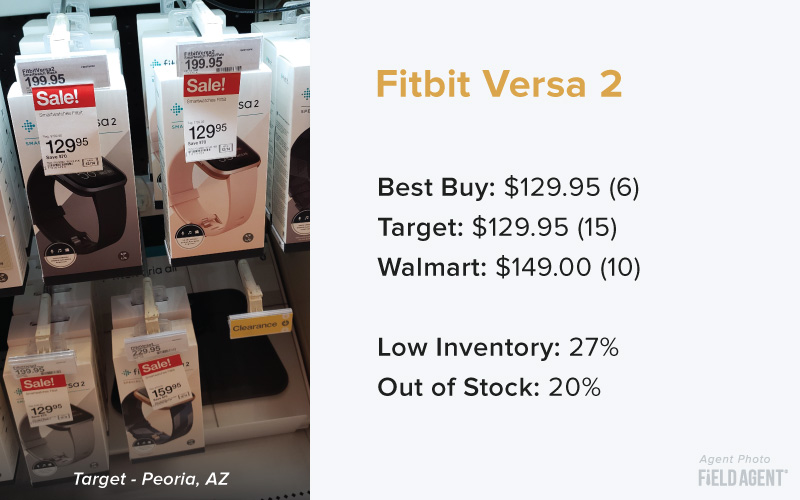 Apple AirPods
Apple's wireless earbuds are a smash hit this holiday season.
Shoppers are snapping them up. Our agents reported a 67% out-of-stock rate across all stores that normally carry the product.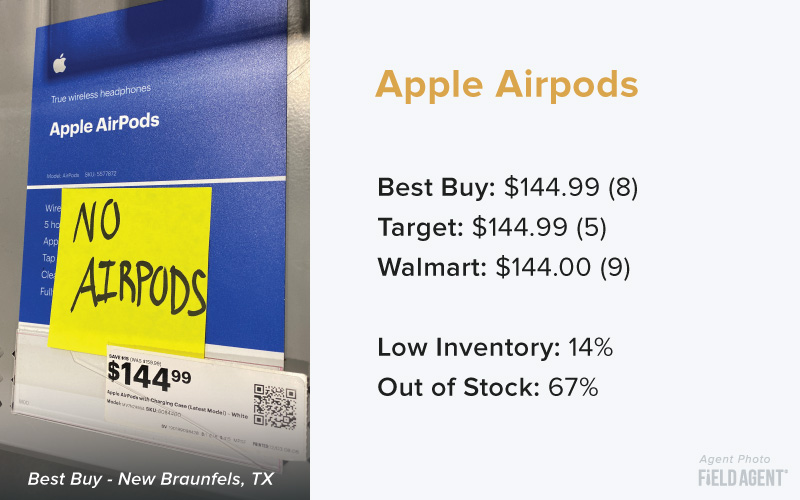 KitchenAid Classic/Classic Plus 4.5-Quart Stand Mixer
A consistent favorite year after year, KitchenAid's stand mixer will surely be found under many trees this Christmas.
Walmart predominantly carries the KitchenAid Classic mixer, while agents found the Classic Plus at Target and Best Buy. Therefore, the information below reflects the Classic model at Walmart and the Classic Plus at the other two.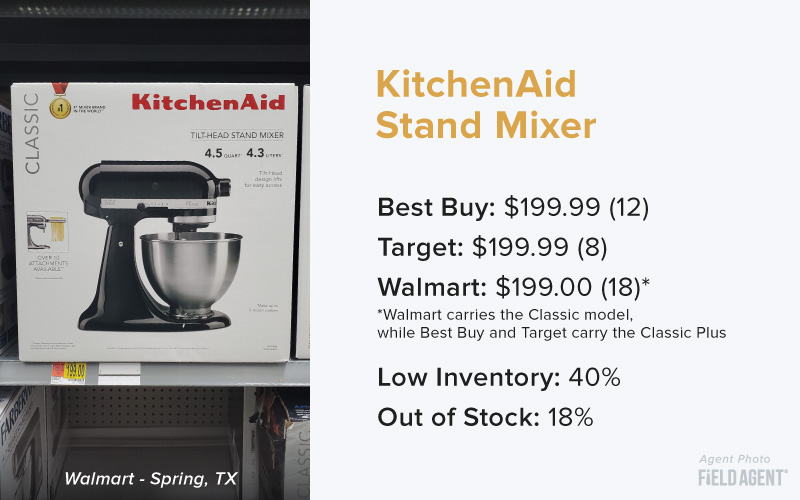 Nintendo Switch
Nintendo's latest console is not just for the kiddos. The Switch was also the top gift requested by men in our holiday report.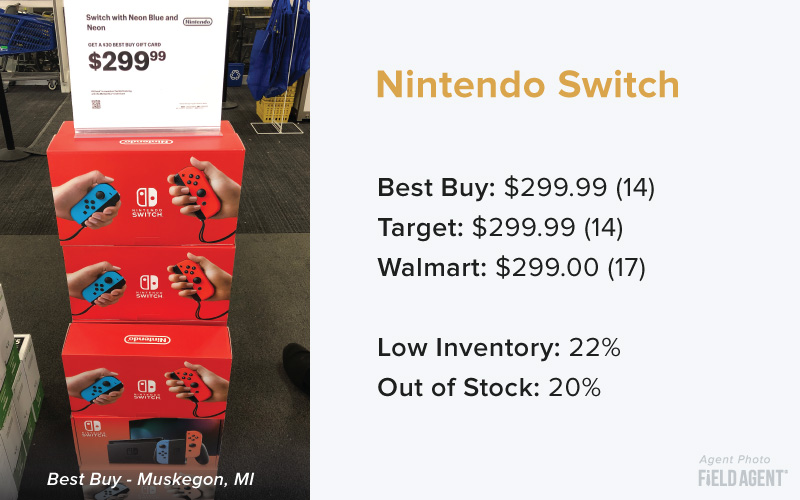 LEGO Jurassic World Dilophosaurus On The Loose
We recently asked over 3,500 kids around the world what they want Santa to bring them for Christmas.
LEGO was the #1 most requested gift overall (and the most popular brand in half of the countries surveyed). The mighty brick is sure to be a winner this year.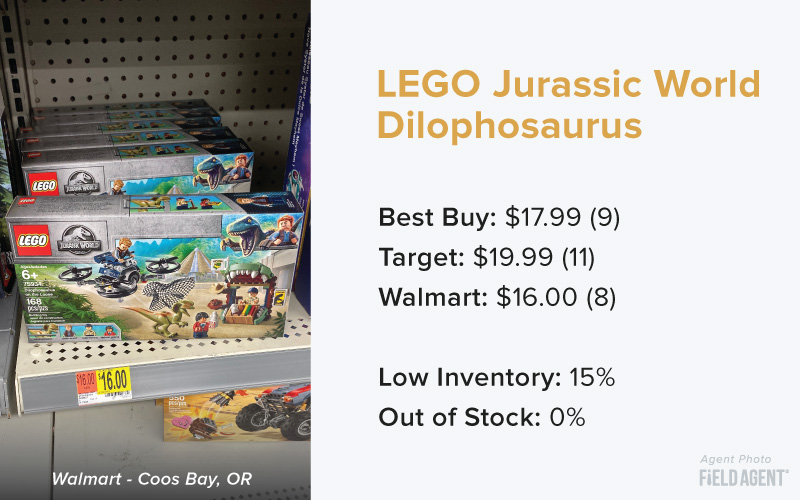 Barbie Glam Convertible
After a decades-long reign, Barbie is still the Queen of Toyland, placing only after LEGO in the list of most-requested gifts worldwide.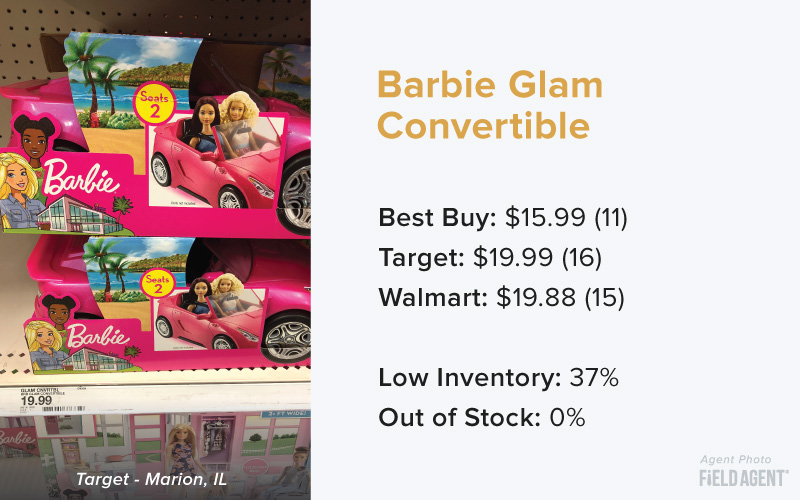 L.O.L Surprise! Lils Winter Disco Series
According to our Santa Survey, the L.O.L. Surprise! dolls are 2019's most requested toy in the U.S.A., and the third-most requested worldwide.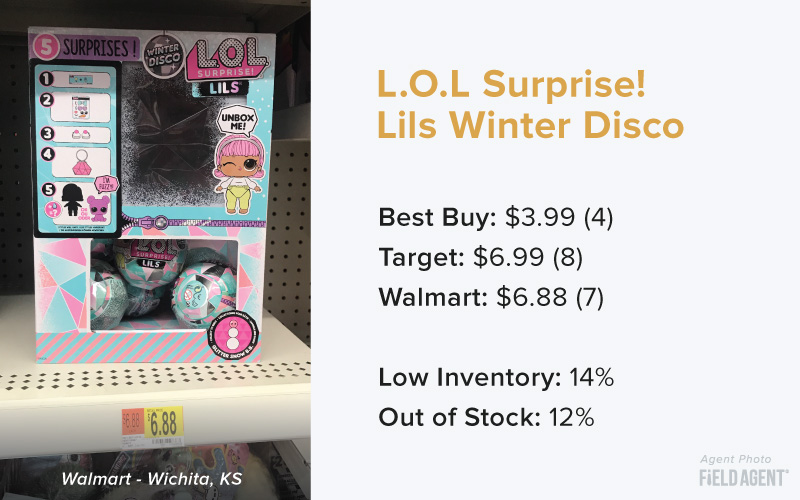 Perhaps the most interesting takeaway from this holiday price check? How Best Buy came in with the lowest price on two-of-three popular toys.
Do you love geeking out over holiday retail? Then you'll love Field Agent's 2019 holiday preview, An Omnichannel Christmas, encompassing almost 50 pages of data and insights.