Inside Look: Regional Grocers Enter the Grocery Pickup Game [Video]
Except for the video below, this story originally ran in Field Agent's Groceries 2.0, Vol. III report, which you can download here for free.
Grocery pickup is of course a hot topic in the business media these days, with most of the headlines going to retail juggernauts like Walmart and Kroger.
This focus on retailers at the top of the feeding chain, while justified, may obscure a growing reality: Many regional and local grocers are aggressively developing their own pickup operations. Most of these small chains are partnering with third-party services like Instacart or Rosie to provide grocery pickup.
See "Shoppers Try the New Aldi-Instacart Pickup" for a glimpse at how Instacart is helping grocery retailers enter the world of pickup
But what do these regional pickup operations actually look like?
And what do real shoppers think of them?
As you're about to see, these are questions worth asking.
Real Shoppers Try Regional Grocery Pickup
Field Agent asked real shoppers to try the pickup services of four regional/local grocery stores: Buehler's, Foodland Farms, Rosauers, and Super 1. Our agents documented the entire process in video and photo, from purchasing groceries online to picking up the order. They also answered several questions about the experience.
The video below offers an exclusive look at each pickup operation, along with feedback from shoppers who used the service. Then, scroll further down for additional insights from this mystery shop of regional pickup operations.
Shoppers Rate Regional Pickup Operations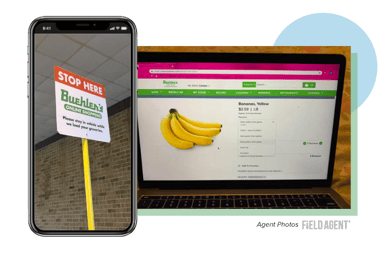 Buehler's Grocery Pickup
Buehler's Fresh Foods presently offers online shopping options, both pickup and fresh delivery, through four Ohio-based stores. The grocer's "Click, Load & Go" service is powered by a third-party grocery-pickup service, Rosie.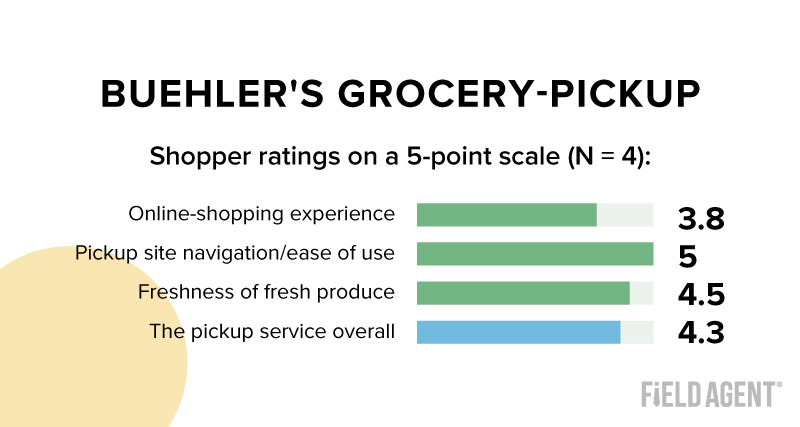 Shopper Quote: "I had someone at my car instantly when I pulled up to greet me and confirm what I was there for."
Foodland Farms Grocery Pickup
The Foodland Farms store at Hawaii's Ala Moana Center currently offers both pickup and fresh-delivery services. It's all part of the grocer's "Foodland to You" initiative, which does not appear to be affiliated with Rosie or Instacart.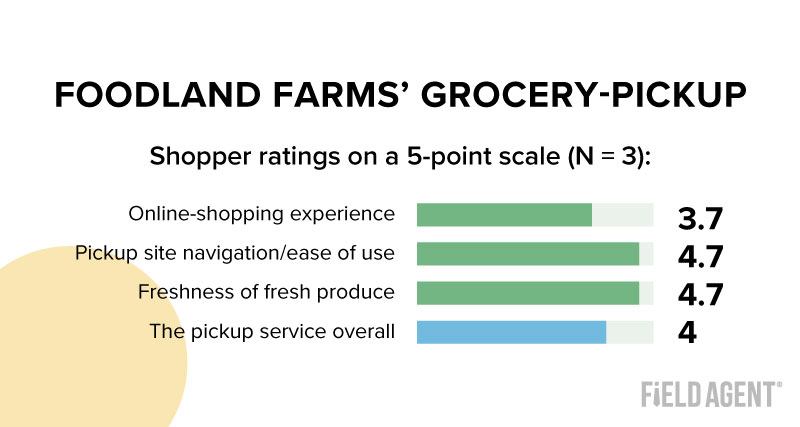 Shopper Quote: "The pickup went flawlessly, with easy to find parking stalls and a friendly associate."
Rosauers' Grocery Pickup
"Rosauers Online Express" is a pickup service available through three Spokane, Washington-based stores. Rosie also powers Rosauers' online shopping service.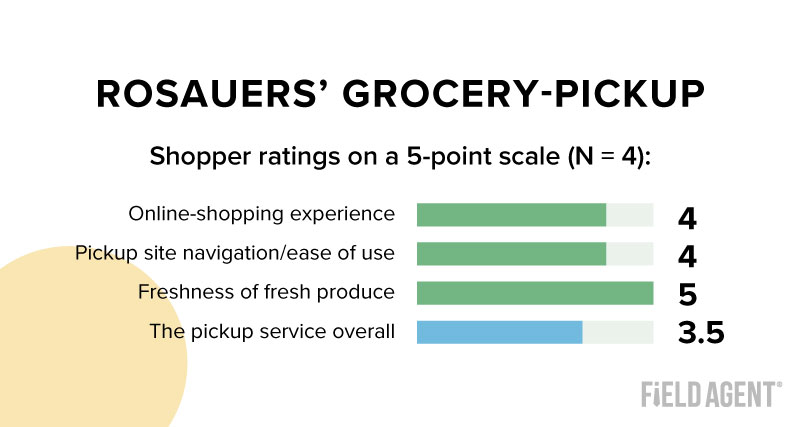 Shopper Quote: "I would [use Rosauers' pickup] in the future because I am confident that it will get more fluid."
Super 1's Grocery Pickup
Currently available through five stores in Montana and Idaho, "Super 1 Smart Click," like Buehler's and Rosauers, is a partnership with the Rosie service.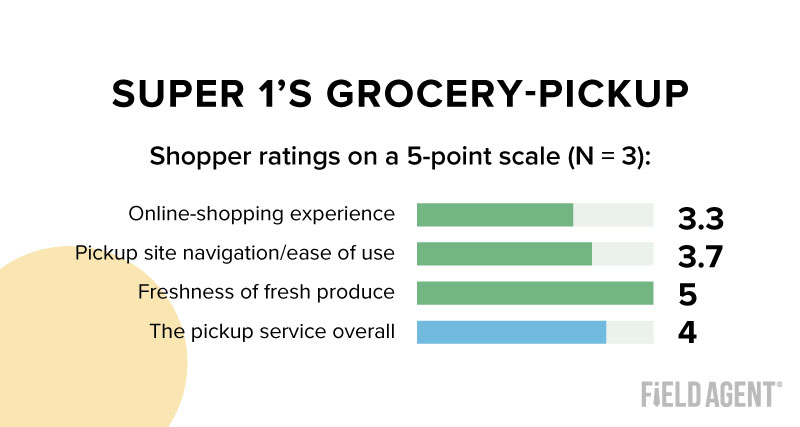 Shopper Quote: "Super 1's service was much better, quicker and friendlier [than other pickup services]."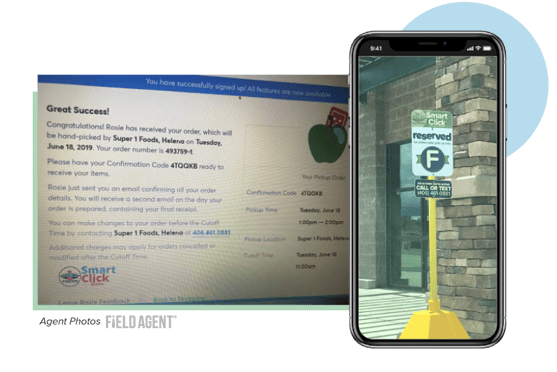 Insights on Regional Grocery Pickup
Were shoppers satisfied with their local grocers' pickup service? With few exceptions, the answer was yes, as the following insights show:
Combined, participants (N = 14) were pleased with the selection of items available online through regional grocers. Five rated the selection as "excellent," six as "very good," two as "good," and one as "fair."
Every order except one was ready to pick up either early or on-time. One was described as "just a few minutes late."
Eleven of the 14 agents said they are likely to use the service again.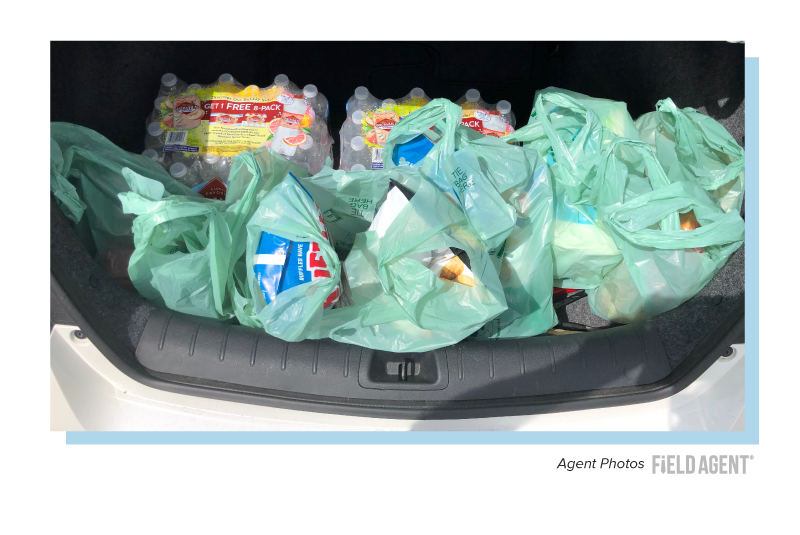 Altogether, while participants did encounter occasional frustrations, they were overall complimentary about their pickup experiences with these regional/local grocers.
For instance, when we asked agents to give us three words that best described their experience, the most common choices were convenient, easy, and fast/quick. Only four words out of 41 offered were negative, indicating an overall positive experience.
All in all, glad tidings for Buehler's, Foodland Farms, Rosauers, and Super 1.
And proof that national retailers shouldn't ignore these regional players.
Grocery pickup is just one of the ways that the grocery industry is using technology to reinvent itself. For more insights into the fascinating world of digital grocery, download Field Agent's free report, Groceries 2.0, Vol. III. See below.
Free Report Looks at Digital Grocery-Retail
Based on surveys and studies with approximately 4,500 everyday shoppers, Groceries 2.0, Vol. III is a fun and informative look at "the rise of online grocery-shopping." Spanning almost 30 pages, the free report explores questions like:
How many U.S. households purchase groceries online for store pickup, package delivery, and "fresh" delivery?
Which retailers are leading the way in the digital-grocery era?
What are shoppers' top concerns about buying groceries online?
The free report also includes several "digital-grocery spotlights," with up-close looks at the Aldi-Instacart pickup partnership and more.
Download Groceries 2.0, Vol. III today…and get up to speed on all things digital-grocery.