REPORT: Groceries 2.0, Vol. 3, The Rise of Online Grocery Shopping
Online grocery-shopping is hardly a novelty any longer. Digital-grocery services like BOPIS and "fresh" delivery are becoming more mainstream by the day.
Earlier this month, in fact, a Field Agent survey of 3,342 grocery shoppers determined just over half, 52%, at least occasionally purchase groceries online. No wonder so many grocery-retailers are pouring money, time, and talent into online grocery-shopping services.
But with all this investment and innovation, retail professionals may struggle to keep track of the digital-grocery landscape. It's difficult, after all, to get one's bearings when the terrain constantly shifts.
So, to help companies and industry onlookers make sense of online grocery-shopping and digital grocery-retail as it currently exists, Field Agent presents the third volume of its popular report, Groceries 2.0.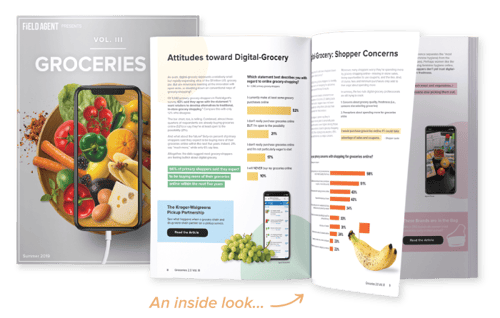 SPECIAL REPORT: Groceries 2.0, Volume III
Based on surveys and studies with approximately 4,500 everyday shoppers, Groceries 2.0, Vol. III is a fun and informative look at "the rise of online grocery-shopping." Spanning almost 30 pages, the free report explores questions like:
How many U.S. households purchase groceries online for store pickup, package delivery, and "fresh" delivery?
Which retailers are leading the way in the digital-grocery era?
What are shoppers' top concerns about buying groceries online?
Here's a preview of what's inside...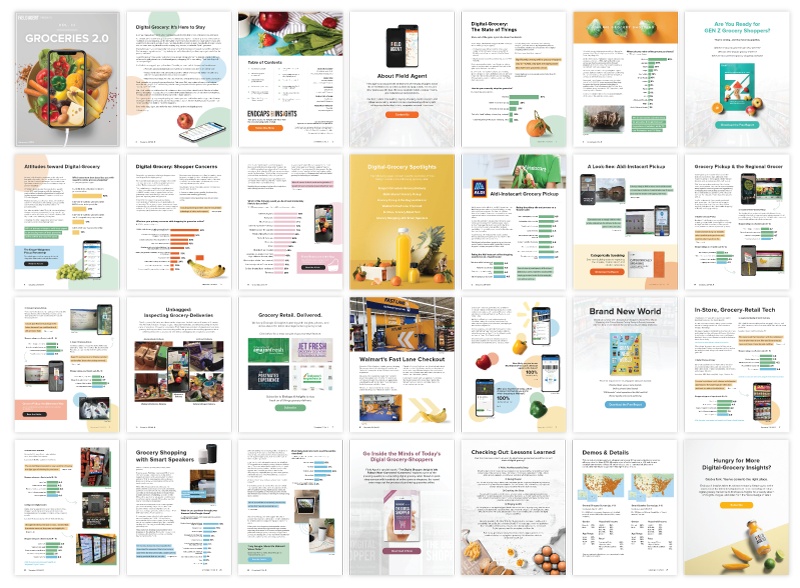 Groceries 2.0, Vol. III also contains several "digital-grocery spotlights," each offering a glimpse at real-world happenings in digital-grocery. Spotlights include:
The curbside-pickup partnership between Aldi and Instacart
Grocery-pickup services among regional/local grocers
Walmart's new Fast Lane checkout system
Grocery-shopping with "smart speakers"
Download Groceries 2.0, Vol. III today…and get up to speed on all things digital-grocery.
After all, it's quickly becoming the new normal.