CPG Insiders Share 7 Secrets to Buyer Meeting Success
We all know it. Retail can be a stressful industry.
And there's nothing more stressful than an impending buyer meeting.
After months of preparation, you're putting your product—and yourself—on the line. Just one meeting could determine the success of your brand both in stores and online.
Deep breath. We've got your back.
7 Tips for Success With Your Retail Buyer
We recently interviewed seven CPG sales professionals, including VPs, directors, and senior account executives, to understand their best practices for a successful buyer meeting. We specifically posed the question, "What advice would you give someone preparing for a meeting with a retail buyer?"
Below, we present a selection of wisdom from these seasoned CPG veterans. The full discussion, including the full list of tips, are available The Buyer Meeting Success Kit.
Tip 1: Know Thy Industry
Trust is at the heart of the relationship between buyer and supplier. And nothing builds trust better than proving you know what you're talking about.
After all, knowing your industry, category, and customer isn't just meeting prep. It's absolutely necessary to the success of your brand. When you walk into the room for your buyer meeting, be ready to show you're an expert.
Doing your homework on your industry and category will pay major dividends in your buyer meeting. If you can prove your expertise to your buyer, they will benefit from your conversation, and feel confident in your ability to deliver.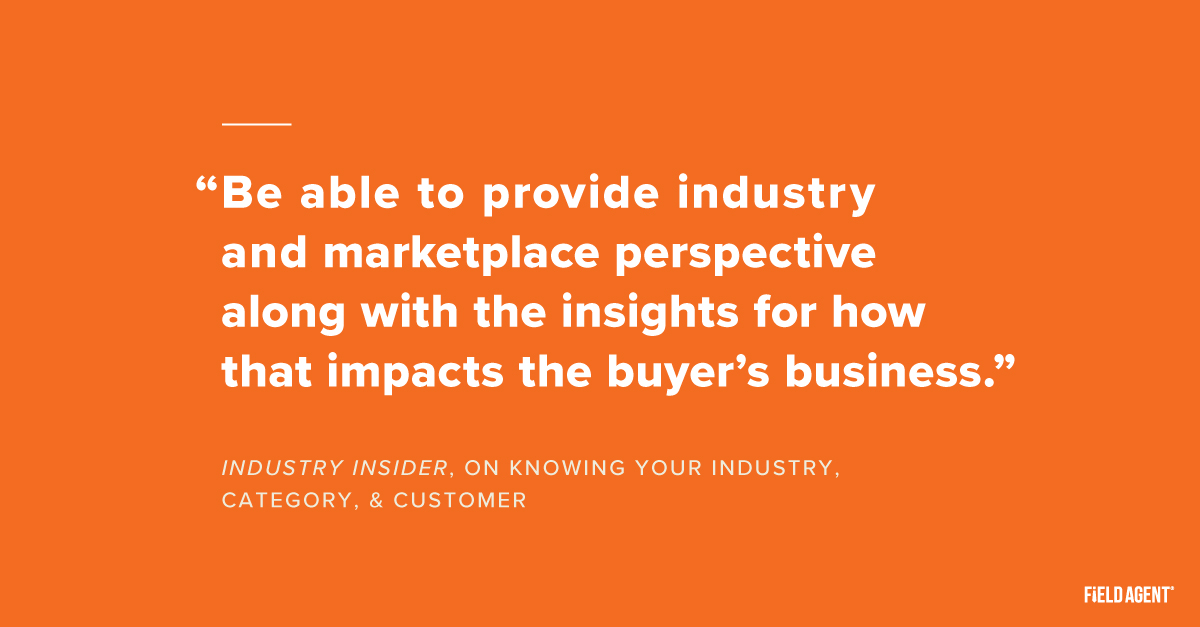 Tip 2: Be Data-Driven
While you're doing your homework on your category and shoppers, anticipate the following question from your buyer: "How do you know?" Solid data make your assertions and proposals airtight.
"Find data-based insights that help you tell your story," said one of our industry insiders. "You are always trying to answer the question 'why' they should buy," and verifiable data can help you make a convincing case.
The success kit lists four types of data essential to a successful buyer meeting.
Tip 3: Expect the Unexpected
It's just part of life: no matter how much you prepare, surprises are bound to arise.
One of our experts recommends running through your entire meeting in your mind ahead of time, looking for blind spots. "What are the three or four paths this conversation can go [down], and how do I prepare to handle objections or change directions?"
By anticipating buyer responses and pushback, you can improve your pitch and increase your chances of success.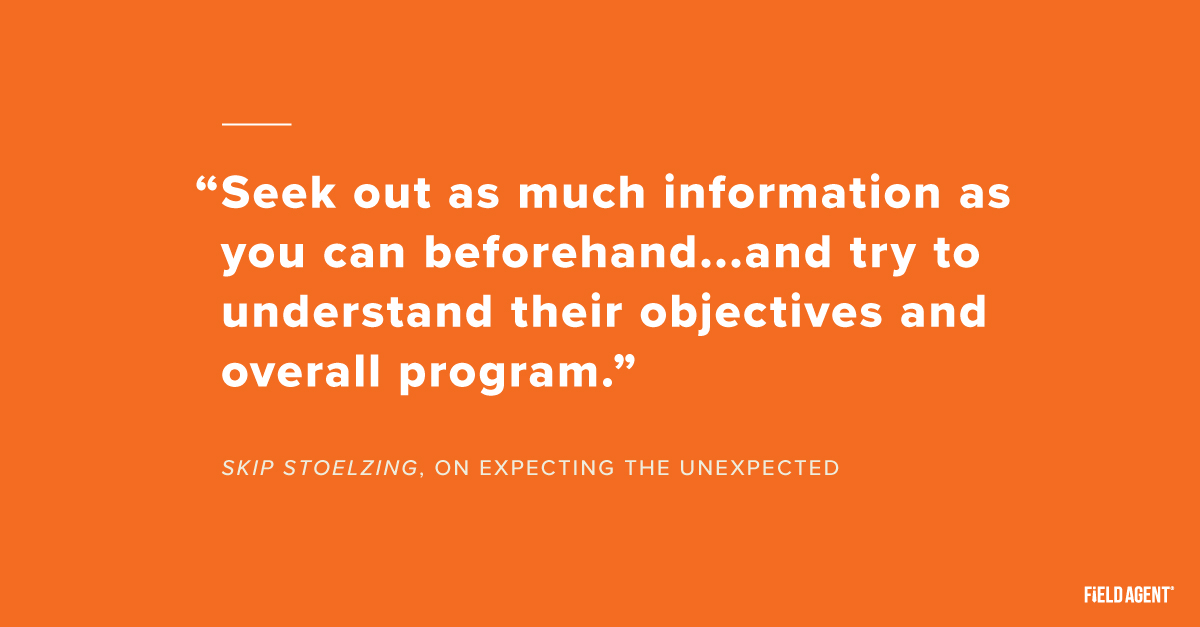 Tip 4: Build Trust & Empathy
Other things equal, a buyer will generally decide to do business with someone they like. And likability is built on trust and empathy.
Remembering the human side of any business deal is key to making a connection with your buyer - a connection that could lead to further business down the road.
One key way to engage with your buyer? Know the lingo. Speaking your buyer's language—hello, OTIF and minimum advertised price—helps establish common ground.
Of course, there are other ways to build trust and empathy, as detailed in the success kit.
Tip 5: Help Your Buyer Win
Speaking of empathy, looking out for the needs of your buyer will elevate you to a new level in their eyes. Our panel was adamant on this point.
"Merchants need vendors... to make their lives easier," says one of our experts. "[Those who] solve their problems are the vendors who get the call back."
Not sure what your buyer's specific needs are? Ask! Once you know what they're looking for, you're free to tailor your proposals to fit their needs, placing you in the running for a done deal.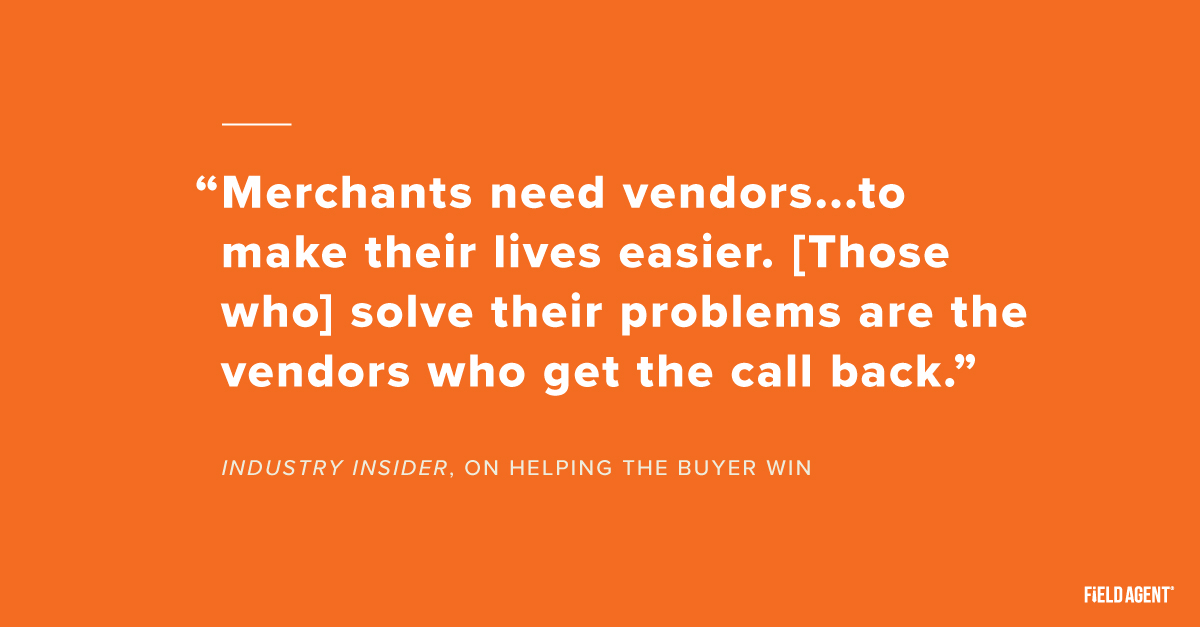 Tip 6: Keep It Simple
You don't need to go overboard with your presentation to make an impression. In fact, cutting back on information overload may have a more positive effect.
"Buyers have too much going on to go through a 50-slide presentation," said one of our insiders. "Make recommendations simple and actionable."
Provide relevant information in an efficient and timely way, and you will reap the rewards.
Tip 7: Have a Category Mindset
Keep in mind your buyer is essentially running a small business within the larger store.
The category.
When you make a suggestion in your buyer meeting, be prepared to show how it will help grow the category in terms of defined metrics like sales, profit, share, and inventory.
By adopting a "category mindset," you will help the buyer grow this business-within-a-business. And that's good for your brand's longterm growth prospects.
Want More Tips for Buyer Meeting Success?
"The Buyer Meeting Success Kit: How to Land (and Keep) Your Products on Store Shelves," a free resource from Field Agent, is packed with resources to help you prepare for your next buyer meeting.
The 28-page success kit includes...
The complete versions of the seven tips above (plus five more), expanded with even more wisdom from our panel of industry experts
A 14-point checklist of items you may need for your buyer meeting
A product guide with information about useful meeting-prep tools and services
Whether you're a retail novice or an industry veteran, the kit is designed to give you confidence and perspective as you approach your next buyer meeting.
Click below to download The Buyer Meeting Success Kit and...
...prep like a pro.