Selling to Football Fans: How Brands Win with 3 Game-Changing Plays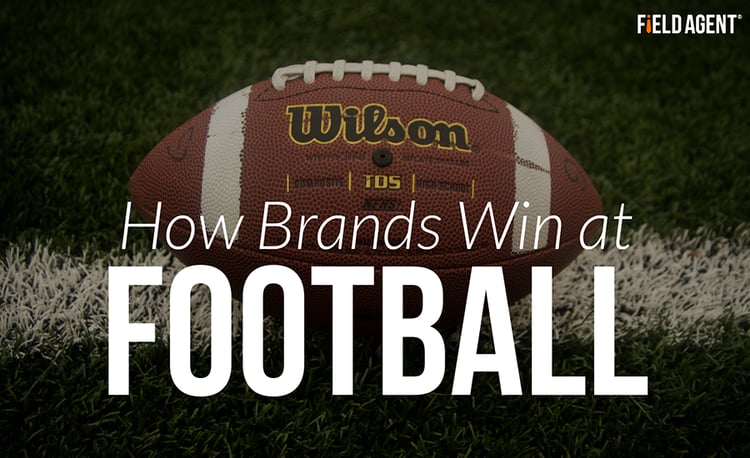 With football kickoff days away, Field Agent is opening up its playbook. This article describes and illustrates 3 "game-changing plays" for better serving football fans. Mobile audits and research allow companies to be where the action is happening, as it's happening, throughout football season. So let us demonstrate the ways we help companies better serve customers and outperform competitors...when the game's on the line.
We take football seriously here at Field Agent. Very seriously.
Here in SEC and, more specifically, Razorback country, it's that time of year when our office starts buzzing with conversations—and even a little trash-talking—about our favorite teams, you know, how "this is the year we win the championship."
But there's another reason we at Field Agent take football seriously. Starting in August, many clients rely on us to win their own fall-time competitions: the battle for football fans and the dollars they spend on merchandise to enhance their football-viewing experiences.
For over five years we've been equipping brands, retailers, and agencies with the information and insights to better serve their customers, refine their in-store executions, and outperform their competitors.
We do this especially during critical shopping events such as football season, when fans throughout the country flock to stores to purchase supplies for game-viewing parties, tailgating, backyard barbecues, and, of course, attending the big game itself.
We want to share a glimpse inside our company playbook, and briefly describe 3 ways Field Agent helps companies win during football season.
Play #1. Mobile Audits take you inside stores throughout the football season, so you can be closer to your products and in-store promotions.
Have our retail partners properly executed our football-themed in-store displays and signage?
Are our products actually on store shelves as shoppers stroll by, or are they out-of-stock and unavailable to purchase-minded football fans?
Do our products reflect the correct promotional prices to entice the spending of football fans?
Companies often bring such questions to us, particularly during critical shopping seasons. Geography separates brands from the retailers that sell their products, resulting in limited vision inside stores. But Mobile Audits provide vendors a fast, affordable means for monitoring their products and promotions at-retail.
To illustrate, this weekend we sent 30 auditors—we call them agents—to 30 different stores across the country. We asked them to take pictures of football-themed products and in-store displays:

Companies use such images, which we verify through a multi-step quality control process, to monitor display placement, product availability, product pricing, and so on.
And because our agents are also retail customers, your customers, a mobile audit is also an ideal opportunity to gather consumer insights—quickly and affordably. For instance, while they were taking pictures this weekend, we also asked agents to rate the effectiveness of these football-themed displays on how well they capture a shopper's attention. On a scale from 0-10, with 10 being the best, the average rating came to 6.74.
Companies also use these "intelligent audits," as we call them, to collect qualitative insights from shoppers. As one agent in El Centro, California commented, "I like the theme [of the display]. I'm a huge football fan! It definitely appeals to me to grab some Powerade to stay hydrated when I'm active."
This football season, mobile audits are your eyes and ears inside stores.

Play #2. Mobile Research allows you to be where the action is happening, as it's happening. From man caves to tailgating parties, companies can "be there" throughout football season.
Through the powerful combination of mobile technology and crowdsourcing, Mobile Research allows companies to be on-location with football fans—wherever they may be. In living rooms or stadium seats, we put companies directly among consumers, as they're using specific brands and products.
Let us demonstrate. On opening day of college football last year, we visited the homes of 250 fans. We asked a variety of questions about their game day behaviors—as they were happening, and not, as with traditional research, days, months, or years after they had happened.
For instance, we asked agents to identify what activities they were participating in during the game. At 24%, "grilling food" topped the list, followed by "mixing alcoholic beverages" (18%) and "picking up 'take out'" (12%).
We also asked agents to take pictures of their game day food spreads:

And because mobile research utilizes smartphone technology, agents can also shoot video. For instance, we asked this consumer from Corpus Christi, Texas whether she had any advice for brands as they try to serve football fans. She had a good idea. Take a listen.
Throughout football season, mobile research is a nimble and powerful means of collecting in-the-moment consumer insights—anywhere, anytime.
Play #3. During the biggest games of the year, whether it's the NCAA Playoffs or the Super Bowl, Mobile Research captures real-time information to help companies make better decisions and monitor performance.
Last year hundreds of companies looked on as Field Agent conducted its thrilling Game Day Brand Wars campaign. We tracked, in real-time, what beer, soda, and chip brands fans were consuming during the Super Bowl. Our ultimate goal was to determine which brands took home MVP awards for best Super Bowl performance, and companies watched in anticipation as live results streamed onto our website.
Bud Light (13%), Coca-Cola (26%), and Tostitos (21%) won their respective categories. More than 500 agents ultimately participated in our inaugural Brand Wars. You can read the full results in the slideshow below.
Our Brand Wars campaign illustrates how mobile research may be used to collect real-time, up-to-the-minute information and insights during the biggest games of the football season.
Want to know what football fans think about your new commercial, the one airing during Sunday Night Football? Mobile research can tell you. In real-time.
Interested to know how your brands and products are performing at tailgating parties across the country? Mobile research can show you that as well.
If you need results as events are happening, mobile research can track the consumer attitudes and behaviors that matter most to your business.
Get in the Game
Whatever your "need to know," mobile audits and research provide a direct link to your products, wherever they are, and your customers, wherever they are. And because Field Agent offers solutions in a fraction of the time and cost of traditional methods, this football season companies can get in the game—and win it—more easily than ever.