Sneak Peek at Field Agent's 2019 HOLIDAY Preview [5 Advance Insights]
Update: The 2019 Holiday Preview by Field Agent, with almost 50 pages of insight, is now available for free download.
The biggest shopping event of the year—you know it, the holidays—is just around the corner.
As we do each year, Field Agent is working hard on a special, one-of-a-kind resource to help you prepare for the coming spending frenzy. Our 2019 Holiday Preview, "An Omnichannel Christmas," is gearing up to be our biggest and best holiday report yet. This free report will be available later in September.
What can you expect from the 2019 Holiday Preview? Based on surveys and studies with thousands of Christmas shoppers, the report will feature...
Shopper insights galore, including information on the top holiday retailers, gifts, foods, beverages, and more. Take a look at the 5 "sneak peek" insights below!
A mystery shop of FAO Schwarz, in which real shoppers suggest what other retailers can learn from the iconic toy store
A "display gallery" featuring the best holiday retail displays from last year
A digital product-demonstration of Starbucks' festive cinnamon dolce K-Cups
And you can bet we'll preview the role of omnichannel shopping for the 2019 holidays.
"Sneak Peek" Insights: 2019 Holiday Preview
Below we offer just a taste of what you'll find in our 2019 Holiday Preview.
We surveyed thousands of Christmas celebrants across the country about their upcoming holiday shopping and consumption. Here are just five "sneak peek" insights:
1. Online purchases will be big this year
More than half of Christmas shoppers surveyed (52%) said they're completely likely to purchase at least one gift online this Christmas, while only 4% said they're not very likely or not at all likely.
Our 2019 Holiday Preview will examine the top online retailers and gift-purchases among Christmas shoppers. It'll also consider the role of mobile apps and store pickup in holiday shopping.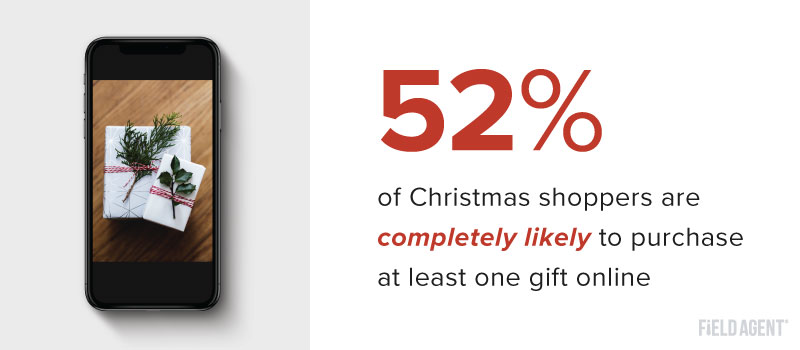 2. Christmas is prime time for beverages like alcohol, coffee, and soda
Among Christmas celebrants in our survey, 61% said they're completely or very likely to drink coffee on Christmas Day/Eve this year, while 54% are equally likely to partake in alcohol.
The full report will shed light on the top coffee and alcohol brands of the holidays while providing additional insight on beverages like soda.
3. Boys and girls will definitely be receiving clothes, video games, and creative supplies this year
We asked parents to tell us what gifts their sons and daughters are most likely to receive this Christmas. In all, 80% of daughters and 69% of sons are expected to open packages containing clothes and/or non-digital, wearable accessories like jewelry.
The complete report will go into greater detail about the gifts kids will be receiving this year, including video games, art/creative supplies, dolls, action figures, games, cosmetics, fragrances, and more.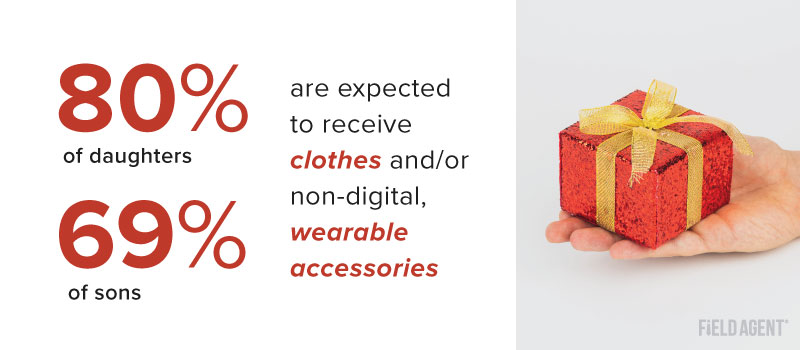 4. Stocking stuffers will be common purchases
Get this: 75% of families in our survey said they're completely likely to fill stockings for their kids this Christmas. The top filler? At 78%, candy/chocolate/gum should be found in the majority of stockings this year.
For the results on other stocking stuffers, and to see which specific candy brands are expected to fill stockings this Christmas, just download our full report when it comes out later this month.
5. Expect households to load up on cookies (for baking) and packaged chips this Christmas
Seventy-four percent of Christmas families in our survey said they'll likely serve freshly-baked cookies this holiday, and 51% say they'll serve packaged chips.
The full report will consider the prevalence of other foods—nuts, candy, popcorn, jam—at Christmastime. It'll also look the top grocery-retailers for the holidays.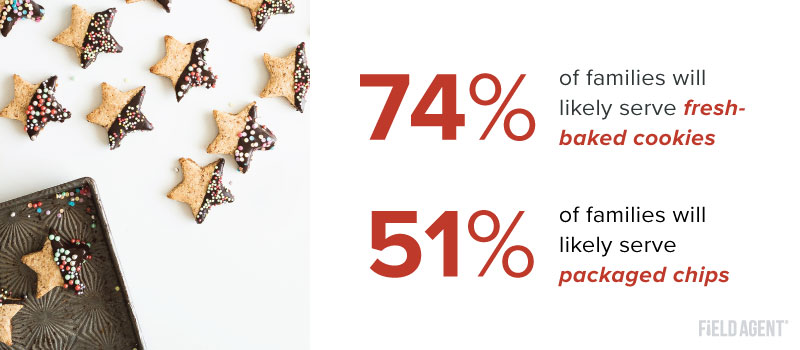 Get the Full 2019 Holiday Preview!
Be among the first to download our complete 2019 Holiday Preview when it comes out later in September. Click below to become an "instant subscriber" to Endcaps & Insights.
Then, you'll know as soon as the report hits!