Spotlight on Albertsons: Touring the Grocer's Digital Developments
Operating more than 2,300 supermarkets across 20 banners, including Safeway, Tom Thumb, Vons, and its namesake stores, Albertsons is no less than a grocery juggernaut.
Yet, as admitted by CEO Jim Donald, Albertsons has so far played the "follower" role in the digital age, lagging behind other retailers developing digital methods for selling groceries and enhancing the customer experience. But this appears to be changing.
As Donald said, "Status quo, especially today in today's four-walls/no-wall world, is a death sentence. And if we're pushed and challenged by companies like Amazon, Walmart, Kroger and by startups, it's all good…Now is our time to sharpen our saws on the customer experience."
And, as you'll see below, "saw-sharpening" is exactly what Albertsons is doing.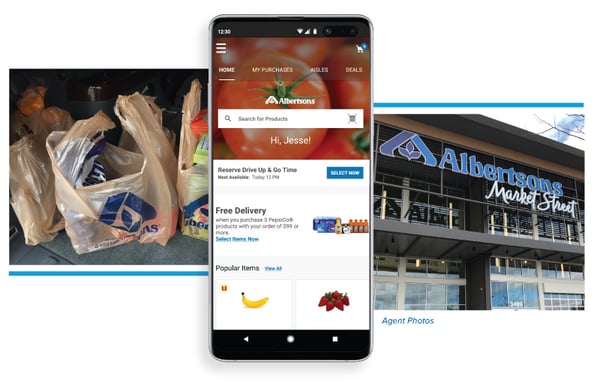 Show-and-Tell: Spotlight on Albertsons
Field Agent, a leading provider of retail-auditing, shopper research, and mystery shopping services, enlisted a group of agents to show us some of the recent, noteworthy developments inside Albertsons.
We tasked 20 agents with using one of Albertsons' "online shopping" apps to purchase groceries for either local pickup or "fresh," grocery delivery. Field Agent also dispatched several agents to Albertsons' new flagship store in Meridian, Idaho, where they documented some of the ways the grocer is reimagining the in-store shopping experience.

Take a look at the video below, then scroll down for an up-close look at four recent developments at Albertsons, all through the eyes of real shoppers.

4 Service-Driven Developments at Albertsons
1. "Online Shopping" Apps

Albertsons' "online shopping" apps let patrons in select cities shop for groceries online for curbside pickup or fresh delivery, depending on which is available in the area. With a family of grocery brands to its name, the retailer has already rolled out online-shopping apps for several of its brands, including Albertsons, Safeway, Vons, Jewel-Osco, and Tom Thumb.
As shown below, we asked 20 agents to capture screenshots of the in-app shopping experience through one of Albertsons' "online shopping" apps.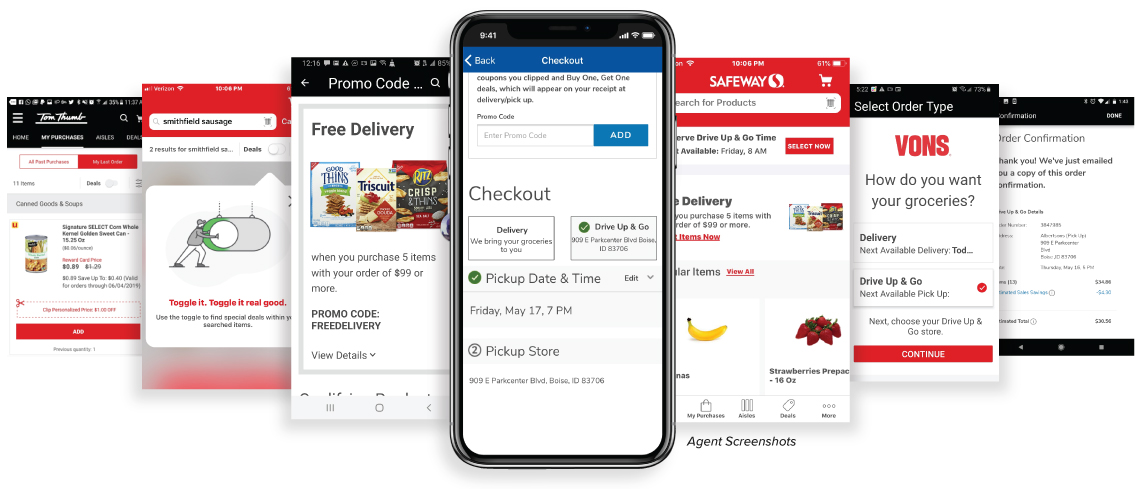 On a five-point scale, with 5 "excellent" and 1 "poor," Field Agent asked participating agents to rate the in-app shopping experience along various dimensions, as follows:
App navigability/organization: 4.11
In-app grocery selection: 4
Ease of opting into pickup/delivery: 4.11
Overall: 4
Qualitatively, agents were asked to identify the words they felt best described Albertsons' in-app shopping experience. The words "easy" (cited by 10 agents) and "convenient" (7 agents) were most commonly used.
Glympse Delivery-Tracker

Here's a unique feature of Albertsons' online-shopping app: a delivery-tracker powered by Glympse.
Shoppers using the app to purchase groceries for local, fresh delivery can opt into delivery notifications which, as shown, let customers see the exact location of their in-transit delivery.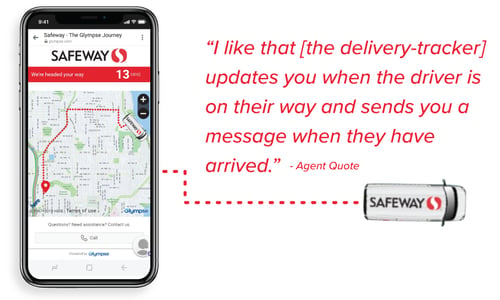 Agents who used the delivery-tracker (n = 6) offered praise for the service, rating it a 4.67 on a 5-point scale. As one user said, "I like that [the delivery-tracker] updates you when the driver is on their way and sends you a message when they have arrived."
See Also: Free Report - "Grocery Shopping with Gen Z"

2. Drive Up & Go

Drive Up & Go. It's Albertsons' take on grocery-pickup.

The video above offers a peek at how the pickup process works, while the photos below provide a look at pickup sites at both Albertsons and Safeway.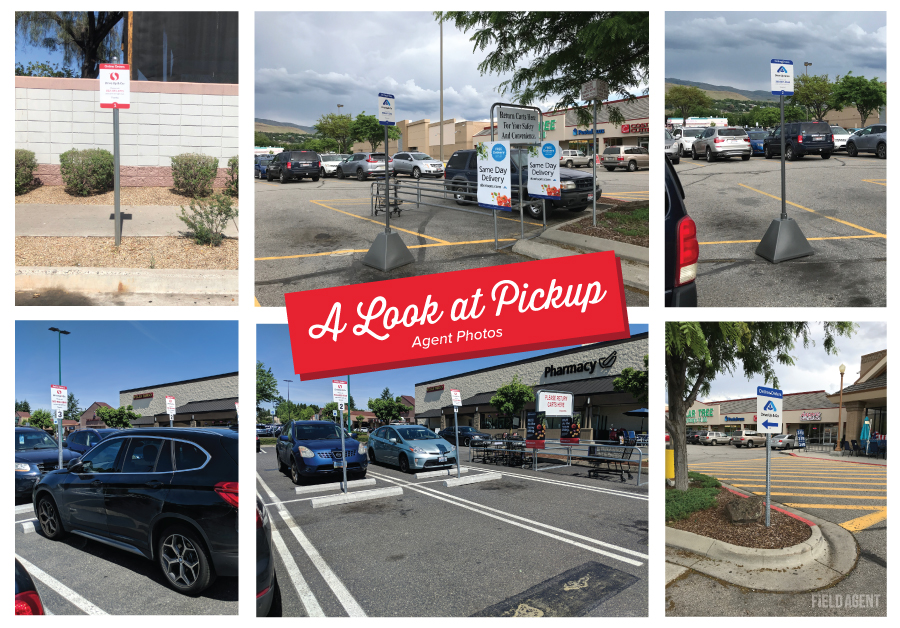 Of 11 agents using Albertsons pickup to acquire groceries purchased in-app, seven said that, based on the experience, they'd be more likely to use Drive Up & Go again in the future, while three remained neutral (i.e., neither more nor less likely) on the question.
On a five-point scale, here's how these shoppers rated Drive Up & Go:
Friendliness of pickup site personnel: 4.73
Professionalism/presentation of pickup site personnel: 4.64
Pickup site navigation/ease-of-use: 3.73
Packaging/containers used to deliver groceries: 4.27
Freshness of "fresh" groceries: 3.73
The pickup process overall: 4.0
All 11 agents reported their groceries were delivered to their vehicle on-time or, in three cases, early. Here's how one user described Albertsons' Drive Up & Go service:
"It was a very quick process! We waited no longer than five minutes from the time we called the…number to when we got our groceries, whereas other stores take at least 10-20. The gentleman who helped us was friendly, the groceries were packed very well, and nothing was forgotten."
Indeed, participants were generally complimentary about the pickup service, commonly using words like "easy," "convenient," and "fast."
Ratings did, however, uncover some freshness concerns as well as concerns about the navigability of the pickup site.


3. Grocery Delivery

Albertsons is also rapidly developing its own in-house, fresh-delivery capabilities, not to be confused with its Instacart partnership. While the video above shows actual deliveries being made, below we share photos of groceries exactly as they were delivered by Albertsons.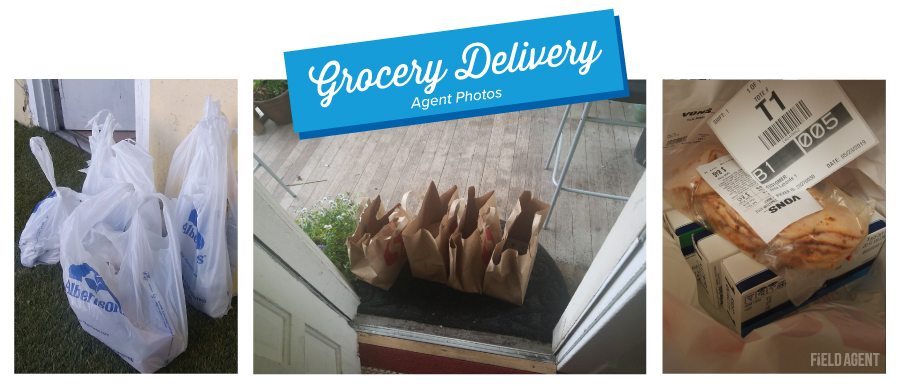 Of seven agents who used Albertsons' fresh-delivery, three said they'd be more likely to use the service again in the future. Three others were neutral, while one, apparently turned-off by the cost of the service, said she'd be less likely to use Albertsons "fresh" delivery again.
Here are the ratings assigned by delivery-users, all on a five-point scale:
Delivery-person friendliness: 4.43
Delivery-person professionalism/presentation: 4.57
Delivery packaging/containers: 4.0
Freshness of fresh groceries: 4.14
Overall: 4.14
Users cited words like "timely," "friendly," "convenient," and "easy" to describe Albertsons' delivery service. In the words of one user, "It was so easy because I didn't even have to leave my home."
As with Drive Up & Go, delivery users were generally positive when describing their delivery experience.


4. The In-Store Experience

Field Agent also wanted to gauge how Albertsons is reimagining the in-store shopping experience. To obtain a basic idea, we sent a handful of agents to Albertsons' new flagship store in Meridian, Idaho where they explored the store, capturing photos all along the way.
If the agents' comments are any indication, shoppers really like the new store...
"I love the stylish vibe of the store, it's not like the usual grocery store. It's very spacious and eye-appealing."
"This Albertsons is amazing! It's immaculate, and thoughtfully-designed, and has some great offerings. I truly felt…welcome inside."
"Wow. It's a bit overwhelming, but I think that is what they are going for! It's huge, it's open, it has a DEDICATED CHEESE COUNTER. Need I say more."
See for yourself. Here are some agent photos from the new Albertsons in Meridian, Idaho: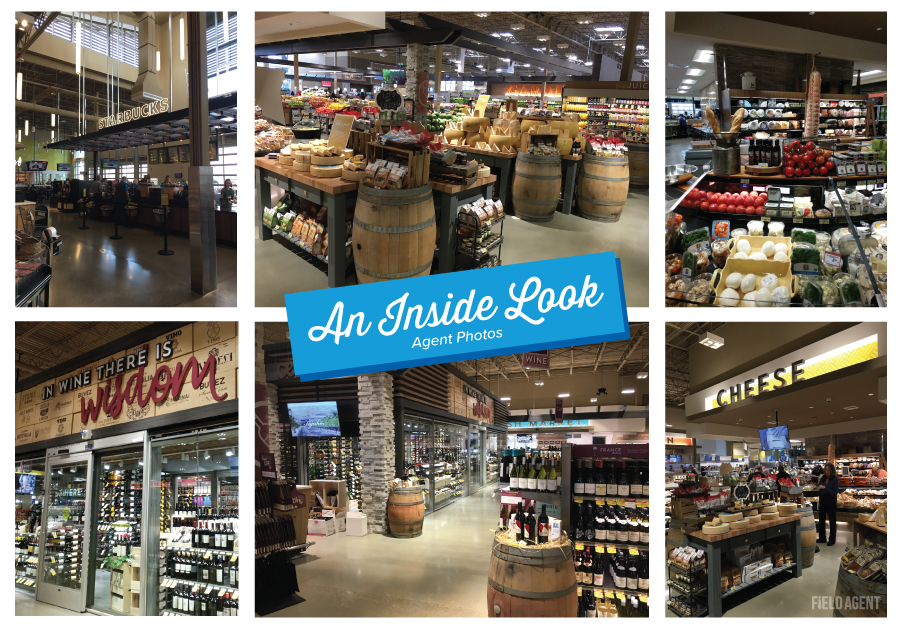 What should we take away from this tour of four service-driven developments at Albertsons?
Simple. Albertsons is doing some major "saw-sharpening" these days.
And, overall, shoppers like what they're seeing.


Special Report: Spotlight on GEN Z Shoppers
How will the next generation of shoppers impact grocery-retail?
From surveys with thousands of shoppers, including 775 Gen Zers, Field Agent's free report, "Grocery Shopping with Gen Z," explores topics like:
Similarities and differences between Gen Z and older shoppers
The preferred grocery retailers and shopping methods of Gen Z
The favorite grocery brands of Gen Z
Click below to download this free report!