Walking in the Shopper's Shoes: CPG Brands Learn a Harsh Reality
"Get past the numbers and really understand the hardships everyday consumers go through."

This encouragement, delivered by Field Agent CEO Rick West at the 2019 P2PSummit, speaks to a growing reality: To win today, CPG brands must go "beyond the numbers" and understand the real challenges and priorities of everyday shoppers.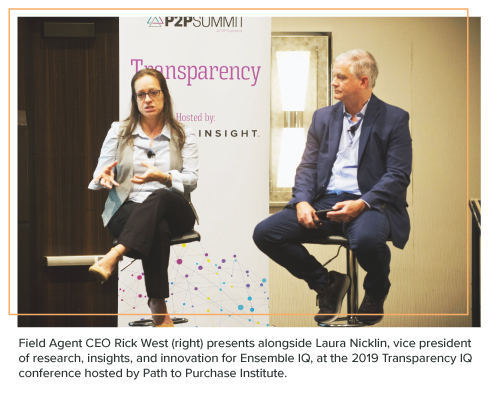 While it's certainly great to know:
The number of households that shop for severe food-allergies
The number of shoppers who use grocery-pickup services
The number of households that grill-out in the summer
It's becoming increasingly essential to also understand:
Such "deep" knowledge is, naturally, the basis for creating greater value for customers.
And, as usual, to the victor go the spoils. When CPG brands legitimately understand shopper struggles, they're rewarded with stronger sales and customer-loyalty.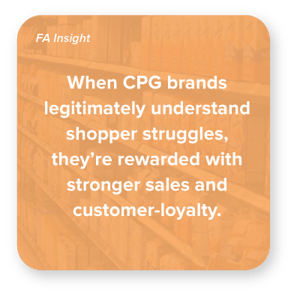 CPG Brands Learn a Harsh Reality
At this year's P2PSummit, an annual gathering hosted by Path to Purchase Institute, CPG brands and other attendees received an up-close look at the hardships faced by a particular segment of the grocery-shopping public: Those who shop for individuals with severe food-allergies or highly restrictive diets.
Alongside Laura Nicklin, vice president of research, insights, and innovation at P2PI, West presented the results from a recent Field Agent study—including video interviews (see below)—examining how Americans shop for groceries in-store and online when their health, indeed, their wellbeing depends on avoiding certain ingredients.
As West explained, it's crucial to go beyond basic facts and figures, e.g., the number of food-allergy sufferers or the specific foods they avoid, to become intimately familiar with their "everyday" shopping needs and challenges.
The videos below offer a brief glimpse into the harsh reality of grocery-shopping with severe food-allergies and dietary restrictions.
Yet, understanding the struggles of shoppers, whether food-allergy sufferers, grocery-pickup users, summertime grillers, or practically any other shopper segment, is hardly an academic exercise.
According to West, such knowledge impacts the bottom line.
To illustrate, of 2,100 shoppers studied by Field Agent who shop for someone with a severe food-allergy or dietary restriction, the vast majority, 86%, said unclear label information—i.e., not knowing exactly what they're buying—causes them to forego buying specific products, every time, most times, or at least some times when grocery-shopping.
Thus, in the case of shoppers with severe food-allergies/dietary restrictions, failure to understand what these shoppers are looking for on packages, labels, and product-detail pages has a heavy cost: lost retail sales.
But how exactly is such a deep understanding of customers obtained? How do companies go "beyond the numbers"?
Mobile Research: Walk in the Shopper's Shoes
When it comes to deep knowledge about shoppers and customers, when it comes to walking in the shopper's shoes, not all research methods are created equal.
How does a company actually go inside a customer's experience, as they're shopping for products in-store/online, or even as they're using products at home?
As demonstrated in the video above, mobile research methods make it possible to be with shoppers at, as West called it, the "moment of influence." That is, at the very moment when shoppers are able and willing to reveal deep insights into what it's like to be in their shoes.

And it makes sense, many of today's shoppers are rarely more than a few feet from their smartphones. As West explained, "Mobile Research is able to capture data at the moment of influence, eliminating recall and providing more robust insights."
Download the free resource below to learn more about Mobile Research and how it helps companies go "beyond the numbers" to meet customers where they are.