Survey Reveals Top Pet-Food Brands, Retailers among Dog & Cat Owners
Americans really love their "fur babies"…something they show year after year with their pocketbooks.
By one count, pet owners spent more than $75 billion on their pets in 2018, with pet food—alone—accounting for a meaty $30 billion of that.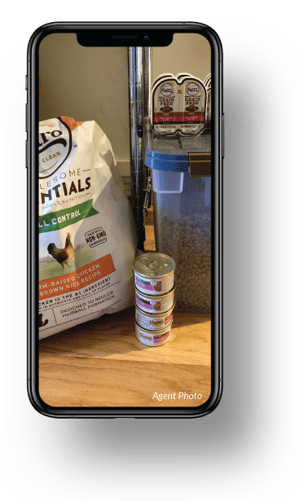 It goes without saying, that's a really big bag of kibble.
Now, with national pet month upon us, we at Field Agent got to wondering about the pet-food category, specifically, about the top brands, retailers, and priorities among dog and cat owners as they shop for pet food.
So, we reached out to a few pet owners. 1,700 of them, to be exact.
Surveying 1,700 Dog & Cat Owners
Over the weekend, Field Agent surveyed 1,700 dog and cat owners about shopping for pet food. As you can see in the photo above, all respondents were required to submit a photo of the pet-food supply inside their homes—so we knew we were surveying actual pet owners.
Below we offer just 3 highlights from this survey. Our free report, "The Pet-Food Primer," contains the full results from this survey, including:
The full list of dog and cat food brands purchased by pet owners
The full list of retailers from which pet owners purchase dog/cat food
The shopping methods—in-store, store pickup, subscription service, smart speakers, etc.—respondents say they use to purchase pet food
The priorities of dog and cat owners—label claims, price vs quality—as they shop for pet food
Download the free report to explore all these topics and others.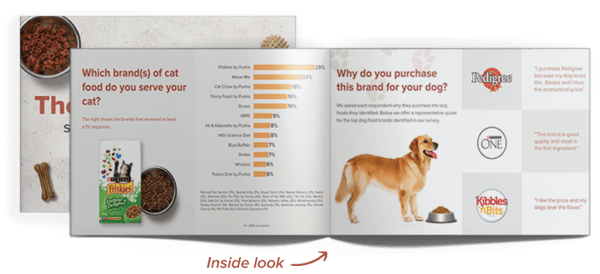 3 Quick Insights into Pet-Food Purchases
1. Top 3 Brands of Dog & Cat Food
In Field Agent's survey of 1,700 pet owners, which consisted of 1,237 dog owners and 834 cat owners, we asked, "Which brands of dog/cat food do you serve to your pet?"
The full results are available in our free report, "The Pet-Food for Primer," but below we show the top 3 brands for dogs as well as cats.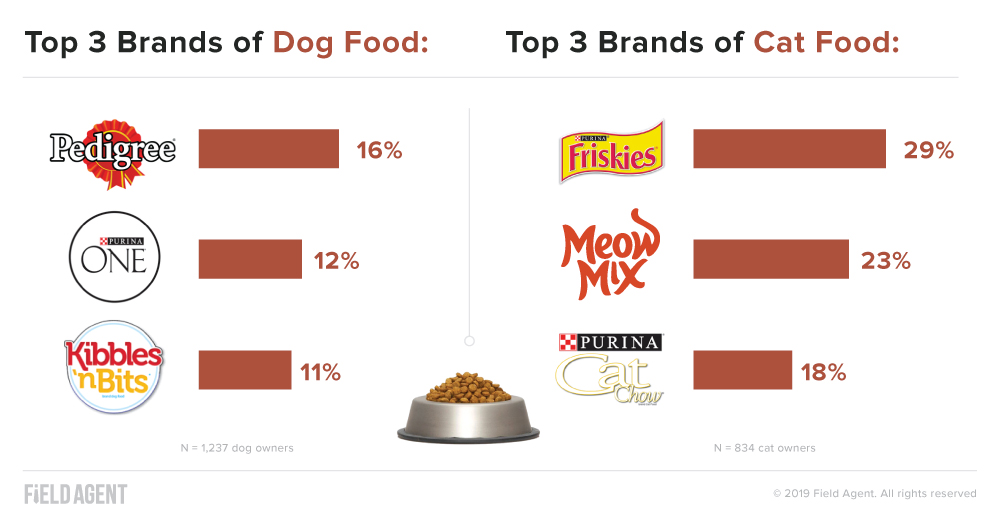 2. Top 3 Retailers for Dog & Cat Food
We also asked respondents, "From which retailer(s) do you purchase food for your dogs/cats?" At 58%, Walmart/Walmart.com is truly the big dog on the street, followed by PetSmart/Petsmart.com (23%) and Target/Target.com (20%).
Our report, "The Pet-Food Primer," details how multiple other retailers fared, including online retailers such as Amazon and Chewy.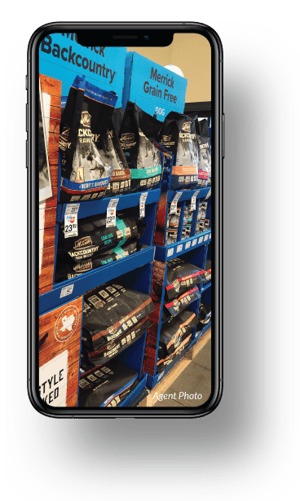 3.

Online Retail and Pet-Food Purchases
Ninety-three percent of pet owners in our survey reported purchasing food for their dogs/cats inside stores.
But what about online shopping? In all, 22% said they purchase pet food online for package delivery (e.g., UPS, U.S. Postal Service) to their homes.
Download our free report to see how common it is for dog/cat owners to purchase pet food online for store pickup, through a smart speaker, and through an online subscription service/box.
Free Report: "The Pet-Food Primer"
Field Agent surveyed 1,700 bona fide dog and cat owners to understand the attitudes and behaviors of Americans as they shop for pet food.
Download our free report, "The Pet-Food Primer," for the full story.