Pushing the Right Button? Users Review Amazon Dash [Videos]
This article features the results of a recent IHUT (in-home usage test) Field Agent conducted with 18 brand new owners of the Amazon Dash Button, complete with photos, video, and survey results.
If nothing else, Amazon's new Dash Button has intrigued the retail industry. Whether or not the product is an eventual success may not be the point. It might be worth following the Dash Button if only to gauge the potential of smart technology for purchasing basic, day-to-day goods such as toilet paper, detergent, and shaving razors.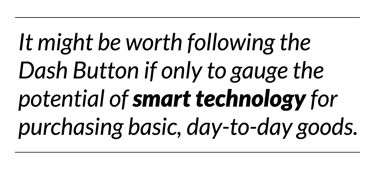 Rolled out less than two months ago, the Dash Button is a small, Wi-Fi connected device that allows Amazon customers to reorder a single brand/product configuration with one push of a button. When Amazon first began offering the Dash Button at the end of July, Amazon Prime members could purchase 18 different brands for $4.99 each.
Only days ago, however, the e-commerce giant upped the ante, announcing it would make its Dash Buttons available to non-Prime members, expand its selection from 18 to 29 brands, and initiate a refund program that would essentially make the Dash Button free. (Note: the photos, video, and data below were collected prior to these changes.)
Although the Dash Button is still in the earliest stages of diffusion, Field Agent recently located 18 users who have purchased and actually used Amazon's hot, new gadget. We asked these agents to show us how they use their Dash Buttons and to share their initial impressions of the product. Field Agent and others call this an IHUT, or an in-home usage test, and it's a forte of mobile market research.
Field Agent went on-location with Dash Button owners in the following locations:

Dash Button: Wherefore Art Thou?
Where are users placing their Dash Buttons inside their homes? We asked agents to take photos of their buttons—precisely where they normally keep them. Not surprisingly, as the pictures below suggest, many in our sample positioned their buttons to reflect exactly where they expect to be when they run out of a product and, thus, need to reorder.
Dash Button Video Reviews
Mobile market research is a fast, affordable, and convenient method for going on-location with consumers, wherever they may be. Here we asked owners to submit video reviews of their new Dash Buttons. Take a look.
Interested in the next wave of "smart" consumer products and the research possibilities they carry? You should check out "Surveying Tomorrow: 4 Futuristic Research Tools & their Challenges" by Renee Brandon, VP of Research at Field Agent. And see what emerging market research trends Brandon took away from the Omnishopper 2015 conference.
Tide
Cottonelle
Clorox Wipes
Pushing All the Right Buttons?
Field Agent also took occasion to ask these agents specific questions about their Dash Button user experience. Below are select highlights from our findings. For additional insights, sign up to receive our upcoming Groceries 2.0 report.
Why did these users purchase a Dash Button?
For convenience, primarily. 94% cited convenience among the reasons they bought a button. Of course, 67% admitted they purchased a Dash Button partly because they're tech enthusiasts, and exactly half said their enthusiasm for Amazon (and its gadgetry) partially motivated the purchase.
Do users find the Dash Button easy to configure/sync?
On a scale from 1-5, with 5 very easy and 1 very difficult, our sample awarded the Dash Button an average rating 4.61 for its ease of setup. Yes, quite easy they said.
Are button owners experiencing any difficulty ordering?
Not in our survey. In fact, not a single owner reported a problem placing an order through their Dash Button.

*screenshot from actual Field Agent reporting screen
Do Dash Button users like them enough to buy another one?
61% of current users said they're "completely" or "very" likely to purchase another Dash Button. In fact, 78% are at least moderately likely to buy another one.
And would they be willing to recommend the button to a friend?
Yes. 78% said they'd be "completely" or "very" likely to recommend the Dash Button to a friend.
Overall, how would owners rate their satisfaction with the Dash Button?
Well, using a five-star rating system, which seems particularly fitting for an Amazon study, participants in our survey said they'd give the Dash Button just under 4 of 5 stars (or 3.89).
Groceries 2.0
This special report from Field Agent offers an in-depth look at how retailers are using new web-based methods to sell groceries to today's consumers. From customer reviews of Walmart's Grocery Pickup to shopper sentiment toward the latest "grocery tech," the report provides insights based on surveys and shop-alongs with more than 500 consumers.