Walmart Grocery Pickup Through the Eyes of Shoppers [VIDEO]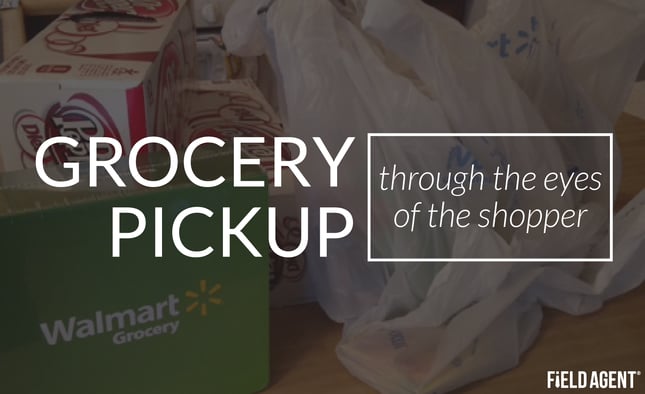 On Tuesday Walmart announced the expansion of its grocery pickup business with five new pickup sites throughout Northwest Arkansas. Field Agent recently conducted a mobile shop-along of Walmart Pickup with just under 40 shoppers. This article showcases video reviews of the company's grocery pickup service as submitted by two shop-along participants.
Walmart, the nation's largest grocer, sent ripples throughout the retail industry in 2014 by announcing it would begin experimenting with a grocery pickup business, in which shoppers would order groceries online and then retrieve their order at a designated Walmart pickup site.
According to a recent report in Supermarket News, Walmart is so far "delighted" with the results of this experiment. In fact, as reported by the Northwest Arkansas Democrat Gazette, Walmart has just announced it is expanding its grocery pickup business by adding 5 new pickup sites in Northwest Arkansas. The company is also presently operating its pickup business in the greater San Jose, Denver, Phoenix, and Huntsville, AL markets.
See Also: Pushing the Right Button? Users Review Amazon Dash [Videos]
As part of our recent Groceries 2.0 study, Field Agent recruited about 40 shoppers for a mobile shop-along of Walmart Pickup. We asked participants to walk us—and talk us—through the process of ordering and retrieving groceries through the service. Field Agent specifically targeted every city where Walmart currently offers grocery pickup.
In our full Groceries 2.0 report, which you can sign up for below, Field Agent details these shoppers' attitudes about Walmart's grocery pickup service:
What do they think about shopping for groceries on the Walmart Pickup website?
Did they find the kiosk system at the pickup site easy to use?
How long did it take to receive their grocery orders?
Are shoppers likely to use Walmart's grocery pickup service again?
What factors make them less likely to use Walmart Pickup again in the future?
Walmart Pickup: Through the Eyes of Shoppers
In addition to answering these questions, we also asked participants to submit video reviews of their Walmart Pickup experiences—from using the drive-up kiosk to actually unbagging their groceries at home.
Here's how two participants chronicled their pickup grocery experiences:
Retail Solutions for Any Challenge
Get visibility in-store, gather relevant insights, drive trial of your products, merchandise shelves, and more. You can even create
custom campaigns.
Explore the Field Agent Marketplace today.
Groceries 2.0
This special report from Field Agent will offer an in-depth look at how retailers are using new web-based methods to sell groceries to today's consumers. From customer reviews of Walmart Pickup to shopper sentiment toward the latest "grocery tech," the report will provide insights based on surveys and shop-alongs with more than 500 consumers.
Mobile Research, Retail Audit, Customer Experience, Shop Along