Groceries 2.0 SPECIAL REPORT: The Rise of Online Grocery Shopping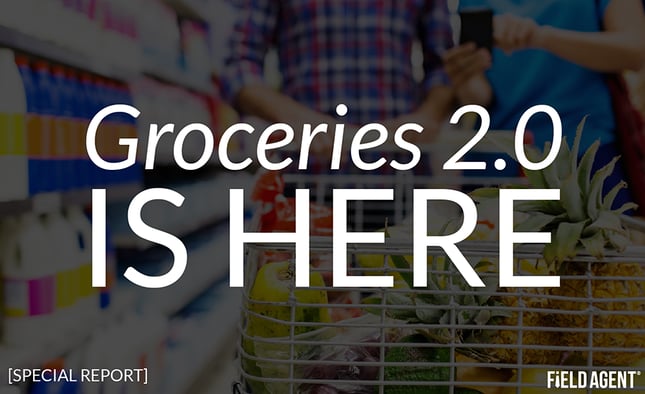 Grocery shopping is rapidly entering the e-commerce age. In this article you'll find a preview of our latest report, "Groceries 2.0: The Rise of Online Grocery Shopping," and you'll have an opportunity to download your own free copy.
The Rise of Omni-Channel in Grocery
Walmart Pickup. Amazon Fresh. Google Express.
These days, it seems with each passing week there's another announcement—or another rumor—about a major company utilizing web-based methods to sell groceries to hungry shoppers:
September 15, 2015: Pleased thus far with the results of its grocery pickup service, Walmart, the nation's largest grocer, announces it will expand the program by adding five pickup locations throughout Northwest Arkansas.
September 15, 2015: Target reveals a partnership with Instacart to test the grocery delivery concept in the greater Minneapolis area.
September 8, 2015: The search engine giant Google announces it will team with Whole Foods and Costco to test the feasibility of delivering fresh food and groceries to consumers' homes.
And it wasn't too long ago, in July, when Silicon Valley Business Journal reported that Amazon was considering entering the grocery pickup business.
Yes, we appear to be on the verge of a new era in grocery shopping.
See also: Walmart Grocery Pickup Through the Eyes of Shoppers [VIDEO]
We're witnessing the advent of Groceries 2.0.
To shed light on these new developments, Field Agent recently conducted surveys and shop-alongs with over 500 consumers. The results are detailed in our full Groceries 2.0 report, which you can download for free below.
Inside this free report you'll discover:
Shopper attitudes toward traditional, in-store grocery shopping
Usage rates for grocery delivery and pickup services
General shopper sentiment toward innovation in grocery shopping
The primary reservations among shoppers toward online grocery shopping
User evaluations of Walmart Pickup, a specific grocery pickup service
Shopper attitudes toward the rumored Amazon pickup service
And more.