Thanksgiving Price Check: Which Retailer has the Lowest Prices?
Soon, families across the country will sit down to a warm, delicious, occasionally good-natured Thanksgiving meal together. But before they can feast on turkey, green bean casserole, pumpkin pie, and all the other trimmings…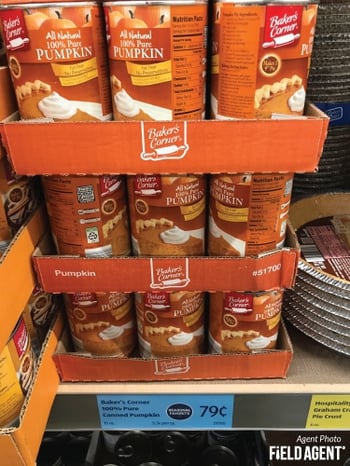 Someone will have to shop.
Someone will have to spend money.
Someone will have to bankroll Thanksgiving dinner.
So where, it's worth asking, will shoppers find the best prices on fresh sweet potatoes, canned cranberry sauce, and other Thanksgiving staples this year? And which retailers are serving up the most nutritious selections?
Let's talk turkey.
Price-Checking Thanksgiving Dinner
On November 3, 2018, retail-auditing and insights firm Field Agent dispatched agents to 48 different stores where they checked prices on a basket of seven traditional Thanksgiving groceries: whole turkey, sweet potatoes, green beans, yellow corn, cranberry sauce, pumpkin-pie filling, and cornbread mix.
The price-check was performed across six major retail chains (8 stores apiece): Aldi, Lidl, Kroger, Super Target, Walmart Supercenter, and premium-grocer Whole Foods.
Field Agent regularly conducts on-shelf price-checks for leading brands and retailers. Here, it was our goal to determine which retailers are selling the lowest prices on popular Thanksgiving foods in 2018 as well as which are offering the healthiest options.
Special Report: Thanksgiving Price Check 2018
2018 Holiday Insights Report!
Field Agent's 2018 holiday insights report, "An Old-Fashioned, Omnichannel Christmas," is still available for free download!
From surveys with thousands of shoppers, this popular report offers an in-depth look at the plans and expectations of this year's holiday shoppers, including what gifts they're buying, where they're buying them, and how they're buying them.
Download your free copy now!