Inside Look: The Sam's Club NOW Experience [Video]
It's an all-out war for retail supremacy, with heavyweights like Walmart, Amazon, Target, and Kroger all grappling for dominance.
As with many wars, the war for shoppers and their dollars is waging over several battlefronts: mobile apps, store pickup, local delivery, and even cashier-less technology.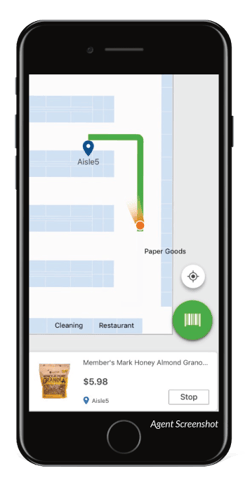 And it's on this last battlefront that the fighting is really heating up.
Just prior to Thanksgiving, in fact, Walmart-Sam's Club opened Sam's Club Now in Dallas, a new, state-of-the-art store/experimental laboratory where shoppers use a mobile app to locate products, access augmented reality services, and, yes, scan-and-pay for their merchandise. No cashiers whatsoever.
See Also: The Bottom Line on Mystery Shopping: 8 Benefits to QSRs
And while Sam's Club Now is bound to make ripples across the larger retail industry, it remains to be seen what shoppers think about the newest, most technologically-advanced member of the Walmart-Sam's Club family.
Until now, you might say.
Mystery Shop: Sam's Club NOW
Retail-auditing and insights firm Field Agent deployed 10 mystery shoppers to Sam's Club Now in Dallas to capture video, snap photos, and offer feedback about the innovative new store.
To get the full Sam's Club Now experience, we required mystery shoppers to purchase at least two items totaling $10 or more. And, of course, they used the Sam's Club Now app to scan and pay for their merchandise.
Scroll down to view the full results from this mystery shop.
But, first, go inside Sam's Club Now with this video, based entirely on video, photos, and shopper feedback provided by our agent mystery-shoppers.
Report: Sam's Club Now Mystery Shop
Field Agent asked mystery shoppers several questions about their inaugural experience with Sam's Club Now. The report below shares the results.
Retail Solutions for Any Challenge
Get visibility in-store, gather relevant insights, drive trial of your products, merchandise shelves, and more. You can even create
custom campaigns.
Explore the Field Agent Marketplace today.
Mystery Shop Report: Amazon Go
Reports suggest there could be as many as 3,000 cashier-less, "Just Walk Out" Amazon Go stores by the end of the 2021, with, of course, enormous implications for the retail industry. Field Agent sent mystery shoppers to six Amazon Go stores where they captured video/photos and provided feedback.
Download Field Agent's free "Amazon Go Mystery Shop" report to see what these shoppers thought about their experience with the cutting-edge retailer. Mystery shoppers answered questions like:
How would you rate Amazon Go on the following dimensions: ease of shopping, merchandise selection, prices, store environment, etc.?
What words best describe Amazon Go?
What did you most like about Amazon Go, and what suggestions do you have for the retailer?
How likely are you to shop Amazon Go again in the future?
Download this free report today!
Mystery Shopping, Club Channel, Grocery, Customer Experience