The Walmart Digital Shopper: Priorities, Needs, & Habits [Survey]
If last year made anything in retail clear, it's that Walmart has both the drive and innovation to rapidly expand its digital footprint. Indeed, despite Amazon's significant lead, Walmart reported an impressive 79% leap in ecommerce sales for FY21 (ending Jan. 31).
It seems #2 really does "try harder."
Walmart ecommerce sales are forecasted to reach $64.62 billion in 2021, according to a report released by eMarketer earlier this year.
Any way you look at it, that's a lot of business running through Walmart.com and the Walmart app, and smart CPG companies will take the time to understand the behavior of Walmart's online shoppers.
So, join as us we get better acquainted with the Walmart digital shopper—their priorities, needs, and habits.
Surveying the Walmart Digital Shopper
We joined forces with our good friends at SKU Ninja, an ecommerce software developer and solution provider specializing in Walmart eCommerce, to create and launch a survey of Walmart's online shoppers.
SKU Ninja provided the perspectives and expertise; Field Agent provided the tools and shopper panel.
We surveyed 1,115 shoppers who have made a purchase on Walmart.com or in the Walmart app over the past three months. Our aim was to understand the Walmart digital shopper along several dimensions, from their search habits to their shopping priorities.
Below we offer 7 rapid-fire insights to help CPG professionals better understand Walmart website and app shoppers.


Q&A with the Walmart Digital Shopper
1. Why do shoppers sometimes make online purchases at Walmart over other online retailers?
Let's face it: Today, online shoppers have choices. So, what drives a shopper to make purchases from the Walmart website or app over Amazon or another ecommerce platform?
As you can see in the chart, even online, Walmart uses low prices to distinguish itself from competitors.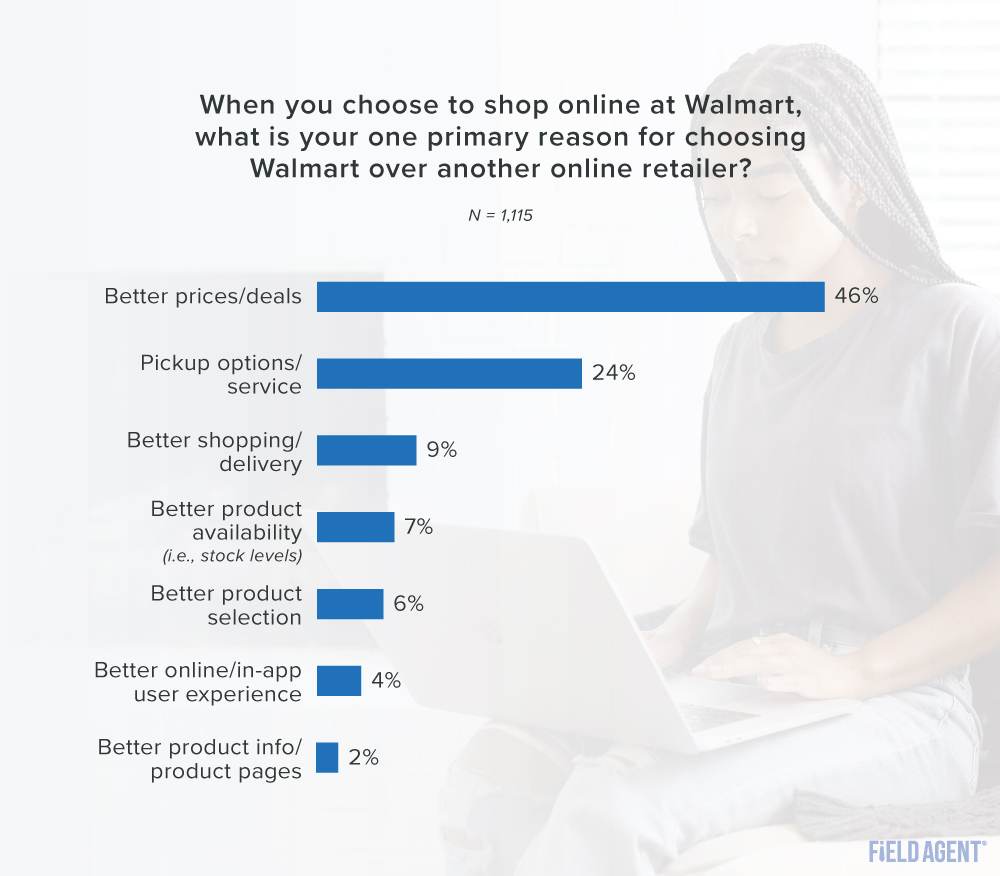 Notably, pickup options, or a better pickup experience, are another prevalent reason shoppers turn to the brick-and-mortar giant and its omnichannel services.


2. How do Walmart website and app users know they're buying the "right product"?
There she is. A shopper is scrolling up and down, clicking here and there, on a Walmart product page. She's thinking about hitting the "buy" button.
But what is factoring into her decision? Specifically, what—images, price, or something else—gives her confidence she's making the right purchase?
We asked Walmart digital shoppers to rank several features, all common to Walmart product pages, by how much "buying confidence" they derive from them.
Price received the highest proportion of #1 rankings (32%) as well as #1 + #2 rankings (50%).
Yet, clearly, product imagery, product reviews, and product descriptions are also influential over ecommerce purchases at Walmart (and no doubt every other online retailer).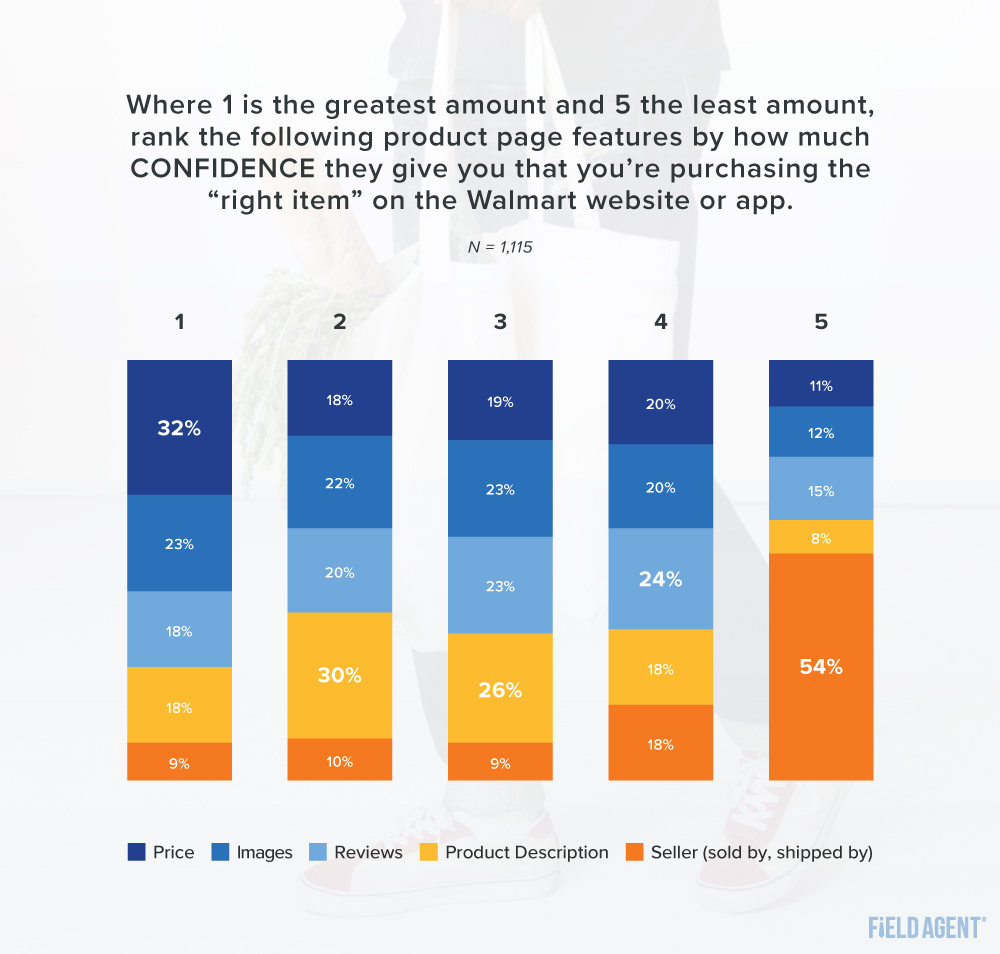 Twenty-three percent of respondents ranked "images" their #1 confidence-instilling factor on Walmart.com or the Walmart app. And at 45%, images ranked just behind price in share of #1 + #2 rankings.
Product descriptions (48%) and product reviews (38%) also had their fair share of #1 + #2 rankings.
Taken together, the data suggest product page optimization at Walmart is a careful balance between several factors, not just one or two.
3. What about those "sponsored product" tags on Walmart's website and app? Do shoppers notice those?
Of 1,115 Walmart digital shoppers, 59% said they at least "sometimes" notice products marked as "sponsored." Twenty-two percent notice them "always" or "often."
And here's a follow-up question: Does the sponsored tag make shoppers more or less likely to buy the item, compared to a non-sponsored item?
Among 660 shoppers who at least sometimes see sponsored items on the Walmart website or app, 46% said the tag makes them less likely to buy the product, compared to 17% who become more likely.


4. And what about those "rollback" tags?
Here, 76% of respondents said they at least "sometimes" notice "rollback" tags, including 37% who notice them either "always" or "often."
Rollback tags, unlike sponsored tags, gets the Walmart shopper's heart racing.
Altogether, right at three-in-four (73%) said they're more likely to buy a product on Walmart.com or the Walmart app when they spot a rollback tag.
5. On the Walmart website, what feature do shoppers interact with FIRST?
No contest here. It's the search bar.
Sixty-eight percent said they go right to the search bar when they arrive at the Walmart website (not in the app). In a very distant second: the department menu.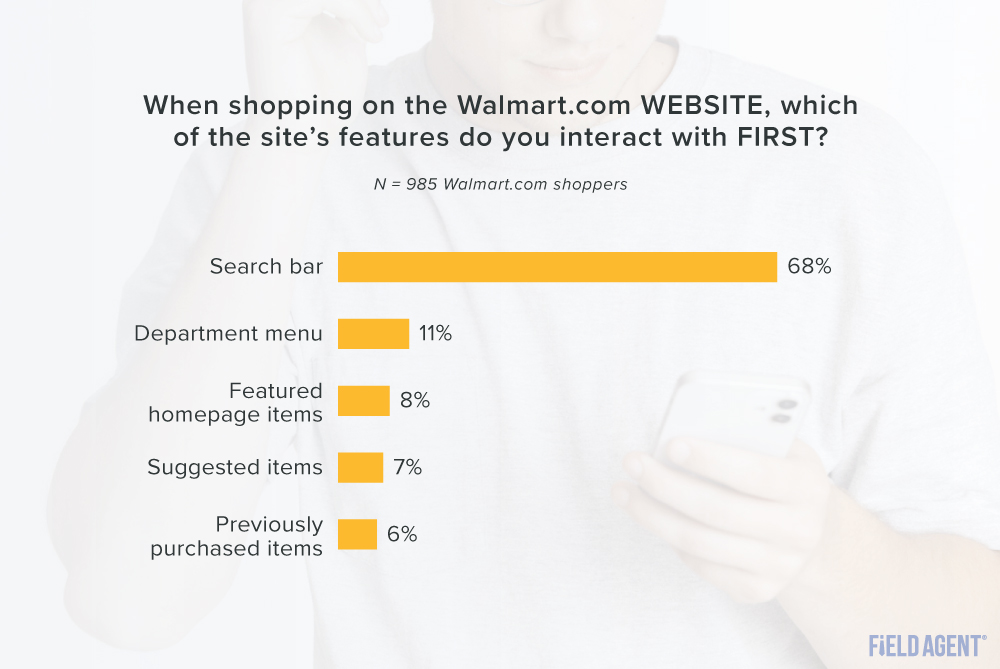 Little changes on the app. Of 1,002 Walmart app shoppers in the sample, the same number, 68%, said they first go to the search bar.
At 12%, though, "previously purchased items" are a more popular starting point on the app than on the website.
6. When using the search bar, how often do Walmart website users visit the SECOND page of search results?
As the SEO joke goes: The safest place to hide a dead body is on the second page of Google results. But what about the second page of Walmart.com results?
Of 985 respondents who shop on Walmart's website, 69% said they at least sometimes visit the second page of search results. Only 5%, however, said they "always" do, while 22% said they "often" do.
Interestingly, on the Walmart app, folks are less likely to search deeply. Among those who shop on the Walmart app (n = 1,002), only 40% said they at least sometimes scroll past at least 60 items on the retailer's app. That leaves the majority, 60%, who rarely if ever do.
7. How often do Walmart digital shoppers search by brand name?
Although only 6% of shoppers (n = 985) said they "always" search by brand name on the Walmart website, fully 83% indicated they do at least "sometimes."
Only 3% said "never."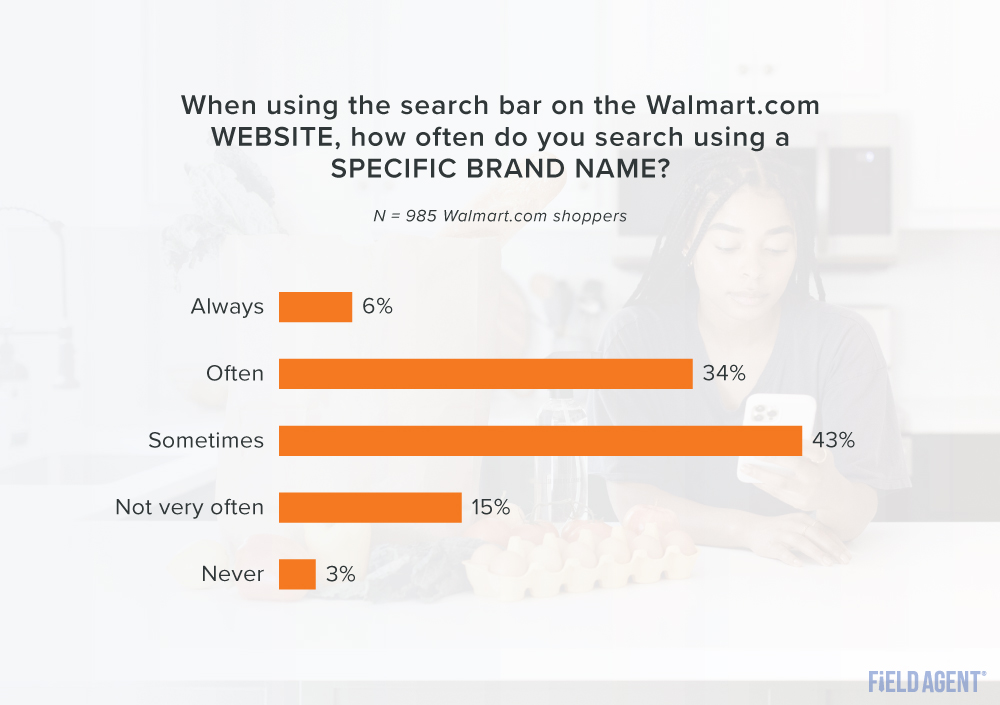 The results hold steady on the app. Eighty-five percent answered they at least sometimes search by brand name on Walmart's app, compared to 2% who never do so.
However, for brands, having your name keyed into the search bar isn't a guaranteed sale.
Of 813 Walmart.com shoppers, 4-in-5 (80%) said they at least sometimes click on an item sold by a different brand than the one originally searched. However, only 18% said they click on a different brand always or often.
Bonus Question: Why NOT the Walmart website and app?
Of 1,500 originally surveyed for this article, 74% (1,115 respondents) reported making an online purchase from Walmart in the past three months. That's good market penetration by any standard.
But why, we wondered, did a few hundred shoppers make online purchases in the past three months…but none through Walmart?
Other online retailers, this sub-sample said, do the following better:
Faster/simpler shipping or delivery: 48%
Better prices/deals: 31%
Better online/in-app user experience: 31%
Easier/better pickup options: 29%
Better product assortment/selection: 28%
But, even in these areas, as evidenced by the intro of Walmart+, same-day delivery, and other digital innovations, Walmart doesn't plan to concede any online sales without a fight.
Whip Your Walmart.com Business into Shape
The Field Agent retail-solutions platform contains several quick n' easy products to help your brand grow online sales at Walmart:
Ratings & Reviews – In-Store Purchase
Ratings & Reviews – Online Purchase
OPD Listing Compliance
Brand Photography Package
Click below to explore the full range of retail-success products in the Field Agent Marketplace.