Ulta Beauty at Target: A Look Inside the 'Shop-in-Shop' [Photos]
Two industry leaders have formed what they hope will be a beautiful partnership.
Target and Ulta Beauty recently launched a series of "shop-in-shops" inside Target stores across the country. This partnership brings some of the cosmetics industry's most unique and innovative brands to the high-volume arena of big-box retail.
These self-contained islands, dubbed Ulta Beauty at Target, are an opportunity for the cosmetics powerhouse to engage with Target's broad shopper base, and a chance for Target to further elevate its makeup offerings and shopping experience.
It's a model Target has successfully explored with Disney, as evidenced by the big-box retailer's decision to add more Disney shop-in-shops this holiday season.
We turned to the Field Agent platform for an insider perspective on the new Ulta Beauty at Target. We deployed a team of female shoppers to their hometown locations, where they captured photos and shared their thoughts about the shopping experience.
Let's take a look inside, and then hear our shoppers' feedback on the experience.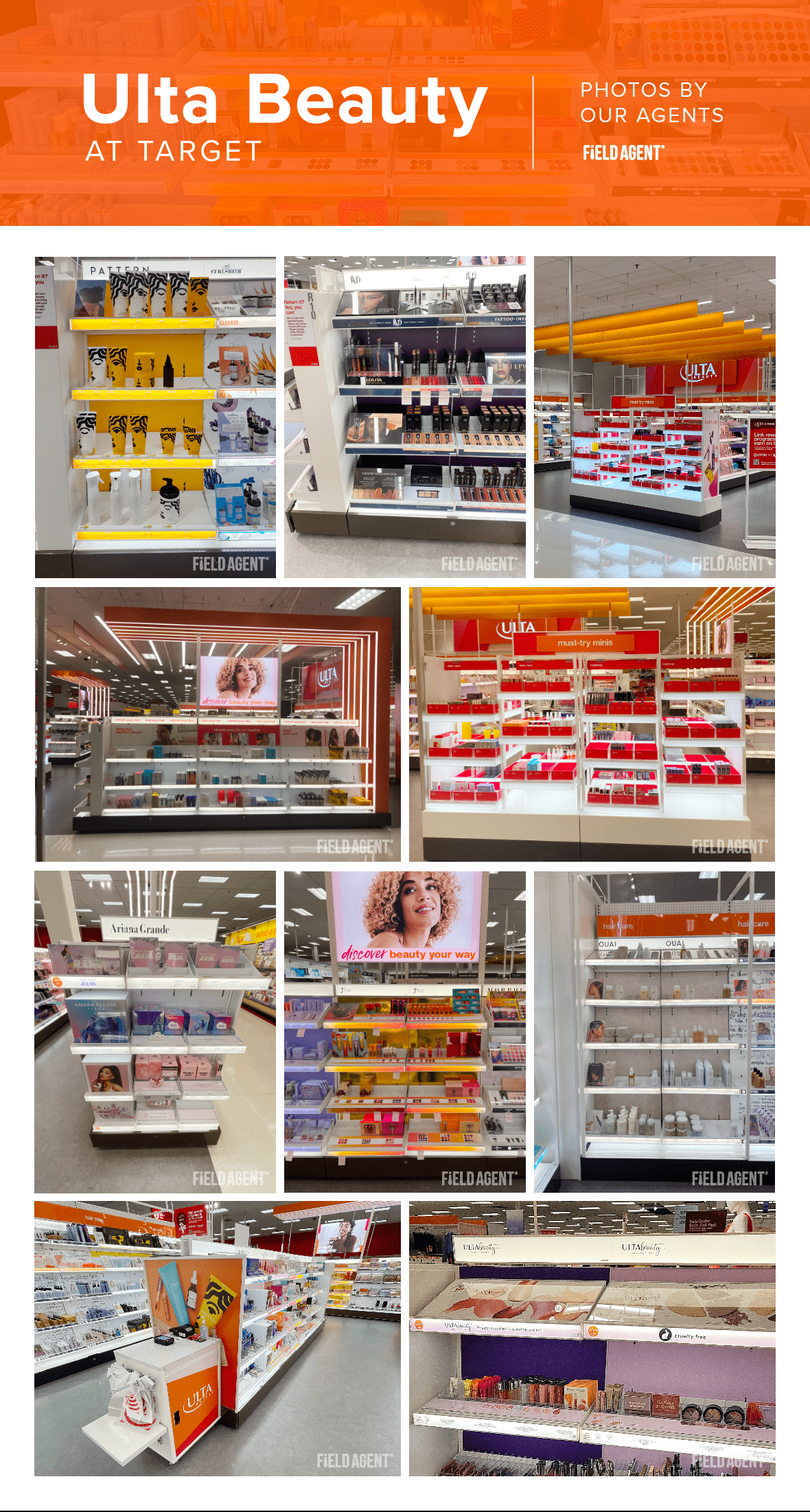 Shopper Report: Ulta Beauty at Target
Overall, shoppers rated Ulta Beauty at Target a very favorable 4.6 out of 5 stars.
But what does that actually entail? Let's dig in.
We asked shoppers to rate their local Ulta Beauty at Target on a 1-5 scale across several dimensions. Here's how the scores came back, with the most favorable ratings first:
Atmosphere/décor: 4.7
Displays/signage:

4.7

Space/layout:

4.5



Selection/merchandise available: 4.2
Clearly, across the board, our shoppers liked what they encountered. As one shopper said...
"I come to Target to do all of my shopping. I have three little kids, and it literally has everything under one roof. Now with Ulta Beauty in-store, I no longer have to take a second trip or wait to order online."
Approval for the shop-in-shop was more than skin deep. Of our nine shoppers, six said they are "completely likely" to shop at their local Ulta Beauty at Target location again. The remaining three said they were either "moderately likely" or "very likely" to do so.
The clincher for Target? All shoppers surveyed said the presence of the Ulta Beauty shop-in-shop makes them more likely to purchase cosmetics at the retailer.
"I'd like to shop here because I'd love to be able to go in Ulta without actually going to an Ulta location," said another shopper.
They also praised the partnership's double rewards program, which allows shoppers to simultaneously earn points through both Target Circle and Ulta Beauty's Ultamate program.
Overall, the shoppers applauded the convenience and selection available at Ulta Beauty at Target. The shop-in-shop filled an important niche for the shoppers, affording the products and service of a dedicated cosmetics store, all at their local Target.
All good news for this young cosmetics partnership.
Retail Solutions for Any Challenge
Get visibility in-store, gather relevant insights, drive trial of your products, merchandise shelves, and more. You can even create
custom campaigns.
Explore the Field Agent Marketplace today.
Get the In-Store Perspective
Quality retail execution is a thing of beauty.
And assessing retail compliance has never been easier, with the full line of auditing products on the Field Agent platform. From Display Compliance to On-Shelf Availability, the platform has all the tools to give you a fast, accurate perspective on in-store conditions.
So you can see everything shoppers see. Click below to learn more.