Interactive Retail Glossary: Enter the World of Shopper Marketing
Retail has its own ever-evolving language, and, frankly, it can be hard to keep up with all the jargon out there—cart rails, PDQs, clip strips, shelf-talkers, sidekicks…
And then, of course, there's always the question of retailers: What, for instance, does a pallet display look like at Sam's Club versus Lidl? A dump bin display at Publix versus H-E-B? A BOGO display at Kroger versus Winn-Dixie?
Today, Field Agent unveils a free, one-of-a-kind interactive glossary to help retail professionals and educators navigate the world of shopper marketing. Presently encompassing terms and photos across 70 concepts and 15 major retailers, Field Agent's glossary will be updated on a regular basis to reflect the latest shopper-marketing trends among an ever-growing list of merchandisers.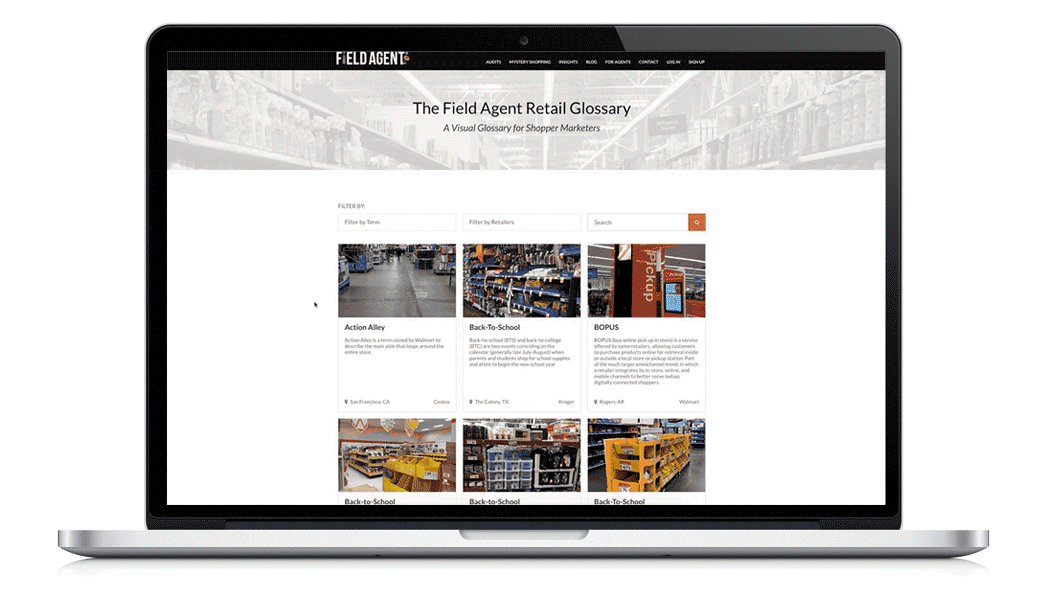 "The glossary's set to become a go-to resource for both retail professionals and educators," said Rick West, CEO and co-founder of Field Agent. "We're simply using one of our core services, in-store visibility, to help companies stay in-the-know on shopper marketing and retail execution."
Members of the company's one million-plus shopper panel collected all photos in the glossary, quickly and easily through the Field Agent mobile app.
From the public page, visitors can sign up for a free, premium version of the glossary, unlocking additional photos and advanced filtering options. In this premium glossary, visitors even have the ability to search for concepts by retailer—facilitating easy comparison of photos across merchandising operations.
Field Agent invites users to suggest new retail concepts for inclusion in the glossary, which can be done by emailing the company at marketing@fieldagent.net.