Breaking: Walmart Debuts a New COVID-Friendly Take on Retailtainment
In-store samples and demos were one of the early victims of the coronavirus.
Now, many retailers, brands, and agencies are questioning what role, if any, retailtainment can play in this restrictive, post-outbreak retail environment.
Free Case Study: How Kraft-Heinz poured on retail sales with Digital Demo, an alternative to traditional in-store demos
Indeed, Walmart, the nation's largest retailer, debuted one intriguing possibility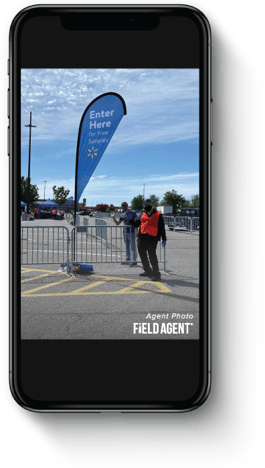 just this weekend: a drive-thru sampling and demo event.
That's right, drive-thru.
As in, "Pull up to the first window please."
With a special focus on moms and Mother's Day, this unique customer appreciation event took place on Friday and Saturday at Walmart Store 5260 in Rogers, Arkansas, just a stone's throw from the company's headquarters in Bentonville.
Through the Field Agent on-demand platform, Endcaps & Insights deployed five agents to the event to take pictures, capture video, and experience firsthand the different sampling and demo stations.
The video below offers a glimpse at Walmart's latest, COVID-friendly take on retailtainment, complete with audio commentary from a real participant.
Due to windy conditions, Walmart's customer appreciation event was more subdued on Friday. Sampling/demo stations were positioned closer to the building that first day. But, with blue skies on Saturday, the company's drive-thru take on retailtainment was on full display.
As you can see in the photos and video, Saturday's drive-thru consisted of two "Walmart blue" tents, staffed by smiling, orange-vested Walmart associates. One of the tents contained fashionably dressed mannequins sporting new "spring and summer styles."
From the safety of their vehicles, customers could view and, via QR code, even interact with banners advertising Walmart's latest catalog as well as "chef-inspired" recipes for Mother's Day. As one agent commented, "I liked how there was no up-close interaction needed and it could all be done from my car."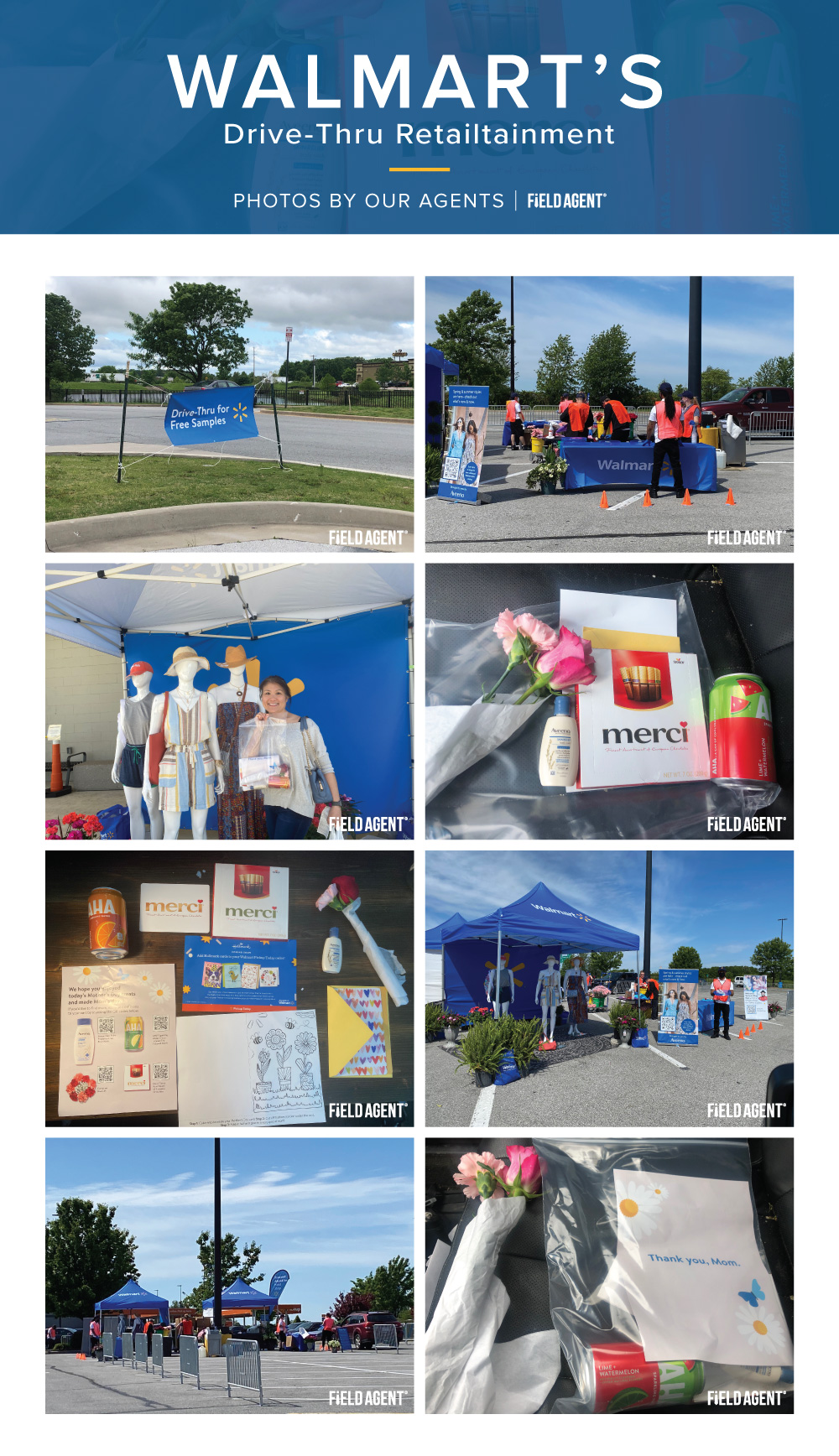 Using a tray for a little added distance, Walmart associates distributed carnations and roses to moms as they drove by. Customers also received free samples like Merci chocolate, Aveeno body wash, Aha sparkling water, and Hallmark greeting cards. Customers received a glossy flyer offering more information about each product.
"I liked how they gave my mom flowers in addition to the bag," said another agent. "It was a very nice touch."
Will Walmart roll out this drive-thru retailtainment concept, at a time when concerns about the coronavirus remain firmly in many shoppers' minds?
Most participants to the event on Friday and Saturday felt Walmart should expand the event to other areas.
In the words of one grateful mom…
"…I just appreciate [Walmart] for thinking about us today. This was just a way to honor the mothers. I love the gifts they gave out. Very thoughtful. And I was just honored to be invited [to] this event today…thank you Walmart."
For more insight into retail developments through the pandemic and well beyond, from retailtainment to OGP, just subscribe to Endcaps & Insights below.
Retail Solutions for Any Challenge
Get visibility in-store, gather relevant insights, drive trial of your products, merchandise shelves, and more. You can even create
custom campaigns.
Explore the Field Agent Marketplace today.
Subscribe to Endcaps & Insights
Endcaps & Insights is where retail headlines come to life through fresh insights, illuminating photos, and curated videos. It's a great way to stay in-the-know about the latest happenings across the retail industry. Subscribe below!