Does Walmart's Express Delivery Deliver on Its 2-Hour Claim? [Video]
The Walmart Express has come to town.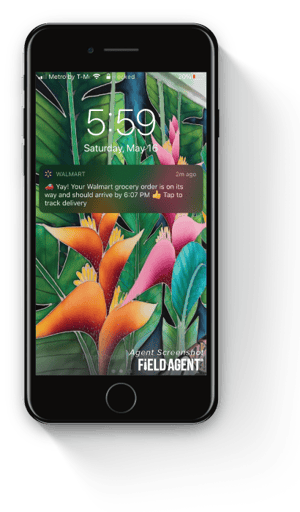 Just last week, the nation's largest retailer flipped the switch on an aggressive expansion of its new 2-hour delivery service, Walmart Express Delivery. In one fell swoop, the retailer went from offering 2-hour delivery through just 100 pilot stores to offering it through as many as 2,000 stores nationwide.
According to Janey Whiteside, chief customer officer at Walmart, the move is in direct response to the coronavirus outbreak and its impact on shopping habits.
"We know our customers' lives have changed during this pandemic, and so has the way they shop," she said. "COVID-19 has prompted us to launch Express Delivery even faster so that we're here for our customers today and in the future."
Some industry onlookers have interpreted Walmart Express Delivery as an answer to Amazon's 2-hour Prime Now delivery service.
See Also: Walmart X – Inside the Customer Experience at Walmart [Special Report]
Of course, 2-hour delivery—not just same-day delivery—across thousands of stores and a massive 160,000 items isn't business as usual for Walmart.
Express Delivery is an ambitious undertaking, one that raises some questions:
Is Walmart delivering on its 2-hour delivery promise?
Are customers receiving their purchases in good condition?
Do users consider the service a good value?
And, in general, what does Express Delivery look like from the customer's all-important perspective?
Time for some answers.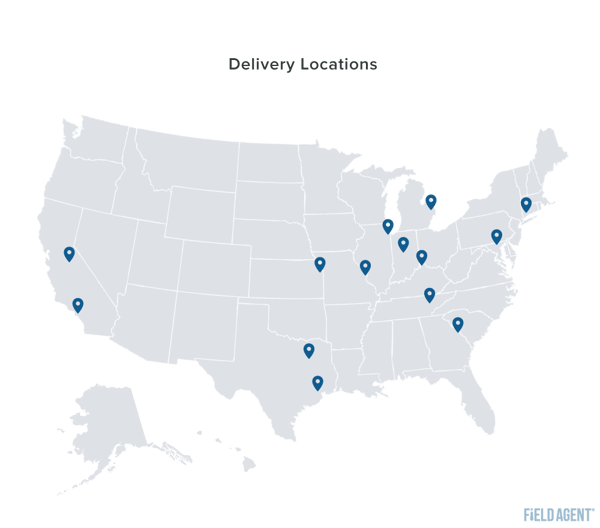 The Customer Experience: Walmart Express Delivery
Through the Field Agent on-demand platform, Endcaps & Insights enlisted 19 agents over the last several days to purchase at least $30 worth of groceries and/or household consumables through the Walmart app or website for "express" delivery to their homes.
We asked agents to capture video, photos, and screenshots of the shopping-and-delivery process, and to answer several questions about the experience.
The video below offers an up-close look at Walmart Express Delivery, from the customer's unique point-of-view.
Scroll down for even more images from this user-experience study and for answers to several pressing questions about Walmart Express Delivery.
Q&A: Walmart Express Delivery Through the Customer's Eyes
After receiving their orders via Walmart Express, we asked agents several questions about their experience with the new delivery service.
We share the results below as a five-question Q&A.
1. What did users think about the online/in-app shopping experience?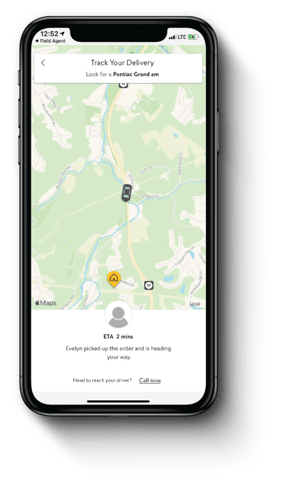 Agents were positive about the online shopping process and experience through the Walmart app or website.
In all, 19 participants rated the Walmart app/website a 4.6 for its navigability, where five was excellent and one was poor.
They also generally appreciated how easy the website/app made Express delivery.
Participants rated the website/app a 4.2 on "finding and opting into Express Delivery" and 4.4 for "information and messaging about the delivery itself" (e.g., where the delivery is in-process).
Overall, participants rated their online shopping experience a 4.2.
2. How long did deliveries actually take?
Now we arrive at the question of the hour: Did Walmart make good on its 2-hour delivery promise?
In short, yes. Express Delivery proved to be faster than we—and many participating agents—expected from the outset.
We asked agents to time exactly how long it took to receive their orders from the moment they were submitted online to the moment they were delivered to their doorsteps.
Eighteen agents ultimately received an Express delivery from Walmart. One agent did not receive an order because Walmart canceled it approximately five minutes after it was placed, citing "unusually high demand" in a message to the would-be customer.
Of 18 participants who did receive an order, only one delivery took longer than 75 minutes to receive. This order, the agent reported, took four hours.
The chart below displays the full results. Ultimately, 15 of 18 deliveries took no longer than one hour to make the trip from store shelves to customers' doorsteps. In fact, seven orders made it home in less than 45 minutes.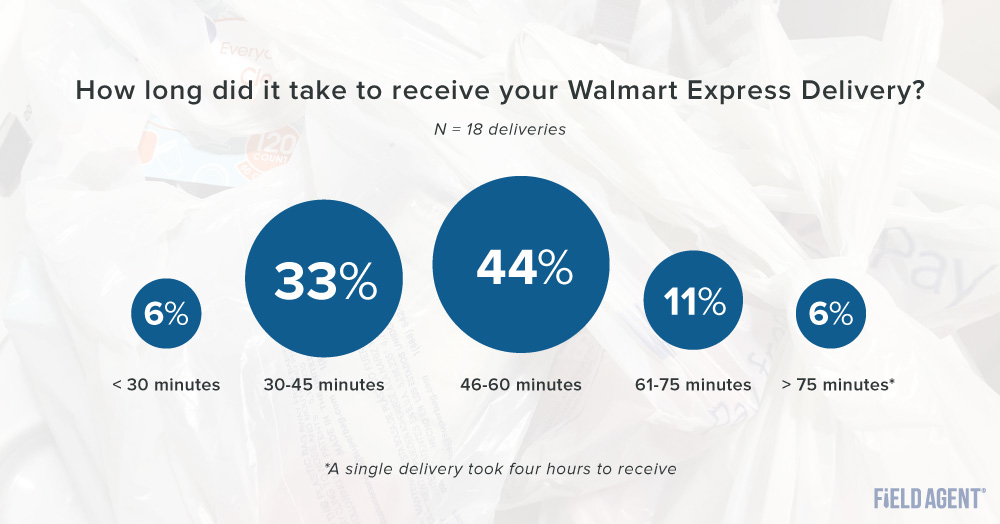 So, yes, the results suggest Walmart is making good on its 2-hour claim—and then some.
And participants definitely noticed. On a five-point scale, agents rated Express Delivery a 4.8 for speed and punctuality.
In their own words…
"Same expected, efficient online ordering. But with unbelievably fast delivery!"
"We got our groceries in 30 minutes, which totally blew my mind!"
"I received my order in under an hour which was much quicker than I expected."
3. Were groceries fresh and in good condition?
One thing about grocery delivery: There's a "middle man." The customer outsources the choosing and handling of groceries to a stranger—which naturally raises questions about the freshness and condition of groceries.
However, here, too, Walmart passed the shopper test. Participants who received orders (n = 18) rated Express Delivery a 4.6 (on a five-point scale) for the overall condition of, specifically, their groceries.
And what about the freshness of fresh produce? To gauge this, we asked agents to order at least one item of fresh produce.
Of 15 agents reporting, produce freshness received a favorable 4.6.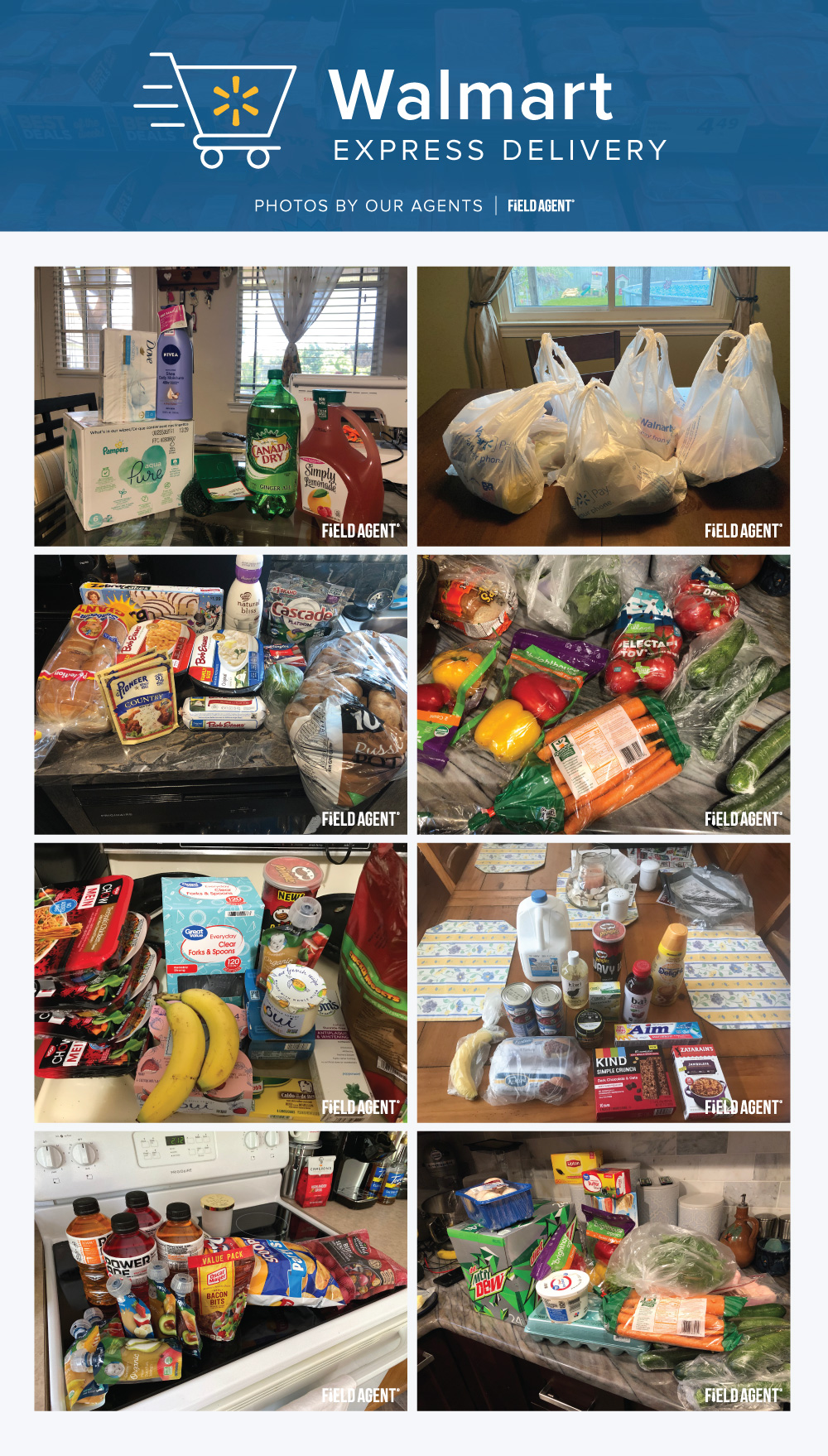 4. Is Express Delivery worth the cost?
There's a saying in business. Something like: You can have it fast, good, or cheap. Pick two.
Results from this study suggest Express Delivery is "fast" and "good." But, readily available pricing information also suggests it's not cheap.
To use Express Delivery, customers must…
Purchase at least $30 worth of groceries or other items
Pay applicable state taxes and fees
Pay the usual delivery charge (which was $8.90 for us locally, though the cost varies)
Pay a $10 Express Delivery fee
So we're talking a minimum outlay of approximately $50 in most areas.
Not cheap.
In our user-experience study, 18 agents rated Express Delivery a 3.4 for value, or the cost of the service relative to the benefits received.
In other words, despite the clear benefits of Express Delivery, the fees were a pain point. As one said, "[The service is] very convenient and fast, but expensive."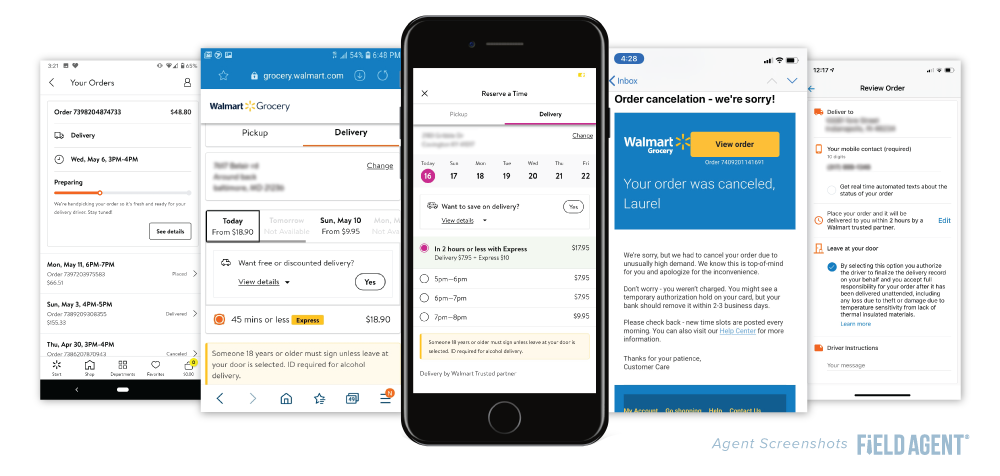 At the same time, the whole fast-good-cheap tradeoff is not lost on customers. They generally know that, in this world, "you get what you pay for." As another said, "I get to have my groceries delivered in less than two hours, so it's worth the extra cost."
Read between the lines of agents' qualitative comments, and you get the sense the service won't be perceived first and foremost as an "everyday," go-to shopping option, but as something that can be used in a pinch or for a special purpose.
"If you need groceries to cook a great meal and can't wait a few days, I would recommend using the service."
"[It is a great service] if you're one of those busy individuals wanting to have [groceries] in a flash."
"I can definitely see myself using this service, especially for my elderly parents."
5. How likely are shoppers to use the service again?
Ultimately, 11 of 18 participants (i.e., who received orders) said they'd be completely or very likely to use the service again in the future. Only two said they'd be "not at all likely," with the cost and concerns about grocery condition/substitutions being the major apprehensions.
In the words of one participant, "I would use it again for the convenience of getting needed items without having to leave my home."
And in the midst of a pandemic, the whole sentiment of "without having to leave my home" is more salient than ever among shoppers. Which is why Walmart is hoping Express Delivery is an opportunity whose time has come.
Caution, understatement ahead:
COVID-19 is doing a real number on retail, and we at Endcaps & Insights are carefully watching major retail developments throughout the pandemic.
Subscribe below to receive updates when we post new studies.
Retail Solutions for Any Challenge
Get visibility in-store, gather relevant insights, drive trial of your products, merchandise shelves, and more. You can even create
custom campaigns.
Explore the Field Agent Marketplace today.
Subscribe to Endcaps & Insights
Endcaps & Insights is where retail headlines come to life through fresh insights, illuminating photos, and curated videos. It's a great way to stay in-the-know about the latest happenings across the retail industry. Subscribe below!
Mobile Research, Mystery Shopping, Omnichannel, Grocery, Customer Experience