16 Shoppers Review Their Walmart+ Memberships [Video]
Walmart's making waves in retail.
As usual.
Last week, the retail juggernaut rolled out a new membership service nationwide: Walmart+. This program, which currently offers enhanced delivery options, a new "scan and go" shopping experience, and lower fuel prices, is designed to compete with the current king of online retail: Amazon.
To hear a few first-hand reports of the new service, we found 16 trusty agents who had subscribed to Walmart+, and interviewed them about their experience. Watch the video, then read on for more insights!
The Subscription Landscape
Before we asked about the Walmart+ experience, we wanted to know about the membership's competition. With so many membership services available, which ones were agents already subscribed to?
Perhaps unsurprisingly, Amazon Prime took the crown. 13 of our 16 agents already had Prime memberships, and 12 had Netflix subscriptions.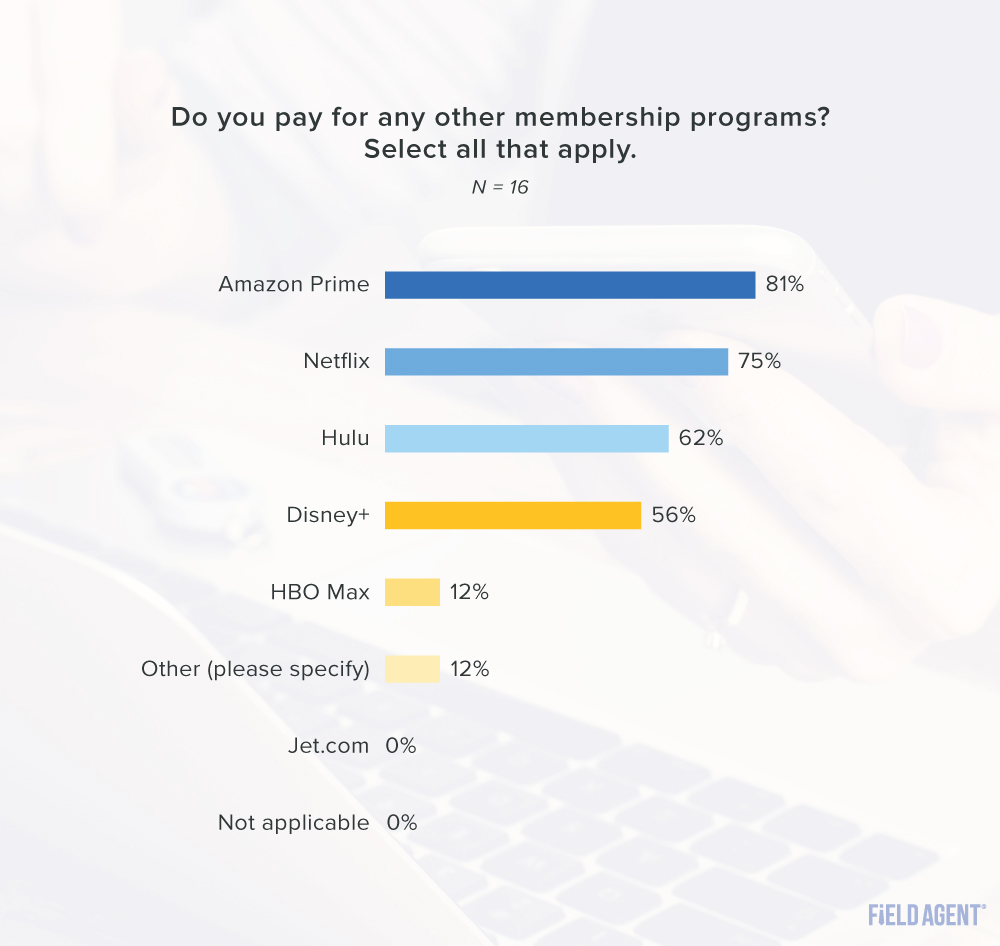 What's the Plan?
Now down to the nitty-gritty. Walmart+ offers two different payment plans, as well as a free trial. The plans run $98 a year or $12.95 per month. Which option is the most popular?
Of the agents who were paying for their subscriptions, 6 had swung for the full annual membership, and two were on the monthly plan. Half of our agents were on the free trial (not really surprising, considering how new the service is). And a few are sharing the love: 19% of our agents surveyed are sharing their account with someone else.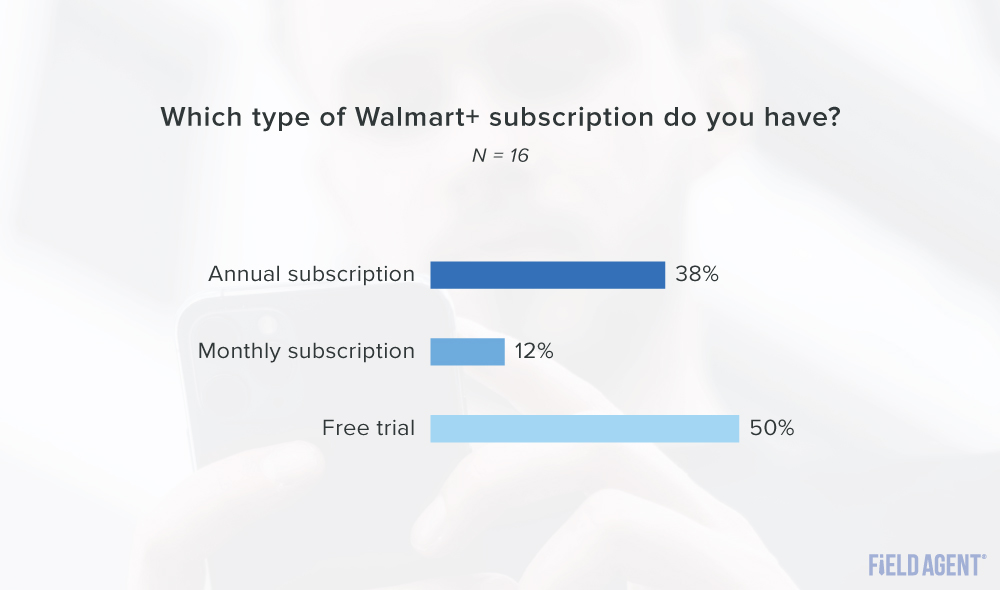 Membership Benefits
Let's get to the good stuff: benefits. Convenience is at the heart of most of the service's benefits. Walmart has developed "Scan and Go" mobile technology that allows members to scan items in-store, keeps track of their totals, and checks them out of the store in one scan at the register.
For members who prefer to shop online, delivery is free, unlimited, and (in some areas) delivered in one hour. In addition, members get a fuel discount at Walmart-affiliated gas stations.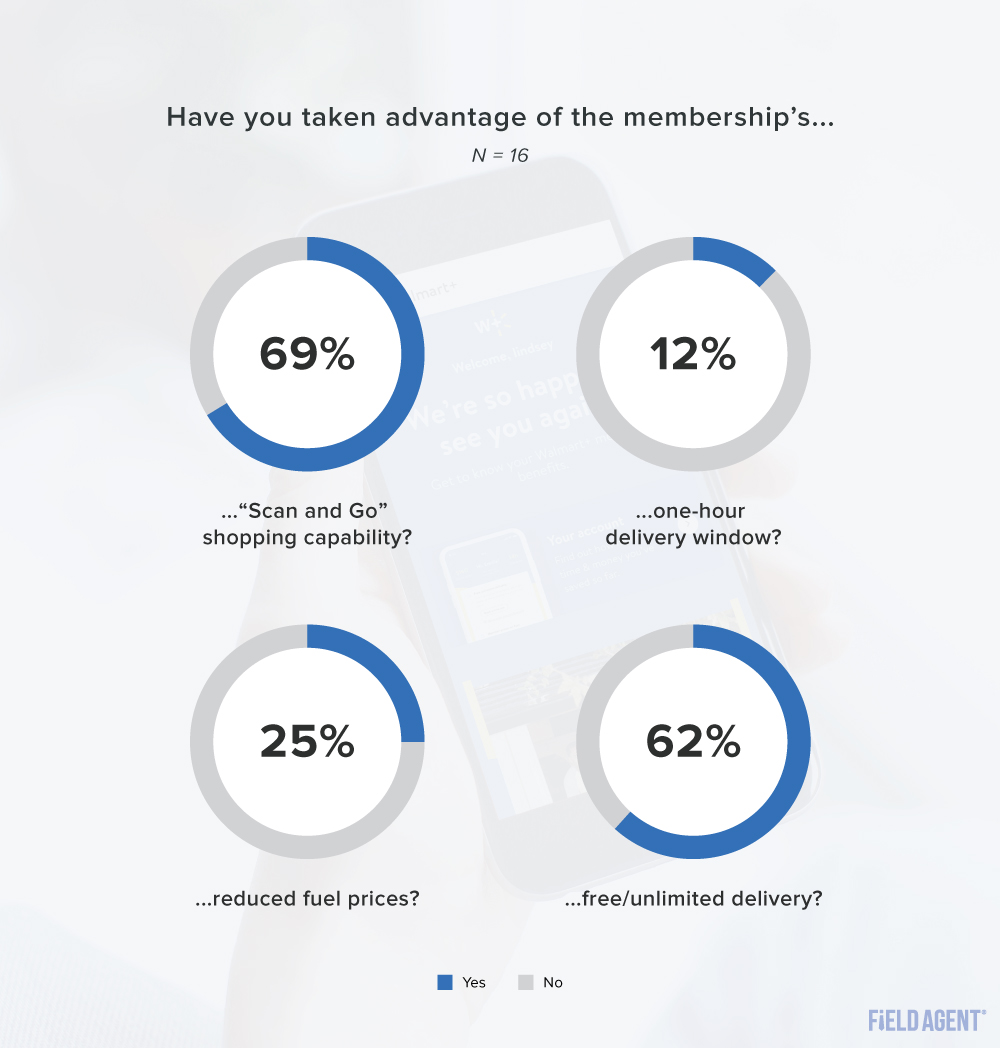 Which of these services are subscribers actually taking advantage of? The most frequently used benefit, clearly, is the free/unlimited delivery, with 10 of our 16 agents taking advantage of it.
And the least used benefit? One-hour delivery, which only two agents had actually used since getting a membership.
Overall, shoppers were impressed by the service. For every single benefit, no agent said that they were less than "completely satisfied" or "very satisfied" by their experience. Even the least used benefit left an impression: both users of the one-hour delivery said that they were "completely satisfied" with the benefit, and that they planned to use the service weekly.
Walmart+ Ranked
Let's play the ranking game! We had our agents rank the benefits they receive through Walmart+ by how useful they are to them. Each agent ranked ALL of the benefits, whether they currently use them or not. Below, each benefit is ranked by how many agents marked them as their #1 or #2 choice.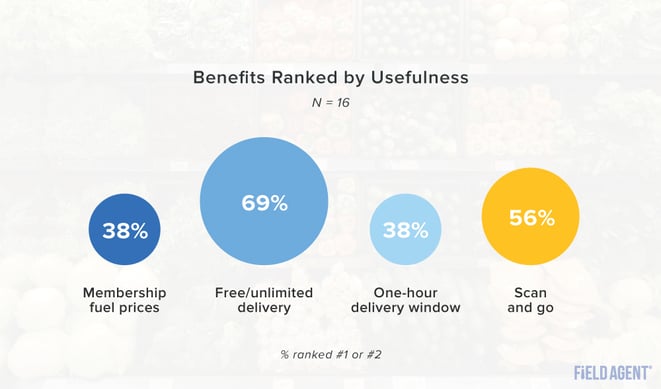 Free/unlimited delivery and Scan and Go were each selected by over half of our shoppers as the #1 or #2 benefits.
How well will this service pay off for Walmart? According to our agents, pretty well. Half of our agents surveyed said that they are purchasing more items (excluding fuel) from Walmart because of the benefits they get from their Walmart+ memberships.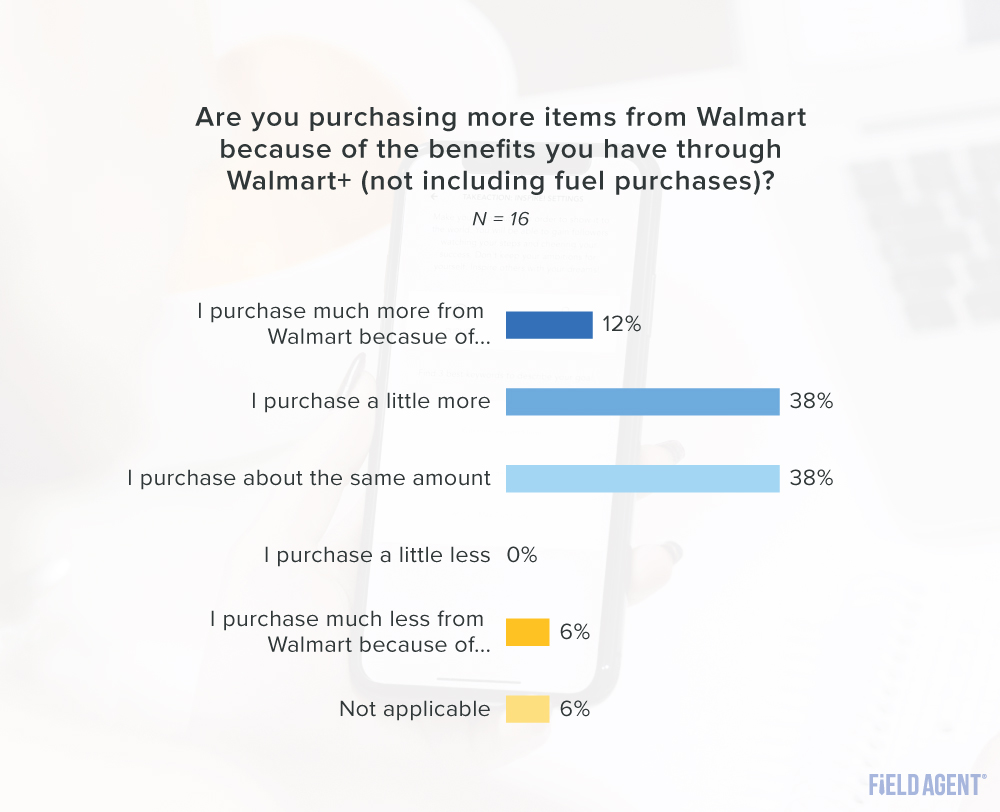 Final Thoughts
Overall, our agents reported a very positive experience with Walmart+. It's telling that, when we asked our 16 testers if they would be renewing their subscriptions, 15 of them said "yes!"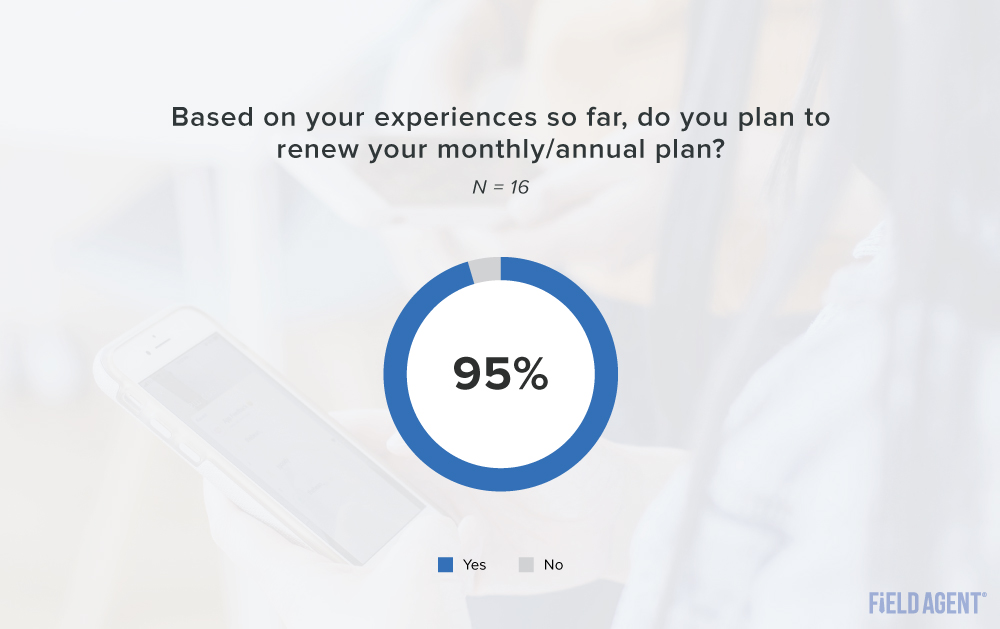 What did our agents have to say about their experiences with Walmart+?
"I love all the Walmart app extras like the in-store assistance, the purchase receipt history, the ability to check stock in stores... all the little perks of the app."

"As a mom of small children, the services it provides offers a great deal of benefits to me. I definitely plan on renewing my membership next year."

"I love it!!"
Retail Solutions for Any Challenge
Get visibility in-store, gather relevant insights, drive trial of your products, merchandise shelves, and more. You can even create
custom campaigns.
Explore the Field Agent Marketplace today.
Go beyond Walmart+
Want more juicy Walmart insights? Get the inside scoop on Walmart's customer experience with Field Agent's Walmart X report! Using the Field Agent on-demand platform, we explored the following CX dimensions at Walmart:
Store navigation

Prices and price perceptions

On-shelf availability

Customer service

And many more!