CMO Exchange Conference: Drive the Future with Technology & Innovation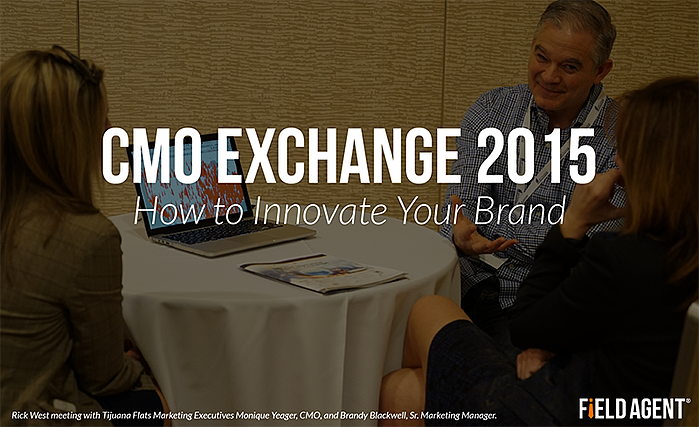 Brand innovation and marketing technology tools were the focus of the 4th Annual Chief Marketing Officer Exchange I attended last week in Orlando, Florida. We had record lows in the 20's during the first days of the session, so it was all about the content. The event and keynote speakers delivered dynamic, executive level expertise to CMOs and senior marketing executives.
From Traditional to Digital
The event was kicked off by an opening keynote from Philip Kotler, who is currently the SC Johnson Distinguished Professor of International Marketing at the Kellogg School of Management at Northwestern University.
He stressed the importance of moving from traditional to digital and stated "within 5 years, if you are in the same business that you are in now – you will be out of business."
Philip went on to point out the importance of marketing not becoming too reliant on data and analytics. He said, "ethno is a critical counterbalance of data."
Analytics and Ethnography
I have to admit it was refreshing to hear an approach to driving the future by being on the cutting edge of technology while at the same time ensuring that you do not lose the "why" in the data. In our business, we capture insights at the consumer's Point of Influence® with products and services.
While capturing millions of photos and points of data with our mobile technology is exciting, we always reinforce the need to gather insights that tell us the shopper story during their path to purchase.
The Audience and their Journey
Jeffrey Kohrs, VP of Marketing Insights at Salesforce and author of Audience: Marketing in The Age of Subscribers, Fans and Followers took the stage and shared his philosophy on proprietary audience development and the flip-side of content marketing and a modern marketing imperative.
He helped us all understand that as marketers, "you must separate the wheat from the chaff when processing the thousands of moments of the customer journey."
In short, he said it's all about audiences and their journeys. If we can capture this, we will all be better marketers and be able to deliver a great product or service.
Reflecting Back
Leaving these sessions, I reflected upon Field Agent's start-up just 5 years ago and how important it was to get our app in the hands of users sooner than later. We did this so we could experience their "journey" while still ensuring that we became first to market with Crowdsourced Mobile Research.
Looking back, it was the right decision, and we continue to follow the principle of engaging our clients and end users early in the product development cycle as opposed to asking them what they think of a 100% finished product.
Delivering Quality Products
Later in the session, Sylvan Learning CMO, Julia Fitzgerald re-engaged the attendees by sharing her story of how her team at Sylvan created a brand customers believed in.
She explained how they updated their blog and re-launched their website in a way that allowed them to tell the Sylvan story while at the same time delivering leads. This carried into their products as Julia shared how "education is becoming digital" and that "their investment in digital content allowed for franchises to expand into new territories."
Julia also reinforced a key principle at Sylvan that we share at Field Agent: "Work with the best providers and developers to deliver quality products."
Our success is built by the quality of our team as well as our Agents in the field. From our developers to our project managers, their focus on product quality is unmatched in our industry. Our Agents are our "eyes and ears" on the ground and without their diligent work, we would not have the success we have today.
Moving Forward
Now that we're in March of 2015, it is continually apparent to me that we live in a moving and changing world. Attending conferences like the CMO Exchange gives us perspective of this dynamic time period. As marketers, we need to keep the audience in mind at all times. We have to think about their journey and the quality products that they'll use. At Field Agent, this is the core of our business – quality.
Take it from Field Agent Experts on How to Perform Quality Research
Sign up below to learn more about market research for your business, large or small.