Cooking Up Success: How Restaurants Win Big with Mobile Mystery Shopping
5 benefits of using your own customers to create outstanding dining experiences
They're your customers. They're not professional researchers; they're not employees. They are the people who, day in and day out, study your menus and promotions, eat your food, and use every nook and cranny of your facilities — from the parking lot to the restrooms. Who better than customers to mystery shop your restaurants and help co-create an outstanding dining experience for, well, your customers?
Restaurants have traditionally relied on professional researchers or employees to serve their mystery shopper needs. But with the rise of mobile technology, quick service and casual dining restaurants are increasingly seeing the advantages of using their patrons as mystery shoppers, to ensure high levels of both customer service and food quality.
Consider just five benefits of enlisting your own customers, equipped with their personal smartphones, to help you stay aware of what's happening in your restaurants. And while we're at it, allow us to demonstrate these benefits with the results from a recent mystery shopper study, in which we sent 250 Agents from across the country to four successful fast food chains.
1. Your customers have the research tools you need — right in the palm of their hands.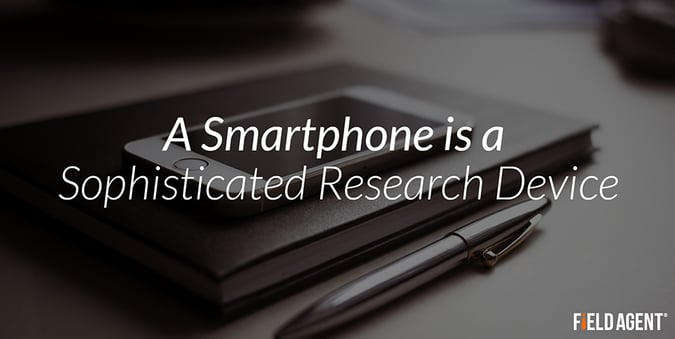 Believe it: a smartphone is a sophisticated research device. When smartphone-carrying customers arrive at your restaurants, they have the ability to take pictures, record audio and video, answer traditional survey questions, and share their attitudes and opinions as free form responses.

Our Agents can even time how long it takes to receive their food—from the moment their order is placed to the moment they pick it up at the counter. And this is exactly what we asked 250 Agents to do.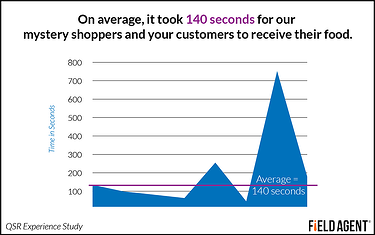 The two most widely represented fast food chains in the study differed by an average of 42 seconds on this one measurement, suggesting the importance of having a mystery shopping program to stay ahead of the competition.
Your customers—equipped with their smartphones—have the necessary tools to collect the information you require.
2. Your customers have a customer's perspective.
Traditional mystery shopping methods ask researchers or employees to act like customers. Mobile mystery shopping asks customers to act like researchers.
And while there may be benefits to both scenarios, there is one tremendous advantage of using your customers as mystery shoppers: They can answer questions like customers. When you seek their opinions, you get the attitudes and insights of actual customers—not researchers.
In our mystery shopper study, we asked our Agents to rate their satisfaction with various characteristics of the food. When asked about, for instance, the taste and value of the food, they didn't have to imagine being customers. They were customers, with a customer's perspective.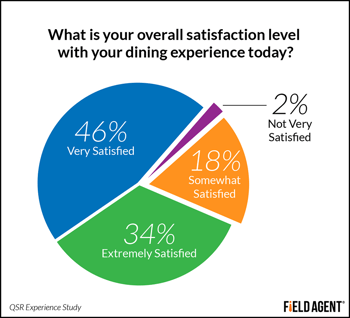 Wholly 86% were either extremely (37%) or very (49%) satisfied with the taste of their meal. 12% were somewhat satisfied, while only 2% indicated they were "not very satisfied." And, of 250 respondents, only one said he was totally not satisfied.
The sample was only a little less positive when asked about the overall value of the meal. In all, 73% were at the high end of satisfaction ("extremely," 39%, and "very," 34%), and 22% were somewhat satisfied. Only 4% were not very satisfied, and 2 agents, or 1%, said they were altogether not satisfied.
Your customers, when serving as mystery shoppers, can also express their satisfaction about the dining experience in general, as illustrated in the graph below.
See how we worked with an independent coffee shop to conduct a Mystery Shop: Mystery Shopping Made Simple with Mobile Technology
3. Your customers are experienced diners.

When you ask a customer to rate the cleanliness of the restrooms or the friendliness of employees, they have a solid benchmark—years and years of experience as restaurant customers—for making such judgments. Not only with your establishment, but with your competitors as well. Your customers have a truly meaningful basis for their assessments.
So when we asked our Agents to rate the friendliness of fast food employees, we were confident their responses would accurately reflect the attitudes of customers. And, naturally, if you want to ask about customer service, there is no better group to ask than customers. Satisfaction with employee friendliness was high among our sample, with 41% indicating they were extremely satisfied and 38% very satisfied. 15% were at least somewhat satisfied. Only 5% were "not very satisfied" and 2% "not at all satisfied."
Or when we asked agents about the cleanliness of fast food restrooms, we knew we'd be receiving expert evaluations. For this particular question we asked agents to rate restroom cleanliness on a scale from 1-5, with 5 "satisfactory" and 1 "unsatisfactory." 102 mystery shoppers, or 41%, awarded the restroom they visited a 5, and 28% responded with a 4. Midway down the scale, 21% rated the restroom a 3. Finally, 10% assigned an unsatisfactory rating of 2 (8%) or 1 (2%).
And this is from customers who know what a friendly employee and a clean restroom should look like.
4. Your customers are everywhere.
With the emergence of smartphones, you have mystery shoppers available, 24/7, anywhere cell phone service is available.
Our mystery shopper study of 4 national fast food chains encompassed 44 states and the District of Columbia. Our sample was quite diverse, from 18 to 66 years-of-age (average age = 38), including 126 women and 121 men (of those reporting), and participants from 5 different ethnic backgrounds and the entire spectrum of income levels.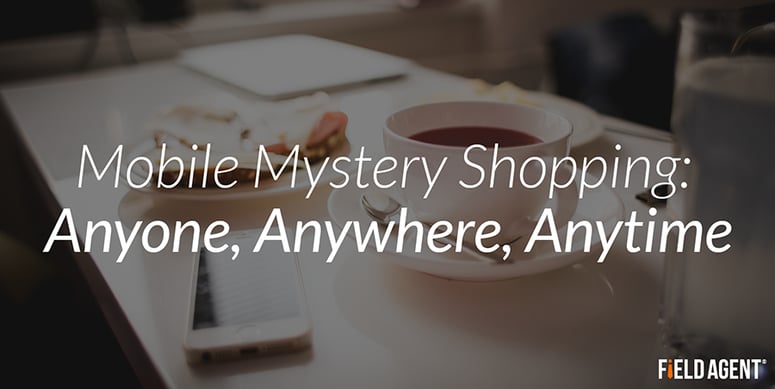 5. Your customers are backed by a team of researchers and business professionals who ensure the accuracy and timeliness of their responses.
We are a business solutions firm that utilizes mobile technology and crowdsourcing to collect business information and consumer insights.
Consequently, when we collect data for a client, we make quality a foremost concern. Every project—whether mystery shopping, at-home surveys, in-store audits, or in-home use tests—is supervised and verified by our quality control team. Accurate, timely, and affordable business solutions come first. Technology second.