Faster Fast Food? 1,000 Americans Surveyed about Mobile Ordering
Fresh 'n ready pizza, burgers, sandwiches, and coffee are increasingly just a click or two away—thanks to the advent of mobile ordering.
Many Americans today keep one or more fast food apps—Chick-fil-A, Dunkin' Donuts, Starbucks—on their phones, letting them order on-the-go and skip those sometimes sprawling fast food queues.
In other words, fast food is becoming faster.
Customer Survey: Mobile, Fast Food Ordering
Mobile solutions firm Field Agent recently surveyed 1,009 U.S. adults to understand the use of mobile apps in ordering fast food and drinks. All respondents had already used one or more fast food apps with mobile ordering capabilities prior to the survey.
Field Agent located these individuals through a simple screener, and we required all respondents to submit a screenshot of at least one fast food app on their phones.
Below we present several noteworthy insights as a 10-question Quick-Fire Q&A.
Additionally, as the video shows, Field Agent enlisted 10 fast food customers to order at least $3 of freshly-prepared food and/or beverages from five fast food (or fast casual) chains: Chick-fil-A, Domino's, Dunkin' Donuts, Panera Bread, and Starbucks. The video contains audio reviews from their mobile ordering experiences. All screenshots and photos were captured by agents.
Watch the Video: Inside 5 Fast Food Apps
Quick-Fire Q&A: Mobile Ordering & Fast Food
1. Why primarily do customers order fast food via mobile app?
Two reasons stand out. Sixty-nine percent of adults surveyed said they order via fast food app to avoid lines and crowds, while 66% indicated they use such apps to earn points, rewards, or discounts. Other reasons:
It's more convenient than ordering through employees: 53%
It's easier to pay for the order: 50%
I just enjoy using technology: 43%
To easily repeat orders in the future: 36%
To avoid incorrect orders/miscommunication: 33%
To track the progress of orders: 24%
See also: What do shoppers think about Walmart's next generation c-store?
2. What do customers order through fast food apps?
Apparently pizza lends itself to mobile ordering better than other menu items. As one respondent commented, "I use the pizza apps the most because it has the longest cooking time. I usually don't bother for food that is quick to order."
Fifty-four percent said they order pizza via app, followed by coffee (41%), sandwiches (22%), burritos/nachos/tacos (16%), chicken sandwiches (14%), burgers (13%), salads (9%), and desserts/sweets (9%).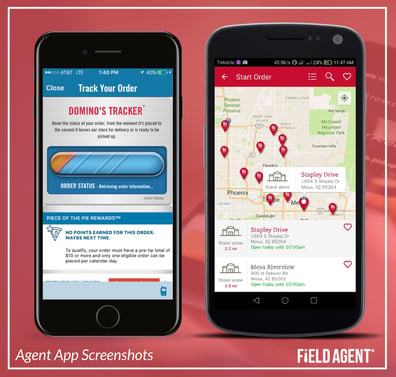 3. When do customers order through fast food apps?
Over half (54%) agreed they're most likely to order through a mobile app during "peak times," that is, when they expect the restaurant to be especially busy.
4. What frustrations do customers associate with mobile ordering fast food/drinks?
Field Agent asked, "What's the one biggest disadvantage of ordering via mobile app?" Respondents answered in the their own words, and four primary themes emerged:
App problems: "Several times I get a message that 'mobile ordering is not available.' It is frustrating when the apps go down."
Time discrepancies: "Sometimes it isn't ready when they say it will be or it is ready too far in advance and gets cold."
Missing out on promotions: "Many promotions are only available when ordered in-person instead of through an app."
Inflexibility in ordering: "It's a little harder to edit or correct your order if you do make a mistake or like to add something to your order."
5. Does mobile ordering affect the freshness of food/beverages?
The majority (70%) was neutral on this question, saying foods and drinks are neither more nor less fresh when ordered via an app. Nineteen percent, however, believe their orders are more fresh and 11% less fresh.
6. Do customers place more orders when using a fast food app?
A convincing 59% of respondents said they order from a fast food chain more frequently when in the practice of placing orders through its smartphone app. Most others (36%) indicated app usage/accessibility does not influence the frequency with which they place orders with a particular restaurant.
See also: Mystery shoppers review 180 popular, casual dining restaurants. See the results!
7. Do they spend more per order?
In all, 32% believe they spend more per order when using a mobile app. Conversely, 16% say they spend less. Most are in the middle.
8. How far in advance do customers place orders when using a mobile app?
Not surprisingly, the answer depends on the item being ordered. Consider the percentage of respondents who said they order the following items within 10 minutes of picking it up:
Coffee: 75%
Cold sandwiches: 44%
Hamburgers: 43%
Pizza: 13%
Forty-eight percent place pizza orders 10-20 minutes in advance, and another 22% 20-30 minutes ahead of picking it up.
9. Are restaurant employees competent filling mobile orders?
According to most customers, yes.
Sixty-eight percent surveyed said fast food workers are either extremely or very competent filling mobile orders. Another 28% said they're moderately competent.
10. Will the emergence of mobile ordering boost sales for the fast food industry?
Field Agent asked, "Are you purchasing and consuming more or less fast food now that you're using a mobile app to place orders?"
Although 55% said they're neither consuming more nor less, fully 41% responded they're buying more fast food now that mobile ordering is a reality. Whether fast food apps caused this increase or not is uncertain.
Time will tell whether the heightened convenience of mobile ordering paves the way for higher fast food sales.
Mobile Mystery Shopping: Fast Insights for Fast Food
Mobile Mystery Shopping by Field Agent is a simpler, faster, more affordable alternative to traditional methods. With Mobile Mystery Shops, fast food chains and other service providers use their own customers to co-create outstanding dining experiences.
Download the Mobile Mystery Shopping case study below, and see why less is sometimes more.
Mobile Research, Mystery Shopping, Restaurants, Customer Experience