Gift Wishes 2017: What Men REALLY Want for Christmas
Yesterday, Field Agent shared women's top holiday gift wishes.
Now it's the men's turn.
See Also: Is your brand really ready for holiday shoppers? [Checklist]
You won't find apparel—#1 among women's general gift wishes—on our list of "what men really want for Christmas." Nor will you see kitchenware, good enough for third with the women we surveyed.
Yet men, unlike women, made room on their wishlists for video game consoles, firearms, and speakers.
And if you're searching for an experience to give the men in your life, the guys in our survey were more likely than the gals to ask for sports tickets. Women preferred travel/trips.
What Do Men Want for Christmas?
As with the women, Field Agent surveyed over 1,000 men for this effort. We asked, "What, more than anything else, do you want for Christmas this year?"
Because some respondents were more specific than others, Field Agent aggregated the results at both general and specific levels. Among gifts men mentioned specifically by brand name, Xbox One, iPhone X, PlayStation 4, Amazon gift card, and Apple Watch were cited most frequently.
But, like the women, most men phrased their gift wishes broadly, not mentioning brand names.
Below we offer the most popular, general gift wishes among men for Christmas 2017.
This information originally appeared in our popular 2017 holiday insights report, "An Old-Fashioned, Omnichannel Christmas." Download your free copy today.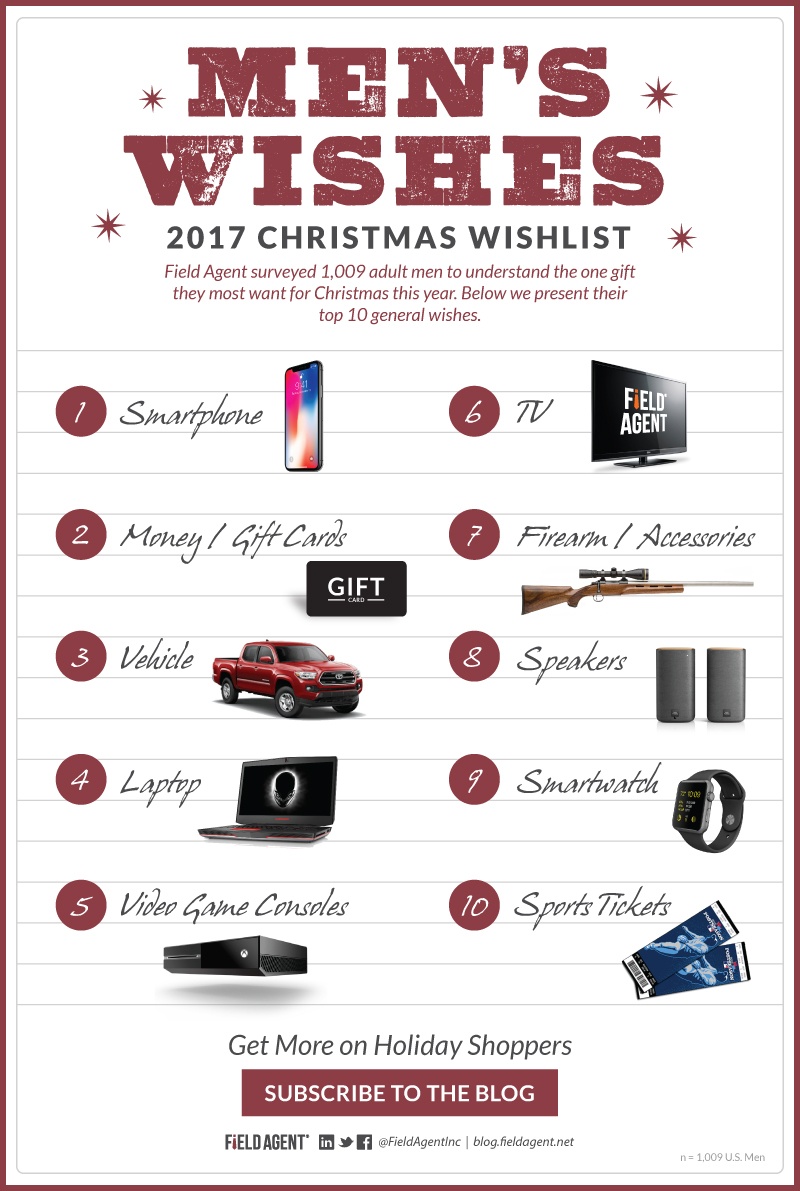 Free Download: 2017 Holiday Insights Report
Field Agent's 2017 holiday insights report, An Old-Fashioned, Omnichannel Christmas, combines more than 12,000 survey responses to offer business professionals a unique and authoritative glimpse into America's holiday shopping plans.
The report addresses shoppers' gift-buying intentions, spending plans, and preferred retail destinations, while also exploring many questions about the increasingly digital nature of holiday shopping:
What gifts do shoppers plan to buy online...and where?
What role will in-store pickup, showrooming, and webrooming play?
How do shoppers intend to use mobile apps this holiday season?
From Christmastime alcohol consumption to pet gifts, this free, professionally designed report has something for everyone. Download your copy today!