Holiday Showdown: Price-Checking 6 Popular Gifts at 3 Major Retailers
Sleigh bells and cash registers are ringing. Christmas shopping season is in full swing.
As holiday shoppers pick up gifts for their loved ones at the store (or rush to order them online in time for the big day), we put together a list of 2020's hottest gifts. Our list is based in part on the wish lists of thousands of real people in our 2020 holiday report and global Santa Survey.
We're making a list, and price-checking it twice. Field Agent sent sixty shoppers (we call them agents) to three major retailers: Walmart, Target, and Best Buy. Using the Field Agent mobile app, these shoppers price-checked the following six gifts from that list:
Apple AirPods Pro headphones

Fitbit Charge 4 fitness tracker

Bose Soundlink Revolve speaker

L.O.L. Surprise! Remix Hair Flip toy

LEGO Star Wars Resistance Y-Wing Starfighter toy

KitchenAid Classic Stand Mixer
Let's see what they found!
Price-Checking 6 Top Gifts
Our agents took note of the lowest price available for each product (including sale prices), and took snapshots along the way. For each item, we will show the mode price (that is, the price that was most frequently recorded for each retailer), and the number of stores stocking the item in parentheses.
In addition, the agents checked out stock levels at each retailer. We gave them the options to report sufficient inventory, low inventory (only 1-2 units available), or out of stock. The percentage of "low inventory %" and "out of stock %" reported for each gift is noted below. Of course, some products (like stand mixers) are larger than others, and retailers may only be able to keep a few units on-shelf.
First, let's head to the electronics department. Consistently, electronics rank at the top of Christmas wish lists in all demographics. Want to see those wish lists? Check out our 2020 holiday report!
Apple AirPods Pro
Holiday favorite Apple ranked at the top of both men's and women's wish lists in this year's holiday report. Their latest earphone offering, the AirPods Pro, is sure to be under Christmas trees around the world.
Thanks to a seasonal sale, agents found Target to be the cheapest place to pick up the AirPods.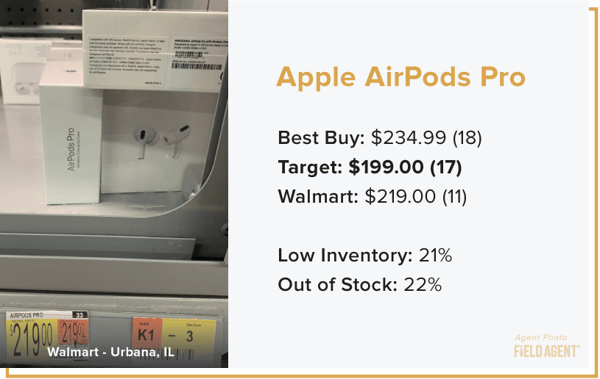 Fitbit Charge 4
Fitbits may be winners on Christmas morning - but they really shine a month later when those New Year's resolutions kick in.
Target and Best Buy offered similar prices, beating out Walmart.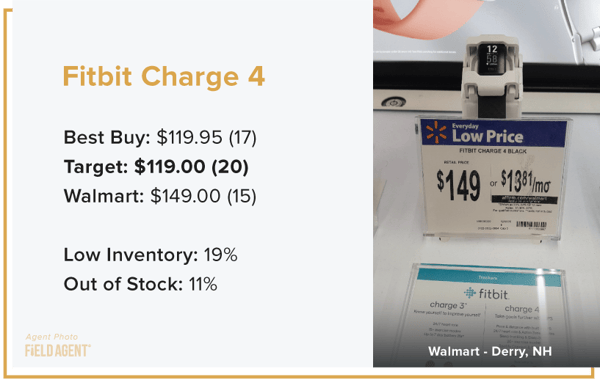 Bose Soundlink Resolve
Speakers are always popular holiday gifts, and these Bose models will be cranking out the Christmas carols this year.
All three retailers offered nearly the same price, with Best Buy only asking 99 cents more than Target and Walmart.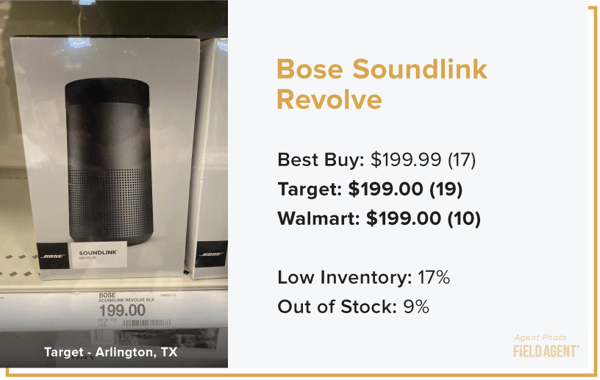 L.O.L. Surprise ReMix Hair Flip
Now let's turn to the kids' favorites: toys. Loved by unboxing stars on YouTube and their fans alike, L.O.L. Surprise is an extremely popular gift this year, especially for girls.
Agents found the lowest prices for these dolls at Best Buy.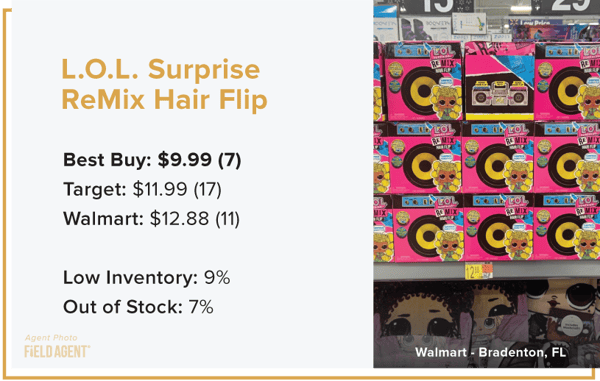 LEGO Star Wars Resistance Y-Wing Starfighter
When it comes to toys, LEGO is king. The beloved bricks ranked in the top 5 toy brands requested by children in nearly every category of our global Santa Survey this year, topping those lists more often than not.
For this item, agents found a better deal at Walmart and Target than Best Buy.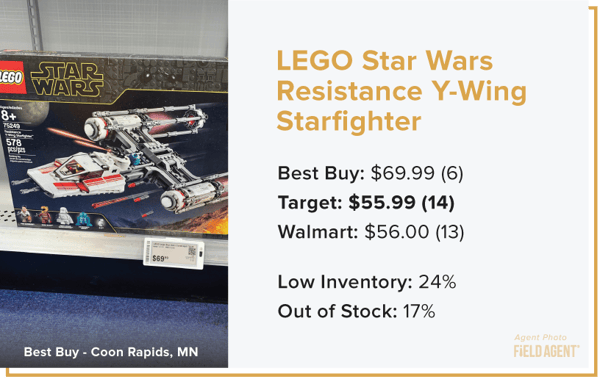 KitchenAid Classic Stand Mixer
Ah yes, the timeless KitchenAid stand mixer. For as long as we've been asking women what they want for Christmas, this classic has made it into the top 5. Since it takes up so much shelf space, agents reported high out-of-stocks for this item.
All three retailers offered similar prices for this product.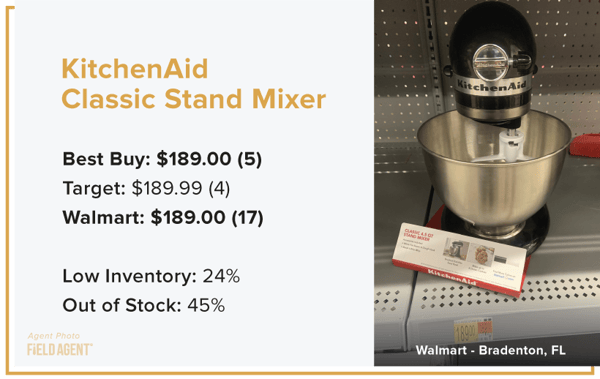 So who's the overall winner of the price wars? According to our agents, Target had the lowest prices for four of these six gifts.
Keep Your Prices In Check
One thing's for certain: if you're going to stay competitive, you need to make sure your prices are competitive.
Field Agent's retail audit and price-checking capabilities give brands peace of mind in a cutthroat retail environment. Keep your prices accurate, wherever your product is sold. Learn how below!