2021 in Retail: 4 Leaders Share New Year Lessons and Predictions
December 31st marked the end of a year that upended norms and plans for individuals, organizations, and companies.
Especially in retail.
A shifting economy, combined with soaring unemployment, meant that shoppers kept a tighter grip on their wallets. And pandemic concerns led to dramatic shifts in shopper habits.
As we reflect on a challenging year, and look forward to the opportunities of 2021, we asked four Field Agent leaders to share their thoughts on the lessons learned by retailers and CPG brands in 2020, and the changes to come in the industry.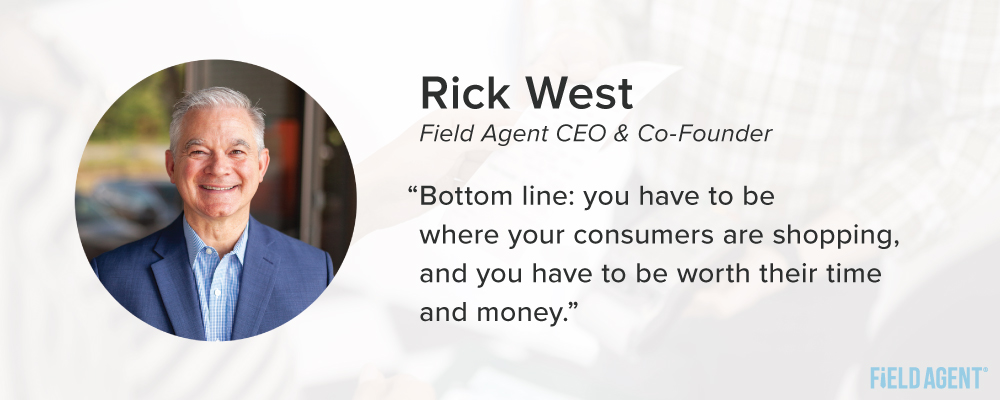 Rick: "The most successful brands in 2020 were the brands that were able to stay accessible during the pandemic, from staying in stock at the big box retailer, to being at the top of a Google search. Bottom line: you have to be where your consumers are shopping, and you have to be worth their time and money.

Shopper marketing is now more important than ever. In 2021, some consumers will return to their old shopping habits. But for many, shopping has changed for good, whether that's online ordering, delivery, or BOPIS. The way that you market to these consumers has to be different.

One question to ponder: are the days of impulse buying in-store gone, or will the impulse buying of tomorrow simply be different? I see this as the next question to answer in retail. How do you get that extra dollar from a shopper who has reduced their trips to your store?"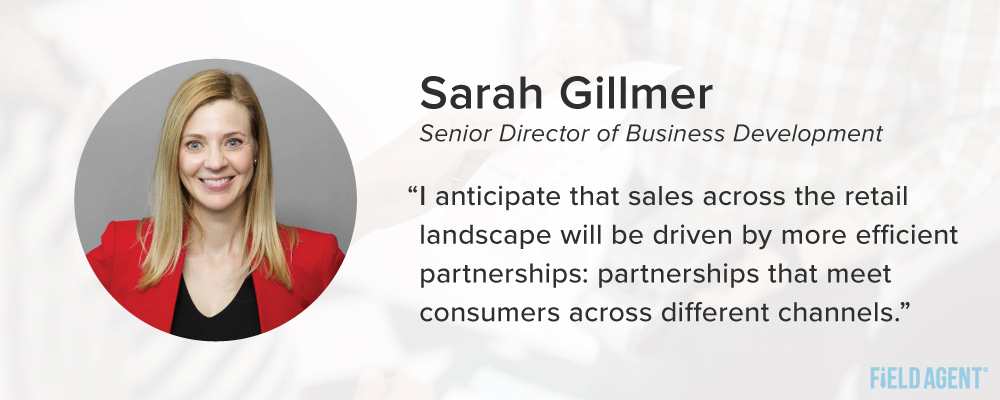 Sarah: "2020 was a tumultuous year in the CPG world. If I had to choose a word for the year, it would be flexibility. The pandemic disrupted everything from manufacturing and supply-chain to shopper behavior. The brands that were able to quickly gather in-store and online insights, and pivot to meet unprecedented needs, won big in 2020. Shopper marketing teams sought out new ways to engage consumers at home, which led to new partnerships, tactics, and innovations.

In 2021, I anticipate that sales across the retail landscape will be driven by more efficient partnerships: partnerships that meet consumers across different channels. Before the pandemic, consumers were already engaging across multiple shopping channels, and the pandemic only amplified that need and desire. Retail partners that offer concise tools and platforms to support brands will continue to grow.

Lastly, in-store trial events may change for good. CPG brands that use multi-level approaches in getting new products in the hands of consumers will dominate."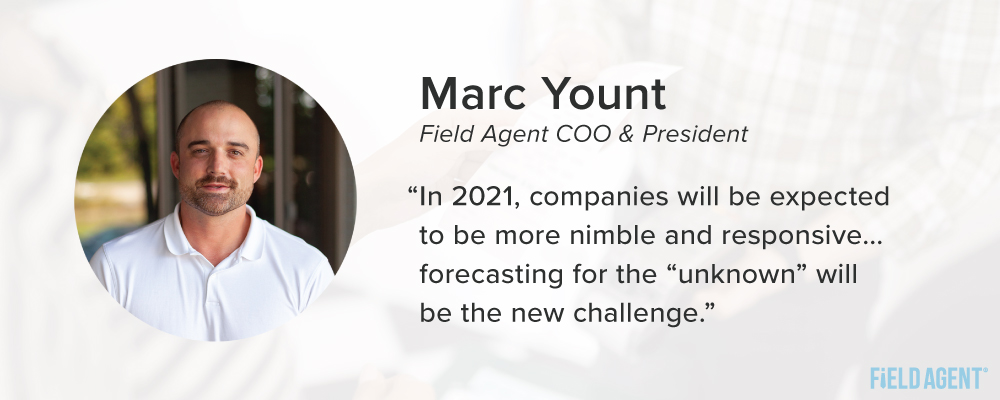 Marc: "Online pickup and delivery was clearly a trend before 2020, but I think the pandemic accelerated it by five years. If companies were struggling with their omnichannel strategy before, they are really feeling the pressure now. On the other hand, those companies that had solid omni-channel processes in place are ahead of the class now.

Supply chain is rarely in the spotlight, but that changed during the pandemic. In 2021, companies will be expected to be more nimble and responsive in keeping items in stock. Forecasting for the "unknown" will be the new challenge, and it's a tough one for older, more established companies."

Lesly: "In 2020, everyone learned that just-in-time inventory doesn't work during a pandemic! Shelves were bare for weeks after the initial onset of the crisis and some brands have only recently recovered. Brands also got creative as they faced labor and material shortages. We saw hand sanitizer in vodka bottles and people making their own disinfectant wipes out of paper towels (if they could get them).

Increasingly, it is critical for brands to be available across multiple channels. Online shopping and home delivery is not going to slow down. It'll be interesting to see if pack sizes and other item attributes change to encourage more frequent purchases."

Case Study: How One Brand Boosted Its Online Ratings and Reviews
Key Takeaways
From supply chain to sampling, flexibility and creativity are more important than ever.
As people diversify their shopping habits, accessibility across multiple channels is increasingly necessary to succeed.
Unpredictability is our reality, and companies need effective shopper marketing to keep a close eye on how their customers are behaving.
These leaders tell a clear story for the industry: innovate, innovate, innovate. As the world changes, nothing should be taken for granted, and companies that find new ways to deliver products and engage customers will come out on top.
Are you looking to innovate? Maybe your demo or sampling program just isn't cutting it during the pandemic. Maybe you're struggling to win authentic reviews as you sell your product online. Or maybe you simply need a better look at how shoppers are engaging with your brand.
Wherever you're looking to innovate, the Field Agent platform has the tools you need to win at retail. Learn how below!