How Exactly is COVID-19 Changing Shopper Behavior? [Survey]
We can all sense it. Life is different.
Following the coronavirus outbreak, people are working differently, playing differently, communicating differently, and, yes, shopping differently.
So, now, companies across the retail industry are scurrying to understand how COVID-19 is changing shopper behavior.
According to a recent survey by the Field Agent platform, 83% of respondents said their shopping behavior has changed in one or more ways, either temporarily or permanently, since the coronavirus outbreak.
But what are these changes specifically? And how likely are these changes to stick around even after the outbreak has quelled?
Let's get an indication.
Free Guidebook: 9 Coronavirus Challenges At-Retail...and How to Overcome Them
Survey: Shopping Behavior in the Age of Coronavirus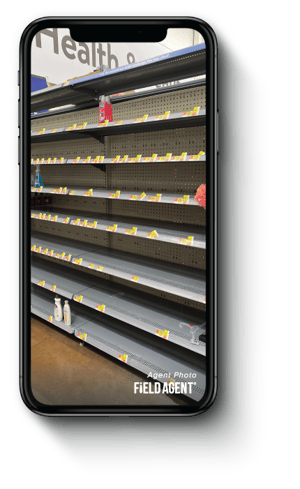 On the evening of March 25, 2020, the Field Agent platform surveyed 1,509 U.S. adults* about changes to their shopping behavior during the coronavirus crisis. This quantitative survey was preceded by a qualitative survey of 300 shoppers, when Field Agent asked respondents to describe changes to their shopping behavior since COVID-19. Their free form answers were analyzed, and resulting themes formed the basis for the larger, quantitative survey of 1,509.
*All survey respondents were U.S. adults at least 18 years of age and smartphone owners. The survey was executed exclusively through the Field Agent platform, March 25, 2020. Demos: Gender - Female (68%), Male (32%), Age - 18-24 (5%), 25-34 (26%), 35-44 (34%), 45-54 (23%), 55-64 (10%), 65+ (2%); Race - Caucasian (74%), Other (11%), African American (10%), Latino/Hispanic (6%); Household Income - < $35K (25%), $35-49K (19%), $50-74K (24%), $75-99K (14%), $100K+ (18%).
The ultimate objective was to understand the, as it turns out, many and diverse ways Americans are altering their shopping routines and habits in response to the outbreak—and whether shoppers think some of these changes could become permanent.
See below for the results in both graphics and discussion.
Results: Changes to Shopper Behavior
As seen, 83% of U.S. adults in the Field Agent survey agree their shopping behavior has changed in one or more respects since the onslaught of COVID-19.
Just how much shoppers are actually shopping is perhaps the most obvious place to begin looking for such changes.
See Also: Coronavirus Wipes Out Shelves - Out-of-Stocks Across All 50 States
As you can see below, there were plenty of respondents who said they're shopping less in-store these days—generally for obvious reasons. Of course, while 51% said they're grocery-shopping in stores less since the outbreak, 3-in-10 (27%) are actually doing more grocery-shopping in stores. The causes here are less obvious, and include stocking-up, out-of-stocks, and buying limits set by retailers.
As for online, it's noteworthy that, in the Field Agent survey, the number of respondents shopping online less isn't dramatically different from those shopping online more. Case-in-point: 25% and 27% of respondents said they're now shopping online more for groceries and household consumables, respectively.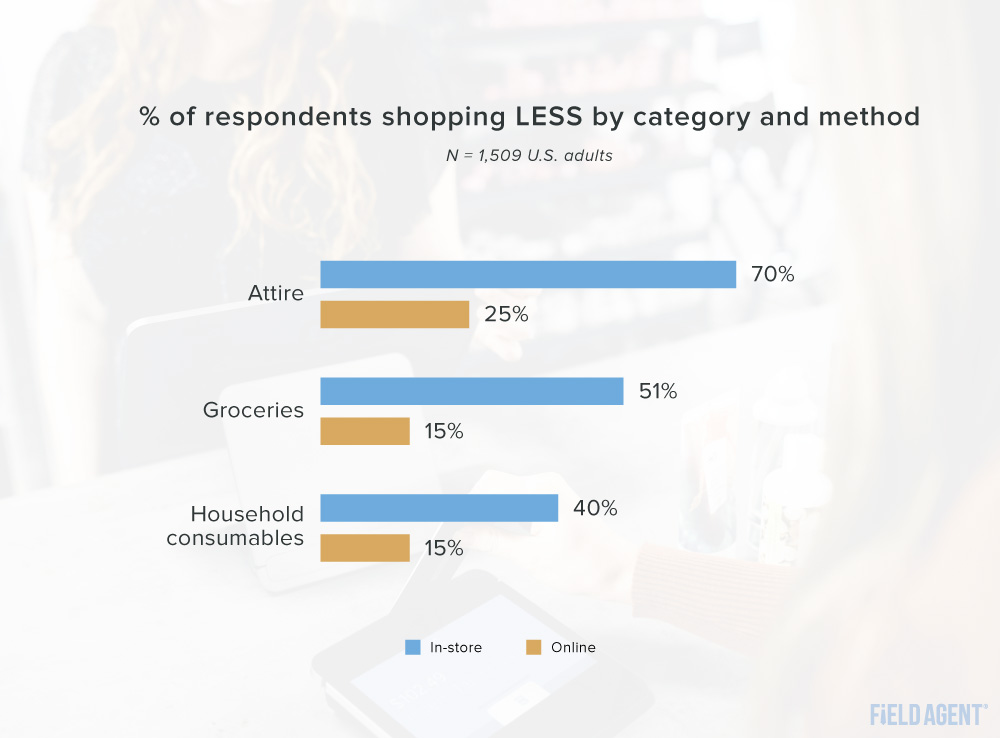 Specific Changes to Shopper Behavior
But now let's really get down to business. How, precisely, is shopper behavior changing in light of the coronavirus?
From an initial free form, qualitative survey of 300 respondents, Field Agent identified multiple, post-outbreak changes to shopper behavior. The most-cited changes, right at 50 in all, were then presented to 1,509 respondents in the quantitative survey.
The graphic below presents the results from the quantitative survey. These are the most prevalent changes to respondents' shopping routines and habits in the age of coronavirus.
Right at half of respondents said they're making fewer store trips (51%), staying at a distance from other shoppers (50%), and making quick, "in-and-out" store trips (49%).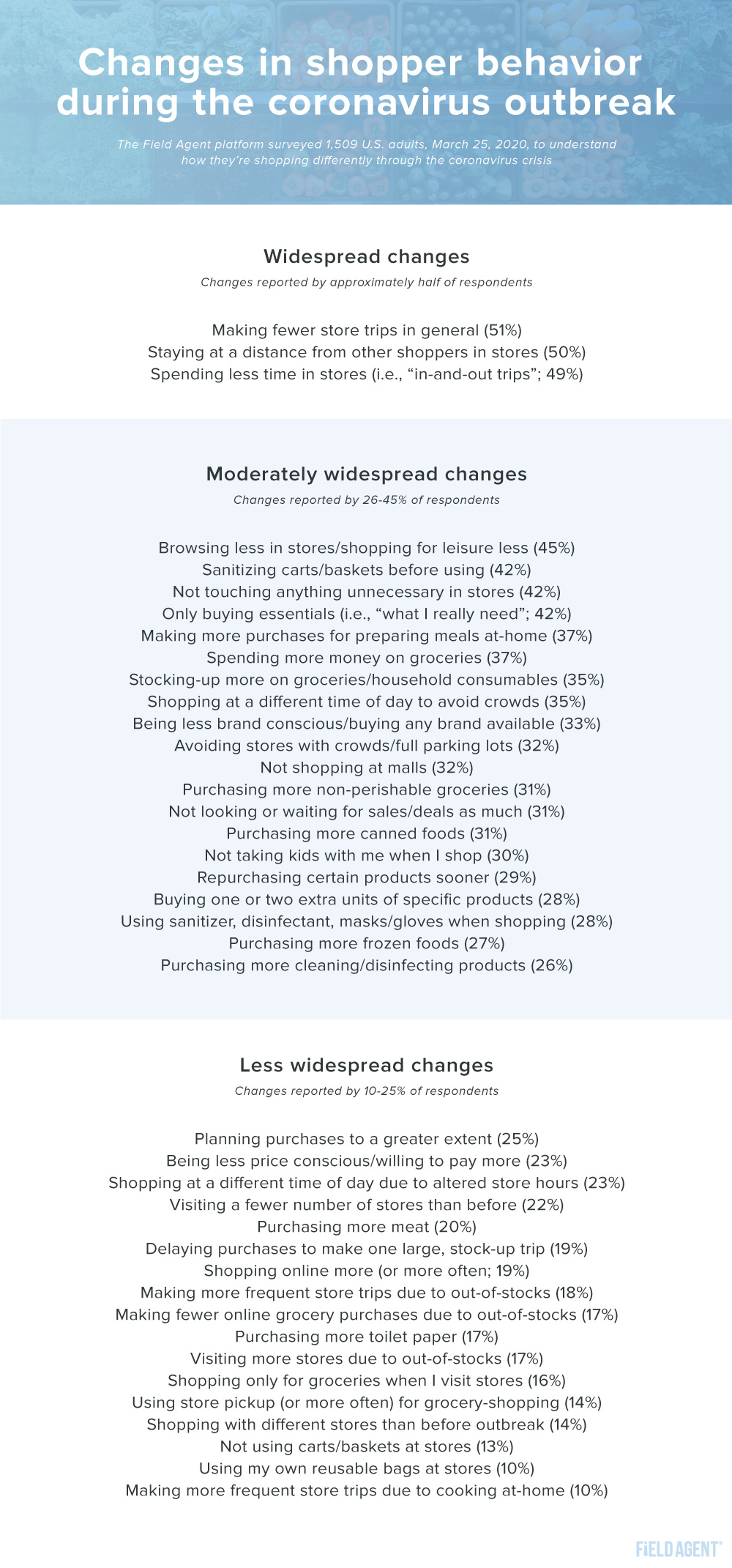 Along with respondents' free form answers, the list above offers several noteworthy insights:
"Just browsing" has taken a hard hit amid the COVID-19 crisis, with more shoppers being mission-minded on store trips
With so few households eating out these days, many are shopping to a greater extent for at-home, meal-prep foods/ingredients
More than 3-in-10 say they're making more stock-up trips that'll last multiple days, while making fewer fill-in trips to stores
Many shoppers are apparently less brand conscious these days—"I'll just take whatever's available"
It's also interesting to see what didn't make the cut.
Below are some changes that, while mentioned at least a few times in the qualitative survey, did not amass at least 10% in the quantitative survey of 1,509:
Spending less money on groceries (9%)
Shopping online less or not at all (8%)
Making no store trips at all (7%)
Using local delivery services (or more often; e.g., Instacart) for grocery purchases (6%)
Compare this last number to 14%, the percent of respondents using store pickup (or more often) since the outbreak. Not much better.
Are These Changes Here to Stay?
Now we come to a pressing question, one on the minds of many retail professionals: Will these changes last beyond the COVID-19 crisis? Or are they temporary changes—here today, gone tomorrow?
At this point, no one—not even shoppers—can know for sure. But it is enlightening to see what the shoppers themselves think about the durability of post-outbreak changes to their shopping behavior.
In the Field Agent survey of 1,509, respondents were presented the question, "Do you think your shopping behavior/routine has changed in one or more permanent ways since the coronavirus outbreak in the United States?"
Altogether, 65% answered "no." In other words, the majority of respondents believe their shopping behavior will revert back to "normal" following the pandemic.
The graph below shows the answers to another question, "In which of these ways, if any, has your shopping behavior/routine permanently changed since the coronavirus outbreak?"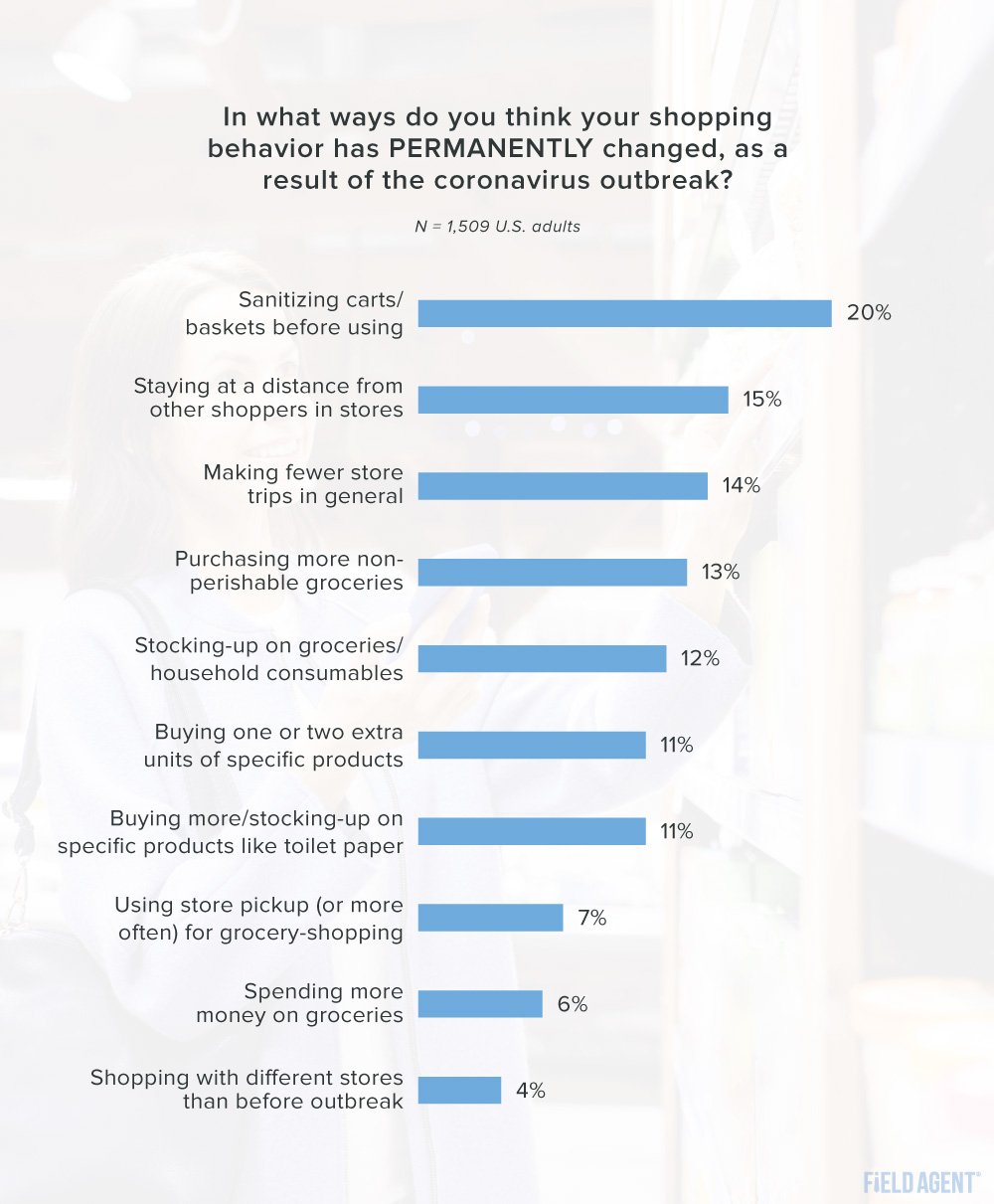 Clearly, while temporary changes are deep and wide, shoppers are less convinced these changes are here to stay.
Which is good news for some companies, bad news for others.
But for even more news, subscribe to Endcaps & Insights below. We'll keep you in the loop about important retail developments, during the coronavirus crisis and well beyond.
Subscribe to

Endcaps & Insights
Endcaps & Insights is where retail headlines come to life through insights, photos, and video. Subscribe below to stay up-to-date on the latest happenings across the retail industry.