Inside OGP: Shoppers Purchase Alcohol from Walmart Grocery Pickup
Walmart's grocery pickup service is once again the toast of the town.
Alcoholic beverages, the retail titan announced last week, will now be available through Walmart grocery pickup in 29 states and 2,000 locations.
"Now, without ever leaving their car, customers can pick up the perfect bottle of wine for dinner or beer for the big game," said Tom Ward, SVP, Digital Operations at Walmart.
Of course, any news at the intersection of Walmart, grocery pickup, and alcohol sales—all three—is bound to get attention.
Alcohol Slow to Go Digital
In 2018, Field Agent surveyed 3,188 shoppers about their purchases of alcoholic beverages. The full results and discussion are available in our free report, "Categorically Speaking: Alcoholic Beverages in the Omnichannel Age."
Though all respondents in the survey were in the practice of purchasing off-premise alcoholic beverages, only 3% said they were doing so for in-store grocery pickup, 2% for curbside grocery pickup, and 2% for local delivery. By comparison, virtually everyone, 99%, reported purchasing alcoholic beverages inside stores.
Why the low purchase rates of alcohol through grocery pickup services?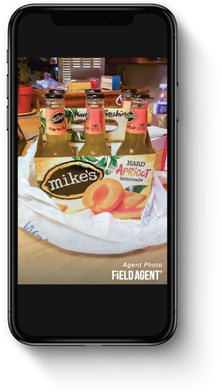 Though several factors would be at play, more than half of respondents, 53%, said, simply, "I don't know if I can buy alcohol online where I live," while 9% said "I know I can't buy alcohol online where I live."
The regulated nature of alcohol, and the accompanying uncertainty, has made many shoppers apprehensive about purchasing alcohol online for pickup.
But Walmart's expansion of alcohol sales through its grocery pickup service—and all the buzz that comes with it—could work to make many alcohol-buyers more aware of the availability and permissibility of buying alcohol online.
And that could be big news for alcohol brands and their sales.
Mystery Shop: Buying Alcohol from Walmart OGP
To better understand the potential of Walmart online grocery pickup (OGP) to drive alcohol sales, this week Field Agent enlisted 17 shoppers, all 21 or over, to purchase at least $5 of alcoholic beverages through the service. No participant had used Walmart OGP to purchase alcohol prior to the study.
What did these pickup users think about shopping for, purchasing, and acquiring alcoholic beverages through Walmart's OGP?
Below we offer several takeaways from the study as a six-question QuickFire Q&A. We also present photos captured by our mystery shoppers at every stage of the OGP process.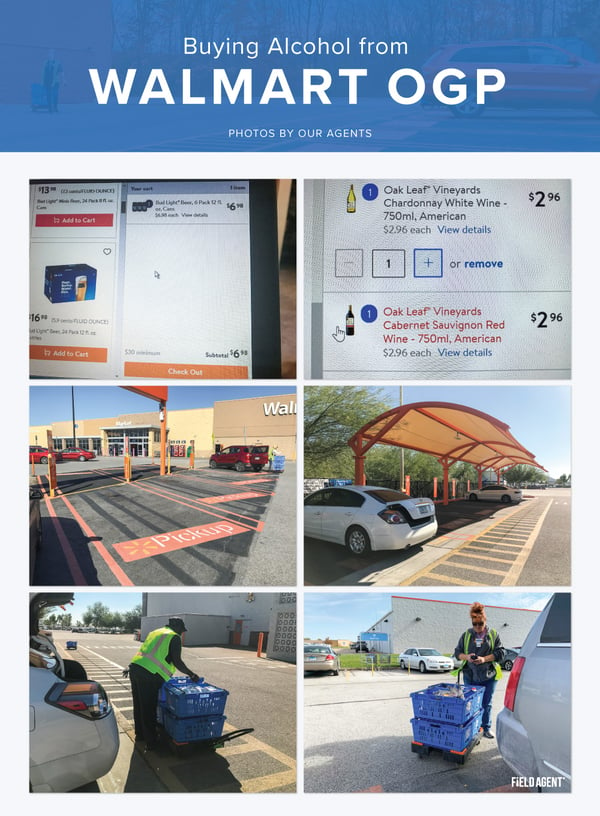 QuickFire Q&A: Walmart OGP & Alcohol Sales
1. What specific words would mystery shoppers use to describe purchasing alcohol from Walmart OGP?
Field Agent asked all 17 mystery shoppers to suggest three words that best describe buying and acquiring alcohol through Walmart grocery pickup.
Here are all the words suggested more than once by mystery shoppers:
"Convenient" (13 mentions)
"Fast"/"Quick" (8 mentions)
"Easy" (8 mentions)
"Time-saving" (3 mentions)
One agent did not receive the specific alcoholic beverage(s) she ordered, because the product was out-of-stock and Walmart refunded her money instead of substituting for the purchase.
2. How would mystery shoppers rate the alcohol selection through Walmart OGP?
On a scale from 1-5, with 5 "excellent" and 1 "poor," Field Agent asked mystery shoppers to rate the alcohol selection through Walmart OGP.
Among mystery shoppers who received their alcohol purchase(s) (n = 16), the average rating was 4.5, with 10 saying the selection was "excellent," 5 "very good," and 1 "fair."

3. How would they rate various operational dimensions of Walmart OGP?
We posed a similar question to the same mystery shoppers, this time asking them to rate Walmart OGP along various operational dimensions.
Here's how they rated the OGP experience, on a scale from 1-5:
Navigating/using the pickup site outside Walmart: 4.7
Speed of delivery (to their vehicles): 4.3
Service and competence of employees: 4.8
The pickup site and process overall: 4.6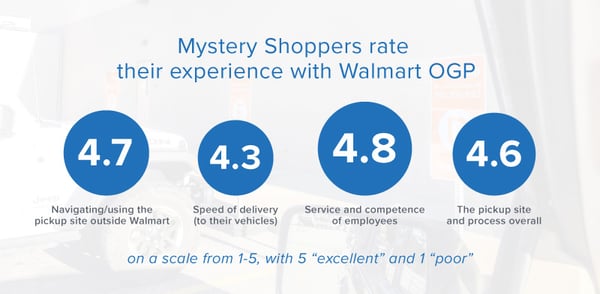 4. How would they prefer to shop for and purchase alcohol: Walmart in-store or Walmart OGP?
In all, 12 out of 16 mystery shoppers (i.e., who received their alcohol purchase) said they'd prefer to use Walmart OGP to shop for and purchase alcoholic beverages, compared to shopping in-store at Walmart for their beer, wine, and spirits.
5. How likely are mystery shoppers to purchase alcoholic beverages through Walmart OGP again in the future?
Good news for Walmart. Altogether, 12 of 16 mystery shoppers said they'd be "completely likely" to use the grocery pickup service again to buy alcohol, while 3 said "very likely" and 1 "moderately likely."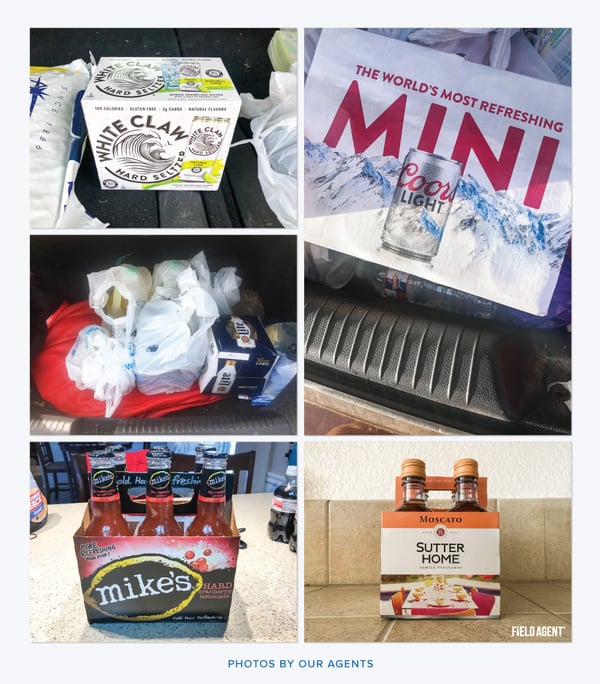 6. What did mystery shoppers have to say about buying alcohol through Walmart OGP?
Here are some select comments from mystery shoppers, offering insight into the alcohol-pickup experience as well as their attitudes toward it:
"It was so easy!! When it was brought out to me, it was in a bag by itself with a black "ALCOHOL" sticker on the handles. She also asked for my ID to verify I was of age and entered my date of birth into her scanner."

"I think it is easy enough to buy alcohol through the online pickup, if you know exactly what you want. I would not be able to 'browse' the bottles as easily online as I could in the store."

"Apparently all three bottles of wine that I ordered were out of stock and they couldn't substitute them for me so they didn't give me the alcohol that I had ordered."

"I found picking up alcohol through Walmart Grocery pickup to be very convenient as now I can purchase all of my desired grocery items without ever having to go into the store."
All in all, comments were overwhelmingly positive.
Final Thoughts: What We Learned
Clearly, shoppers like Walmart OGP, and, as seen, the ability to use the service to acquire beer, wine, and spirits should only add to the appeal.
According to Renee Brandon, Field Agent's VP of Research, the growing popularity of grocery pickup, and the growing availability of alcohol through OGP, could considerably impact how alcohol brands sell and market their products.
"The differences in the shopping experience online vs. in-store might make online shoppers more likely to repeat purchases of alcoholic beverages they know well, and less likely to explore or branch out," Brandon said.
"If so, these shopping changes could have major implications for brands. New marketing strategies may need to be implemented to gain consideration and trial among online grocery pickup users."
Retail Solutions for Any Challenge
Get visibility in-store, gather relevant insights, drive trial of your products, merchandise shelves, and more. You can even create
custom campaigns.
Explore the Field Agent Marketplace today.
But there's much more to say about alcohol and the advent of grocery pickup. Download our free report, "Alcoholic Beverages in the Omnichannel Age," for in-depth analysis on alcohol commerce in the world of grocery pickup and local delivery.
Click below to download "Alcoholic Beverages in the Omnichannel Age"!