Hit or Miss? REDCard Holders Rate Remodeled TARGET Stores [Video]
One thousand.
That's the number of stores Target plans to remodel by the end of 2020, a goal it's reportedly more than one-third of the way to achieving. The retailer has committed $7 billion in all to revamping its brick-and-mortar stores and improving the in-store shopping experience, still more proof—if you need it—that physical retail isn't dead.
So with hundreds of newly-remodeled Target stores now dotting the landscape, the question becomes:
What do Target shoppers think of the makeovers, which often include new floor plans, lighting fixtures, signage, displays, external facades, and even a Starbucks here and there?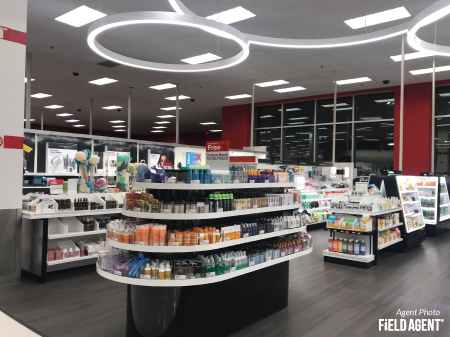 Mystery Shopping Remodeled Targets
Retail-auditing and insights firm Field Agent recently deployed 40 photo-verified Target REDcard holders to their local, newly-remodeled Target store where they captured images and shared their opinions about the renovations.
Scroll down for the full results from this mystery shop. Then, scroll even further down for our analysis, which includes the results of a mobile survey with 461 Target shoppers who've shopped at a recently remodeled Target.
First, though, take a look at this video...and immerse yourself in sights, sounds, and shopper feedback from renovated Target stores across the country.
Report: Mystery Shop of New-Style Targets
All mystery shop participants (N = 40) answered a series of questions about their local, newly-remodeled Target store. The report below provides the full results.
Scroll even further down for additional analysis, which includes the results of a brief mobile survey with 461 Target shoppers whose local store has been overhauled in the past 12 months.
See Also: Mystery Shopping Amazon Go [Video & Report]
Analysis: Are Remodels Hitting the Mark?
Target shoppers generally like what they're seeing.
Mystery shoppers (N = 40 REDcard holders) collectively described their updated stores as modern, upscale, bright, and fun—in short, as more enjoyable to shop at.
In addition to the mystery shop above, Field Agent also surveyed 461 shoppers* who previously visited a Target store that had been remodeled in the past 12 months. As you can see in the chart, respondents to the broader survey were a little more sparing with their positive ratings than mystery shoppers (who were all REDcard holders), but survey respondents, like mystery shoppers, still largely view the remodels as a marked improvement.
*Survey respondents were identified through a screener of 6,592 members of the Field Agent mobile panel. All respondents were adults at least 18 years of age who reported shopping at a local Target store that had been remodeled in the past 12 months. The survey was conducted entirely through the Field Agent mobile app, 12/11/18-12/13/18. Gender: Female (75%), Male (25%). Age: 18-24 (2%), 25-34 (35%), 35-44 (37%), 45-54 (17%), 55-64 (8%), 65+ (1%).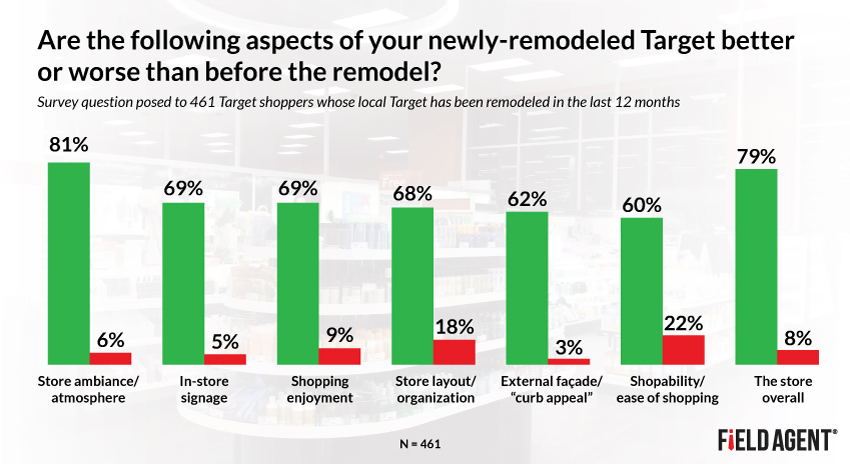 This isn't to suggest every shopper is pleased about every detail of the sweeping remodel. Store layout and "shopability" were perhaps the stickiest points, in the mystery shop as well as the survey.
Time will tell whether these shoppers become accustomed to the new layout as it is, or whether the retailer finds it needs to further optimize its floor plans.
And what's the impact to the bottom line? Will Target's makeover result in more traffic?
Sixty-eight percent of mystery shoppers said they're more likely to shop at their local Target following the makeover. In the broader survey (N = 461), 52% reported being more likely to shop at their area Target thanks to said upgrades, compared to only 7% who are less likely.
Taken together, this study shows shoppers are reacting favorably—in many cases very favorably—to the Target overhaul.
All in all, good news for the retailer and its multibillion-dollar investment.
Mystery Shop Report: Amazon Go
Reports suggest there could be as many as 3,000 cashier-less, "Just Walk Out" Amazon Go stores by the end of the 2021, with, of course, enormous implications for the retail industry. Field Agent sent mystery shoppers to six Amazon Go stores where they captured video/photos and provided feedback.
Download Field Agent's free "Amazon Go Mystery Shop" report to see what these shoppers thought about their experience with the cutting-edge retailer. Mystery shoppers answered questions like:
How would you rate Amazon Go on the following dimensions: ease of shopping, merchandise selection, prices, store environment, etc.?
What words best describe Amazon Go?
What did you most like about Amazon Go, and what suggestions do you have for the retailer?
How likely are you to shop Amazon Go again in the future?
Download this free report today!