Buy & Try: Shoppers Sample Festive Coke, Sprite Flavors [Video]
'Tis the season for festive new flavors,
With cinnamon, chocolate, and eggnog to savor.
The aisles are stocked up with new products to buy,
And seasonal flavors of favorites to try.
Coke has new flavors for making you merry,
Cinnamon Coke and Sprite Winter Spiced Cranberry.
Pop quiz: What one beverage brand do you think shoppers most associate with celebrating Christmas? You might be surprised.
Field Agent asked 2,100 shoppers to identify the one beverage that most says "Christmas."
As reported in our 2019 Holiday Preview, 507 respondents answered Coke, nearly four times as many as second place Swiss Miss (129) and third place Pepsi (123).
Maybe it's the clever advertising (hello, polar bears), or perhaps it's thanks to childhood memories. Whatever it is, Coke is big at Christmas.
See Also: How Digital Demo Helped Michael Angelo's Frozen, Italian Cuisine Cook Up Retail Sales
Not surprisingly, The Coca-Cola Company is seeking to capitalize on this festive brand recognition by releasing new seasonal flavors for two of its most popular brands: Cinnamon Coca-Cola and Sprite Winter Spiced Cranberry.
Field Agent couldn't resist the opportunity to see what consumers themselves think about these new flavors, so we enlisted 14 agents to buy and try both Cinnamon Coke and Sprite Winter Spiced Cranberry.
Watch the video to get their reactions, then read on for more insights!
Feedback: Seasonal Coke & Sprite
Perhaps the biggest question about any new flavor: Will curious tasters buy it again? Half of Cinnamon Coke tasters (i.e., 7 of 14) said they'd be completely or very likely to purchase the product again. In their own words:
"Reminded me of the holidays. The hint of cinnamon is a major contrast to the normal everyday flavored soda."

"I have consumed Coca-Cola since I was very young and have seen the fad flavors come and go. Cinnamon Coca-Cola is stellar. The taste mixes perfectly with the cola and it leaves you yearning for more."

Samplers were less repurchase-minded about seasonal Sprite. Just 4 of 14 indicated they were completely or very likely to repurchase the cranberry flavor.
"The Sprite doesn't taste like traditional Sprite, but is pleasant and fruity with mild spice."

"The Winter Spiced Cranberry Sprite was ok, but the flavor was underwhelming. It did not taste that much different than regular Sprite."

Cinnamon Coca-Cola edged out Sprite Winter Spiced Cranberry as the better of the two drinks. When asked, 8 of 14 agents said they preferred Cinnamon Coke over the seasonal Sprite flavor.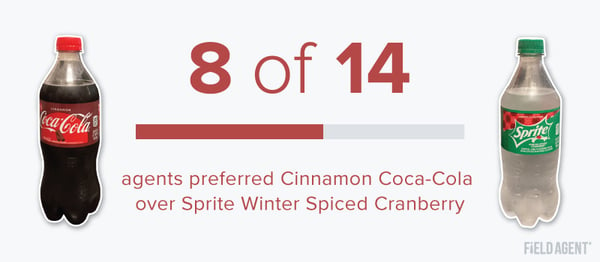 Wondering how you can get real shoppers to review and even promote your product? Field Agent's Digital Demo makes it easy. Read the case study below to see how Digital Demo can drive sales of your product!
Digital Demo Case Study: Michael Angelo's Lasagna
Case Study in Brief...

Michael Angelo's, the maker of high-quality, Italian-prepared foods, needed a way to drive awareness and purchase of its new, frozen meat lasagna.

Digital Demo by Field Agent offered a proven method for mobilizing real shoppers in specific areas to buy, try, write about, and even share about the new product, creating both short- and long-term awareness and demand for the lasagna. Ultimately, the Digital Demo resulted in hundreds of high-quality articles being written and/or shared online.

Download the full case study below.