Spotlight: Inside 7-Eleven's Digital-Grocery Services [Video]
7-Eleven built a global brand on a single idea: convenience.
With over 68,000 stores across 17 countries, 7-Eleven is the largest c-store chain in the world, and a true retail powerhouse. When Field Agent asked over 2,500 shoppers what one word best describes 7-Eleven, "convenient" and "quick" were the top choices by a wide margin.
But recent developments suggest 7-Eleven is not content to be just "convenient." As technological advances change the very meaning of convenience, retailers of all stripes must focus on innovation.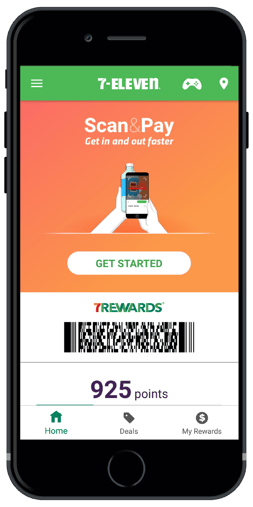 And that is exactly what 7-Eleven is doing. The c-store is pioneering convenience-oriented technology with implications across the world of retail.
Download Field Agent's free report, Groceries 2.0, Vol. III, exploring "the rise of online grocery-shopping."
Innovation at 7-Eleven
Field Agent, a leading provider of retail-auditing, shopper research, and mystery shopping services, sent agents to explore some of the more recent developments at 7-Eleven: its flagship lab store in Dallas; its new "scan & pay" service; and its innovative "hot spot" delivery service.
See all three innovations up-close in the two videos below, then read on for a tour of 7-Eleven's newest developments, all through the eyes of actual customers.
Shoppers Try 3 Innovations at 7-Eleven
1. The Lab Store
To get the inside scoop on 7-Eleven's cutting-edge "retail lab" in Dallas, a testing ground for new services and products, Field Agent sent 10 agents to the store to take photos and chronicle their experiences.
The photos below show just some of the sights from 7-Eleven's flagship store, which boasts everything from a taco bar to an extensive wine selection.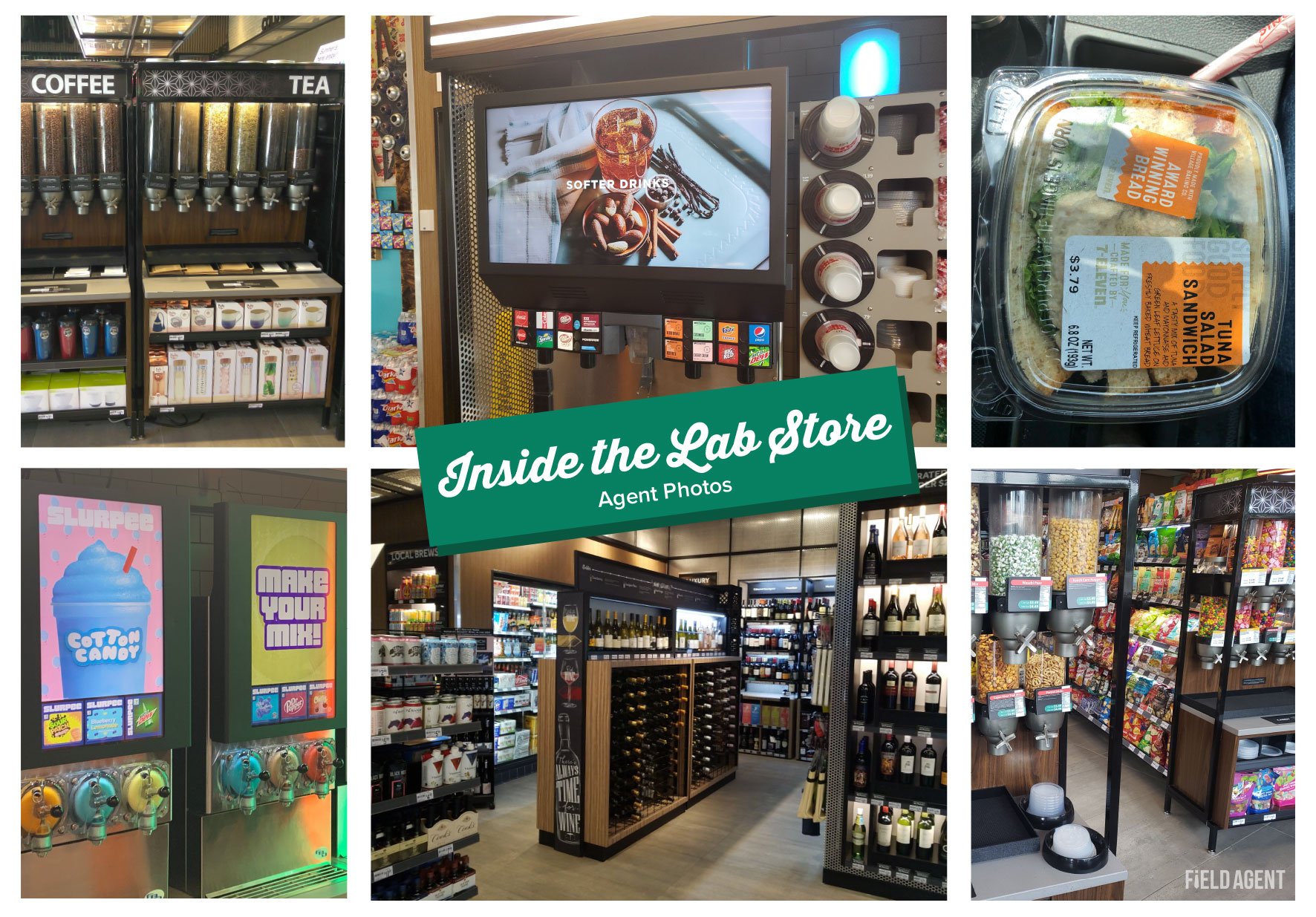 Shoppers clearly liked what they saw. In all, 8 of 10 said they were completely likely to return to the Lab Store to make a non-fuel purchase, and nine said they would be more likely to make purchases from 7-Eleven if all locations were like this one. Sounds like a success.
Agents were enthusiastic about the new space in their feedback, especially about the modern aesthetics and customer service:
"I was like a kid in a candy store, they had almost everything imaginable."

"I love this 7-Eleven layout and look. It was very futuristic and innovative."

"Great customer service. I loved everything about the setup in the store."
When we asked agents about their favorite features in the Lab Store, several mentioned organic drinks and smoothies, candy dispensers, and sophisticated selections of coffee, tea, and wine.
7-Eleven is clearly not afraid to change things up, and our agents liked the change.
2. Scan & Pay Tech
7-Eleven's new Scan & Pay technology, the retailer's answer to Amazon Go, lets customers at select Dallas stores purchase their items without going through a checkout line. Our 10 agents tried Scan & Pay on their trip to the Lab Store, as the screenshots below show.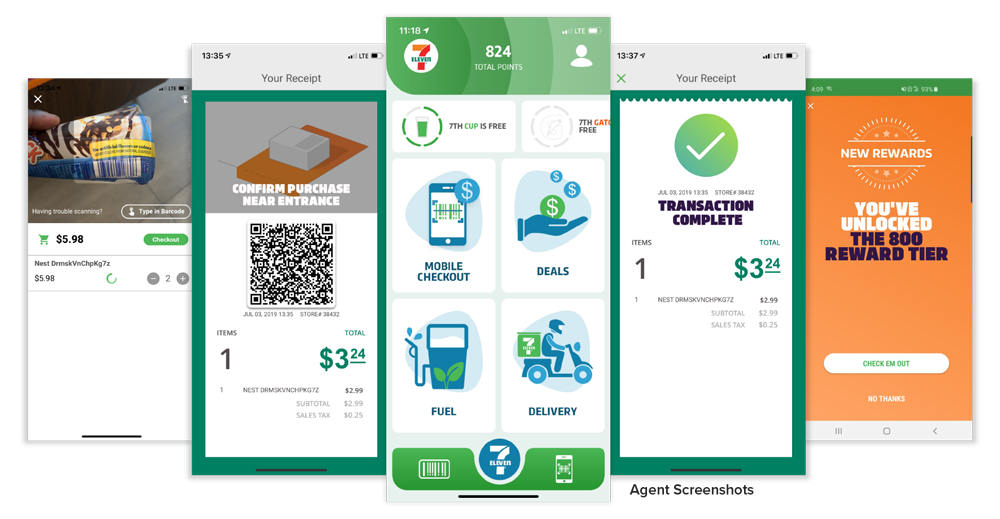 Agents were impressed by the convenience of the service:
"The [Scan & Pay] option gives morning commuters breathing room - no waiting in lines."

"Great service and the app is super user-friendly."

"I liked that I could make my purchase and not have to wait in line."
Altogether, these first-time users were overwhelmingly positive about Scan & Pay.
3. Hot Spot Delivery Service
7-Eleven is pioneering yet another service at the intersection of convenience and innovation: "Hot Spot" delivery.
Using the 7Now app, customers can receive mobile orders at select public places such as parks, sports venues, and beaches. Hot Spot deliveries are fulfilled by third-party service Postmates.
As the photos show, we had 14 agents across the country head outside to try the service for themselves.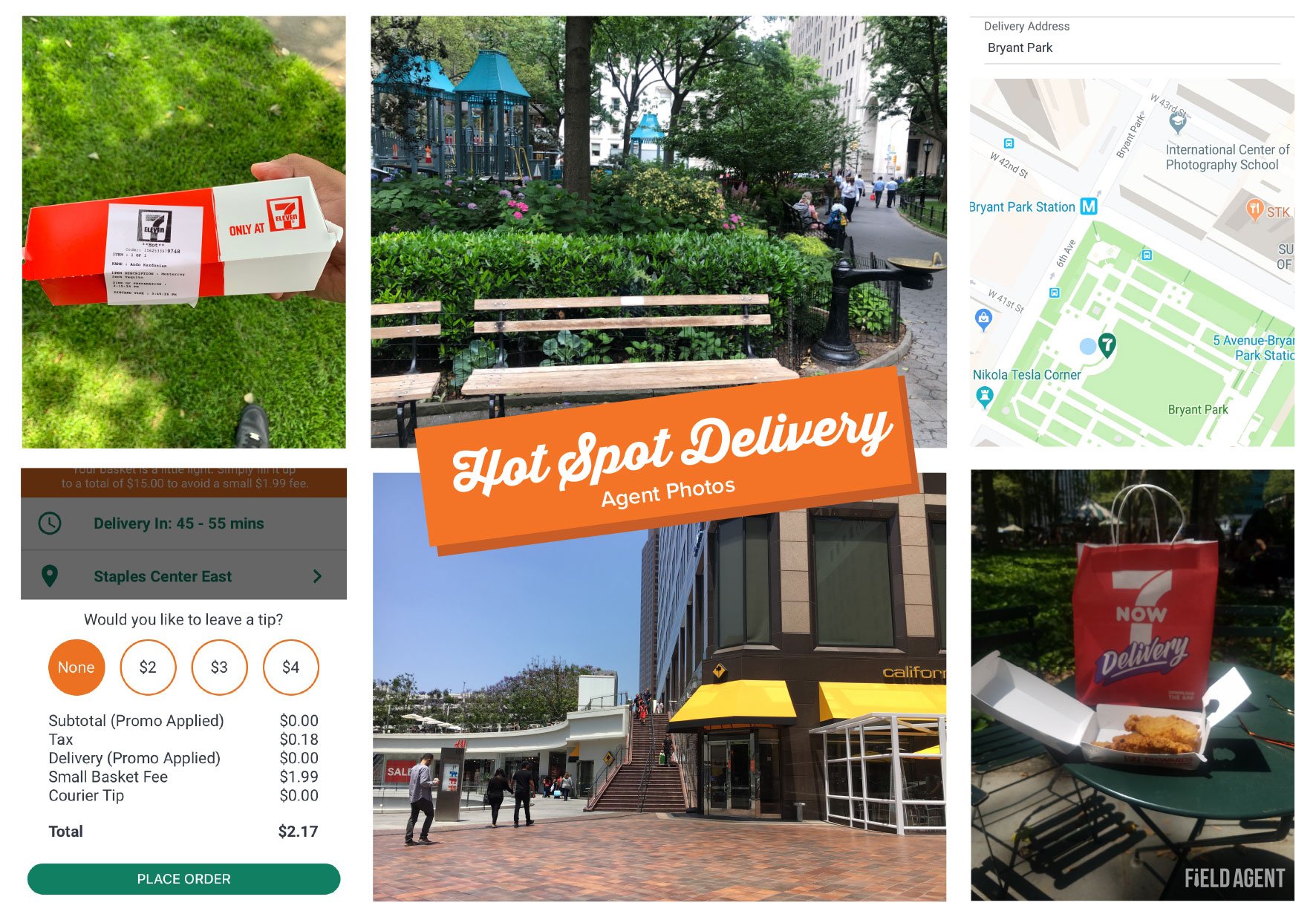 Some agents had trouble with the service. Of 14 participants total, only 9 received a correct order. In fact, three users said their driver cancelled their order without explanation.
But among participants who did receive a correct order, reviews were highly positive. Agents praised the service's convenience, using words such as "fast/quick", "convenient", and "easy." On a five-point scale, these agents (n = 9) rated the service as follows:
In-app shopping/ordering experience: 4.6
Delivery punctuality: 4.2
Delivery-personnel professionalism and friendliness: 4.1
Food quality (including temperature and freshness): 4.3
Overall: 4.3
Though Hot Spot is a new service with some kinks to work out, these positive experiences suggest the service holds real promise.
Altogether, the examples above demonstrate 7-Eleven's growing foothold in digital-grocery tech and services. But for an even more expansive look at digital-grocery, check out Field Agent's free report, Groceries 2.0, Vol. III.
Free Report: All Things Digital-Grocery
Based on surveys and studies with approximately 4,500 everyday shoppers, Groceries 2.0, Vol. III is a fun and informative look at "the rise of online grocery-shopping." Spanning almost 30 pages, the free report explores questions like:

How many U.S. households purchase groceries online for store pickup, package delivery, and "fresh" delivery?
Which retailers are leading the way in the digital-grocery era?
What are shoppers' top concerns about buying groceries online?
The free report also includes several "digital-grocery spotlights," with up-close looks at the Aldi-Instacart pickup partnership, pickup operations among regional grocers, and more.


Download Groceries 2.0, Vol. III today…and get up to speed on all things digital-grocery.