Which Convenience Store Chains are Wowing Shoppers? [Mystery Shop]
Two riveting factoids:
There are more convenience stores in the United States—approximately 151,000 by one count—than residents of Topeka, KS, Syracuse, NY, or Charleston, SC. (Source)
Combined, these stores account for sales ($700 billion) that, by comparison, exceed the gross domestic product of Switzerland.
Which C-Stores are Wowing Shoppers?
Because convenience stores are clearly an integral part of the U.S. retail scene, this weekend Field Agent conducted a mystery shopping study to assess how c-store chains are performing with shoppers.
We dispatched a total of 100 mystery shoppers—we call them Agents—to the five largest U.S. c-store chains as ranked by CSP Magazine. The map below depicts the distribution of mystery shoppers.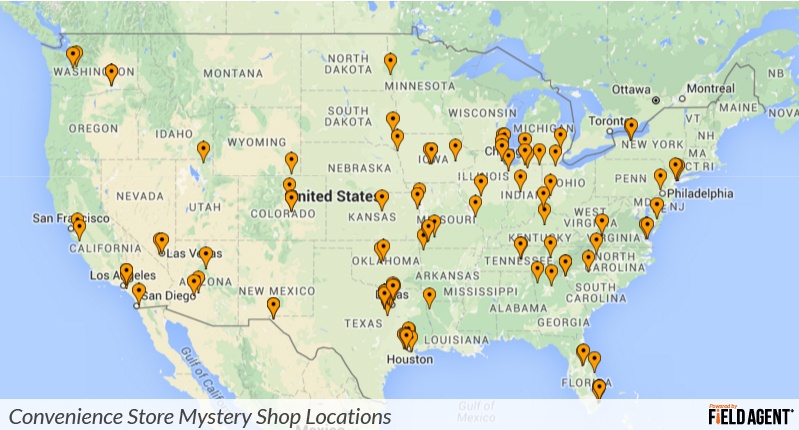 Ultimately we sent 20 Agents to each of the following chains: 7-Eleven, Casey's General Store, Circle K, Corner Store, and Speedway. While the sample sizes weren't large enough to draw firm comparisons or conclusions, the experiences of these shoppers offer meaningful insights into the question, "Which c-stores are wowing shoppers?"
Below we present the results in four categories: food and beverage quality, store environment, prices, and convenience. We then address the likelihood shoppers will return to these c-stores in the future.
As you can see in the video, Agents were also directed to share their overall impression of the store following the mystery shopping experience.
The Beef on C-Stores: Food, Beverage Quality
Mystery shoppers were asked to evaluate the freshness of c-stores' hot/fresh foods (e.g., pizza, hamburgers, biscuits, salads) by appearance and the temperature of their canned beverages by touch.
Hot/Fresh Food Quality
On a 5-point scale, where 5 represented the highest level of freshness, mystery shoppers awarded c-stores an average 3.93 for the appearance of hot and fresh foods. Four of the five chains in our study all congregated around an average of 4, while Corner Store registered a 3.6.
Canned Beverages
We also sent Agents to the refrigerated drinks section, where they were asked to gauge the temperature of the 12-ounce canned sodas.
On a 5-point scale, with 5 "extremely cold" and 1 "not at all cold," mystery shoppers assigned all c-stores an average rating of 4.5. Pretty frigid!
So who has the coldest drink in town? Corner Store (4.67) edged out 7-Eleven (4.63) in our mystery shop.
See also: 10 Intoxicating Insights about Alcohol Consumption
White Glove Inspection: Store Environment
Our mystery shoppers also evaluated store environment—in particular, the cleanliness of c-stores. As the pictures suggest, we instructed Agents to visit the fountain drink station. They were then asked to rate—on a 5-point scale, with 5 representing "extremely clean"—the overall cleanliness of the fountain drink and hot/fresh food areas of their designated c-store.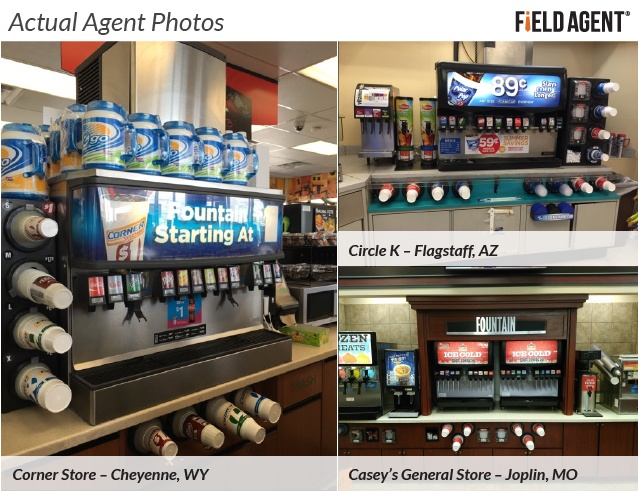 Altogether, c-stores were awarded a respectable 4.1 by shoppers. 7-Eleven (4.32) bested its competitors on this measure, while Corner Store came in last at 3.67.
Restroom Cleanliness
Mystery shoppers weren't as generous when scoring the restrooms.
Agents were instructed to visit their designated restroom to inspect the cleanliness of sinks, toilets, counters, and floors. On the same 5-point scale, c-stores in our study received, on average, 3.55 for the shape of their restrooms.
Speedway (3.95) won the clean restroom award, while Agents deployed to Circle K and 7-Eleven submitted the lowest scores (3.21).
See also: Mystery Shopping Study Dishes on 180 Casual Dining Restaurants
Overall Store Environment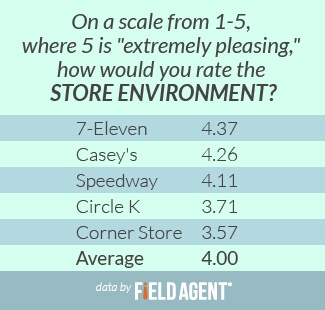 Of course, store environment encompasses more than cleanliness. The questionnaire asked mystery shoppers to rate, on a 5-point scale, with 5 "extremely pleasing," the overall environment of their assigned store. Store environment, we explained, includes cleanliness, organization, atmosphere, and interior design.
As the table shows, together all stores earned an average of 4 with shoppers. At 4.37, 7-11 outscored second place Casey's (4.26), and Corner Store registered the lowest rating at 3.57.
Counting the Costs: Price Checks Inside C-Stores
Mystery shoppers also checked the prices of fountain drinks and candy bars.

Fountain Drink Pricing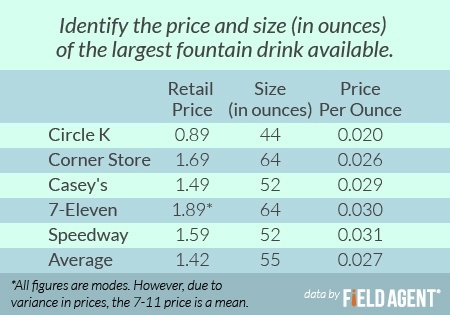 We first asked Agents to report the price and size (in ounces) of the largest fountain drink available. For some chains (e.g., 7-Eleven), there was considerable variance in the sizes and prices of fountain drinks. Others, like Casey's General Store, were consistent across all locations in the study.
The figures in the table are modes—the most common sizes (i.e., of the largest drink) and prices identified by mystery shoppers. 7-Eleven is the only exception. Due to substantial variance in the prices of the chains' largest fountain drinks, we calculated a mean for 7-Eleven.
At $.02 even, Circle K offered the lowest price per ounce in the study, compared to Speedway at just over $.03 per ounce.
Candy Bar Pricing
Agents also reported prices of candy bars—specifically, Hershey's regular milk chocolate. We again calculated modes for each c-store. Three chains—7-Eleven, Corner Store, and Speedway—were most commonly charging $1.39 for the candy bar, while shoppers at Casey's and Circle K reported a price of $1.49.
Seel also: The Skinny on Snacking in America
Overall Pricing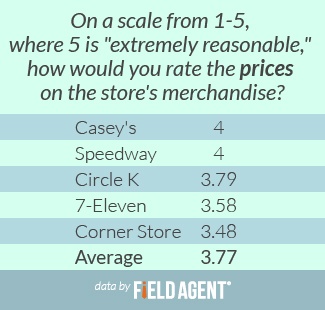 Mystery shoppers were also asked about prices generally—whether, on the whole, they perceived the store's prices as reasonable. They again rated stores on a 5-point scale, with 5 "extremely reasonable."
Across all stores, shoppers rated prices an average of 3.76. As the table displays, there weren't drastic differences among chains.
A Convenient Truth: C-Store Accessibility
Are convenience stores really convenient in shoppers' minds? Toward the end of the questionnaire, mystery shoppers were asked to rate the internal (i.e., of items in the store) and external (i.e., of the store itself) convenience of their designated store.
C-stores fared well with shoppers, earning a 4.37 on a 5-point scale—where 5 was "extremely convenient"—across all stores. At the top of the list was Casey's General Store (4.74), while Corner Store ranked last with shoppers at 3.81.
Here to Stay…or Did They Get Away?
For the final question of the mystery shop, Agents were asked how likely they are to return to their assigned store in the future to purchase food, snacks, and/or drinks.
Combined, more than half of shoppers (59%) said they're either "extremely" or "very" likely to return to their store. Seventy-two percent of 7-Eleven mystery shoppers, and 68% of Casey's shoppers, indicated they'd be either "extremely" or "very" likely to make a return trip. In contrast, 20% said they're "not at all likely" to revisit Corner Store.

Your Link to 151,000+ C-Stores
Mobile Audits and Research offer a direct line of sight into stores—including c-stores—throughout the country. Whether you need to verify displays, check prices, evaluate on-shelf availability, investigate planograms, or assess shopper attitudes as they're shopping, Mobile Audits offer a fast, affordable, all-in-one solution.
Download our infographic to see exactly how Mobile Audits and Research provide a direct link to 151,000+ convenience stores across the country.