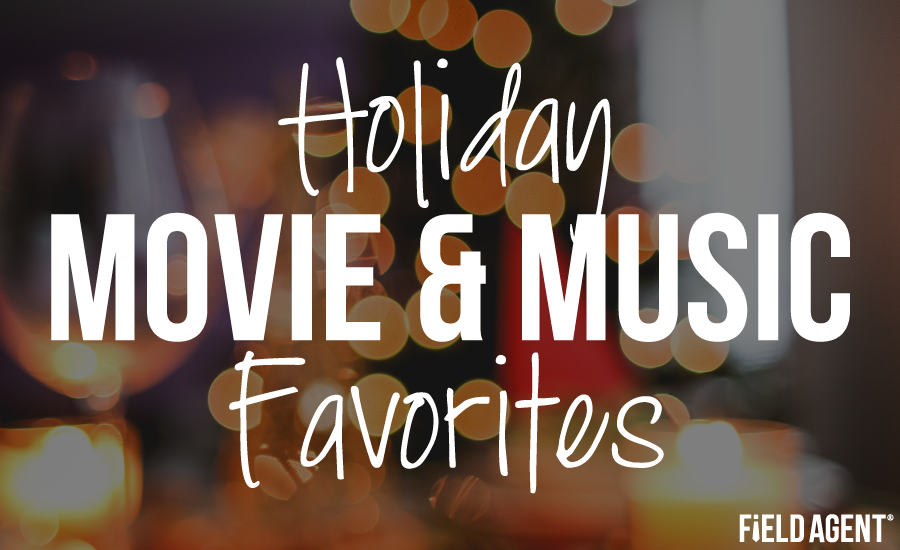 A Peek at America's Favorite Christmas Movies and Music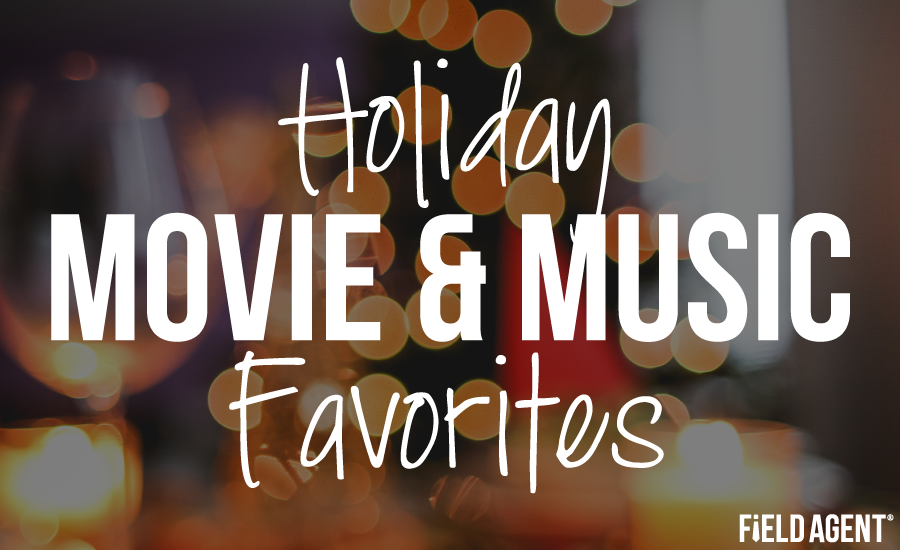 12 Drummers Drum Up the TOP Holiday Movie and Music Favorites
Which movie—Elf, A Christmas Story, It's a Wonderful Life—wins the honor of favorite Christmas movie? And who wins when Bing Crosby, Mariah Carey, Mannheim Steamroller and others go head-to-head for the affections of holiday music listeners? This fun survey from Field Agent reveals the Christmastime entertainment priorities of over 300 consumers.
Most people have a must-watch list of favorite Christmas movies. And many have a playlist of favorite holiday tunes. But, until now, the content of these movie and music playlists was largely a mystery. That's why Field Agent recently surveyed 334 holiday movie-watchers and music-listeners. We wanted to know who'd win: Ralphie with his Red Ryder BB gun or Buddy the Christmas Elf? The melancholy sounds of The Carpenters or the smooth jazz of Kenny G? You certainly have your favorites; now see if others agree.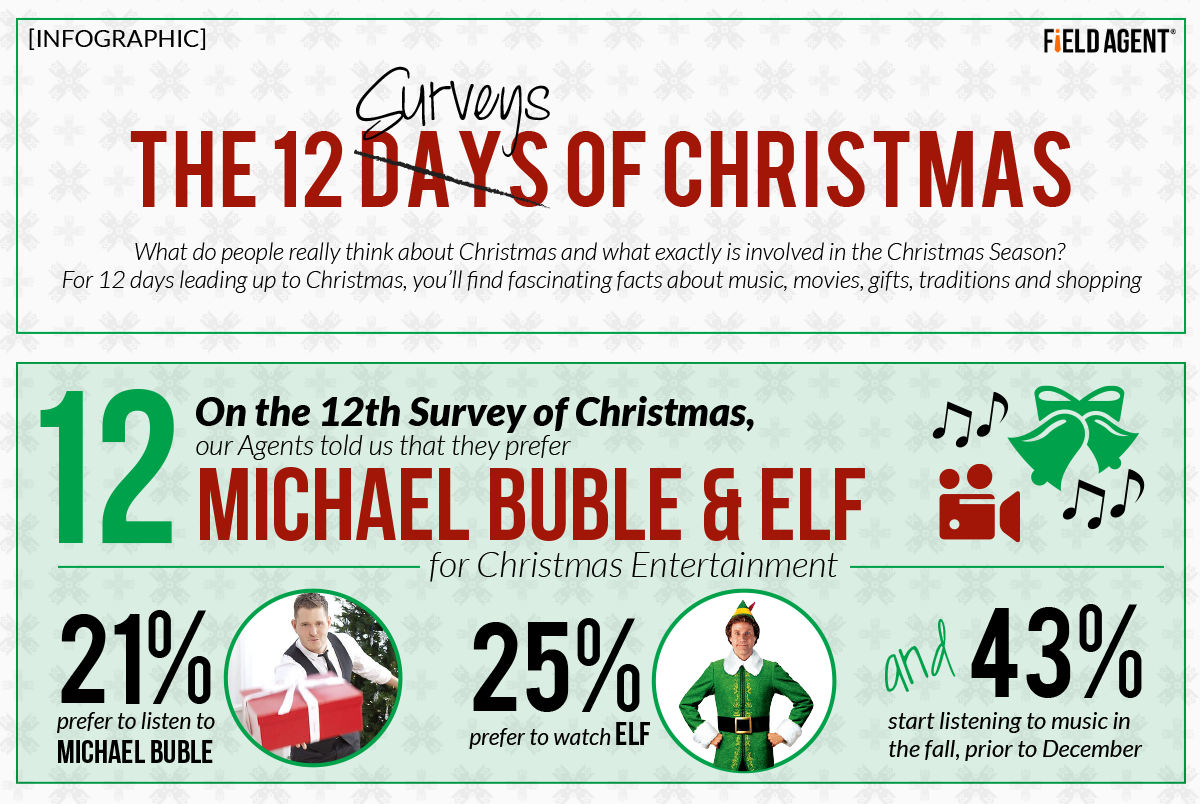 Most Watched Christmas Movie
In many households, watching movie classics like It's a Wonderful Life and Miracle on 34th Street, or the newer classics like Elf and Christmas Vacation, is nothing less than a standing Christmas tradition. So we selected seven of the most popular holiday movies and asked 334 households whether they will, in fact, watch them this Christmas season. Of those surveyed, only 3% said they will not watch any of the choices, thus confirming movie-watching as a widespread holiday activity across America.
Which of these movies, if any, do you expect to watch this Christmas season?
1. Elf (63%)
2. A Charlie Brown Christmas (57%)
3. A Christmas Story (56%)
4. Home Alone (54%)
5. National Lampoon's Christmas Vacation (46%)
6. It's a Wonderful Life (35%)
7. Miracle of 34th Street, 1947 version (22%)
Based on the results, it seems the black-and-white classics are becoming less frequently watched than the newer, in-color choices.
It also appears that Elf starring Will Ferrell might be well-received as a nonstop, 24-hour Christmas Day marathon, in the tradition of "24 Hours of 'A Christmas Story'."
See Also: The Christmas Party Scene: How America Celebrates, and What It Means for Retail
Most Preferred Christmas Movie
Yet, while the question above told us what should be the most watched Christmas film this year, it didn't fully tell us America's favorite holiday movie. Perhaps the respondents watch these movies out of, for instance, obligation? So we also asked agents to select the one movie they most prefer to watch. Elf once again took top billing on the marquee, but there was a reshuffling in the middle of the list, with Christmas Vacation gaining several spots:
Of the following Christmas movies, which would you most prefer to watch?
1. Elf (26%)
2. National Lampoons Christmas Vacation (19%)
3. Home Alone (16%)
4. A Charlie Brown Christmas (15%)
5. A Christmas Story (13%)
6. It's a Wonderful Life (8%)
7. Miracle on 34th Street, 1947 version (3%)
It seems Buddy the Elf and Clark Griswold have truly captured the hearts of holiday movie-watchers.
Favorite Christmas Music
Field Agent was also curious which holiday music would take first chair among holiday listeners. So we selected eight popular singers/musicians, each representing a different musical category. Here, again, we asked respondents to select the one choice they would most like to listen to at Christmastime. And the tune went like this:
At Christmastime, which of the following singers/musicians would you most rather listen to?
1. Michael Buble (21%)
2. Mariah Carey (20.7%)
3. Trans-Siberian Orchestra (17.7%)
4. Bing Crosby (17.4%)
5. Elvis Presley (11%)
6. Kenny G (5%)
7. Mannheim Steamroller (4%)
8. The Carpenters (3%)
Setting the Tempo: WHEN consumers listen to Christmas music
So Michael Buble and Mariah Carey made their voices heard most loudly in our mobile survey. But we were still curious: When, exactly, do Americans start listening to those Christmas playlists? Do people listen to holiday tunes throughout the year, during the Fall months, or only at Christmastime? Our agents responded: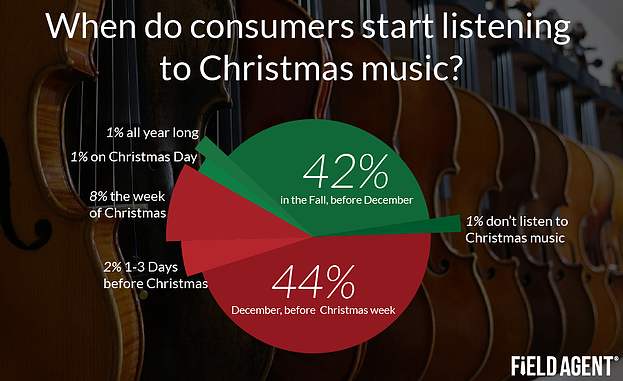 As the results suggest, early and late holiday music-listeners are the exception rather than the rule. Just 1% acknowledged listening to Christmas tracks all year long, while only about 3% start their holiday groove on Christmas Day or a few days prior. However, it's also true that many households (42%) tune in before the month of December even kicks off.