Want to See Your Products In Use? 5 Benefits of Mobile IHUTs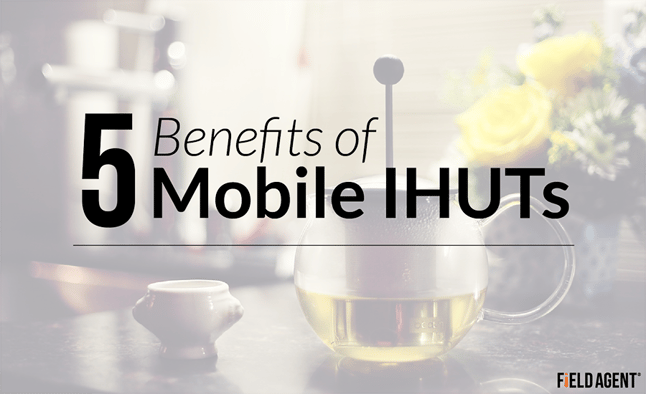 On Christmas morning, while our team members were spending well-deserved time with their families, our mobile research and auditing platform was, as usual, hard at work.
Through our app, which has been downloaded by over 625,000 smartphone users, we visited living rooms across the country to conduct basic in-home use tests. IHUTs specialize in taking companies inside customers' homes, to answer critical questions like:
How do customers actually use (and misuse) our product?
What suggestions do customers have for improving the product?
Is this newly developed product bug-free and ready for rollout?
IHUTs allow companies to see their products in use by actual customers, in their most natural habitats.
IHUTS + Smartphones = iHUTS
We asked 100 agents to unbox, set up, use, and review an appliance or electronic received for the holidays. Agents captured each step on video via the Field Agent smartphone app.
As the images and video below suggest, agent submissions were diverse, encompassing everything from push button corkscrew-removers to small, recreational drones.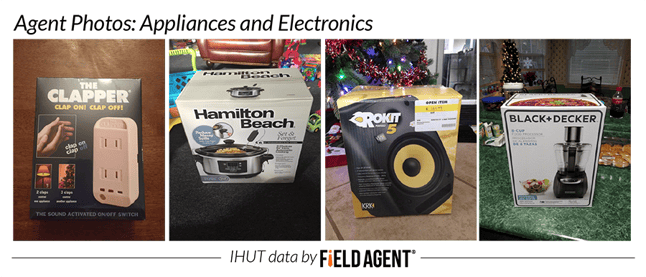 Below we highlight just 5 major benefits of Mobile IHUTs:
1. Customers' walls can talk. Mobile IHUTs easily collect data from inside homes
Mobile research and audits excel in going on-location to collect information and insights. So whether your need is consumer surveys, in-store audits, or, in this case, IHUTs, very few places are outside our reach.
For example, we went inside this agent's kitchen to see how she installed and used her new Kitchenaid mixer.
Here are some other examples of location-specific, in-the-moment research and auditing:
2. Precise targeting: Have it your way, your exact way
With Mobile IHUTs and other forms of mobile auditing and research, companies enjoy the ability to specify parameters such as study date and agent demographics.
As this example illustrates, we can specifically target male Millennials on Christmas Day:
3. Jack be nimble: Mobile IHUTs are highly flexible
Smartphones are versatile. As research tools, they offer companies a convenient, fast, and affordable way to collect photos, video, and many forms of information.
As seen, we asked IHUT participants to capture both photos and video of their new electronics or appliances. But as the examples below suggest, we also asked a series of survey questions to gauge their satisfaction with the product and to elicit customer feedback.
(a) If you were asked to choose 3 words to describe [the Xbox One], what would they be?
Sleek. Intuitive. Sexy.
(b) On a 5-star scale, with 5 "excellent" and 1 "poor," rate the following characteristics of the [Xbox One]:
Features: 4.0
Appearance: 5.0
Performance: 4.0
Meets your expectations: 5.0
Overall: 5.0
(c) Write an online-style review for [the Xbox One], as you might on Amazon.com:
"Only a couple of hours into use, but the Xbox One is already beating our expectations. Love the sleek lines and paper-ink, button-less power toggle. The controller's brushed finish and design sits well in our hands. Set up screens and process was easy peasy -- very intuitive. Since we are so new to this console model, upgrading from the 360, we are reserving judgment just a bit in terms of performance and speed, but say without question that this console and its interface have a sexy look and feel."
4. Have a need for speed? Mobile IHUTs are "top gun"
Mobile IHUTs are powered by crowdsourcing and smartphone technology. This means you get results fast. Such speed allows companies to identify potential defects or improvements more quickly, as illustrated in the video.
5. No compromises: Fast and affordable, without skimping on quality
Mobile in-home use tests apply technology to conventional IHUT methods, taking companies inside homes—or practically anywhere else—more quickly, affordably, and conveniently.
All without shortchanging quality. In this way, Mobile IHUTs break the rules.
Field Agent incorporates a series of quality control checkpoints, to ensure agent submissions fully comply with client specifications. The QC process includes eyes-on verification by a human analyst.
Go On-Location Anywhere, Anytime
Think of Mobile Research and Audits as your portal to the world. They reduce the distance between home offices and your in-store products, or, as seen in this article, your customers' living rooms, so you can capture information and insights from basically anywhere, at anytime.
For a deeper look at Mobile Research and Audits, download one of our free eBooks.