Top 15 of 2015: Greatest Hits from the Field Agent Blog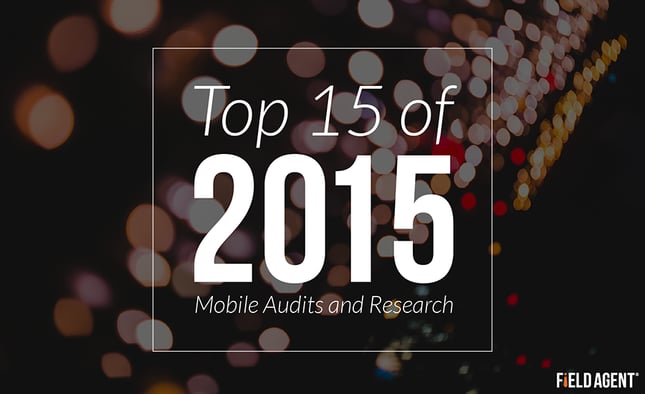 2015 was the most eventful year yet for the Field Agent blog, with a steady stream of special reports, original research, educational articles, real-time scoreboards, and more.
Here at the end of the year, feeling a little nostalgic, we looked back over 2015 to identify some of our most popular and memorable blog content.
Below we present the greatest hits from the Field Agent blog in 2015. Our Top 15 of '15.
1. Grocery shopping enters a new era
2015 was a year of radical change in the grocery industry, with retail giants Walmart, Target, and Amazon leading the way. As reported by Chris Bahn of the Democrat Gazette, Field Agent conducted surveys and shop-alongs with over 500 consumers to explore the trend toward web-enabled developments such as grocery pickup, grocery delivery, and even grocery gadgetry.
In our study, 70% of shoppers said they were at least moderately likely to use a grocery pickup service in the future. Our full Groceries 2.0 report is still available for download.
2. What suppliers don't know really can hurt them
Over the years, Field Agent has identified many ways brands and other companies commonly miss out on retail sales—often without their knowledge. In the popular article "7 Reasons Retail Shoppers Aren't Buying Your Products," we address several costly oversights that undermine retail success.
3. Television-viewers ditch the cord
The past year has also been a season of monumental change for TV—specifically, how Americans access and watch their favorite shows and movies. Field Agent surveyed 300 Millennials about their "cord-cutting" behaviors, as reported by Talk Business & Politics. 74% of 19-34 year olds said they subscribe to web-streaming services such as Netflix. Hundreds downloaded the full report, "How 'Cord-Cutting' Millennials are Changing TV Forever."
4. Men and women tell Field Agent their Christmas wishes
In back-to-back years, our Christmas wish list studies have garnered considerable attention from companies and the public alike. Last year we asked men to tell us the gifts they really wanted for Christmas, and this year we expanded the study to include women as well. As the infographic at Twice.com reveals, men showed strong preference for electronics, while women put apparel and cookware at the top of their wish lists.
5. Companies watch the Black Friday action…without standing in line
For the second year in a row, Field Agent conducted its live Black Friday scoreboard. As reported by KNWA News, we enlisted hundreds of Black Friday shoppers across the country to take pictures of the action inside and outside stores on the busiest shopping day of the year. Results were displayed in real-time at BlackFridayScoreboard.com and a full report can be downloaded here.
6. A primer on cosmetic purchases
Where exactly do women buy their cosmetics? And what matters most as they shop for makeup? Field Agent surveyed 500 women to answer these and other questions, resulting in one of our most popular studies of the year. As explained by VP of Research Renee Brandon on the set of "Focus on Suppliers," we found that makeup continues to drive women into stores, even as online shopping becomes more prevalent.
7. The MVP foods and beverages of Super Bowl XLIX
As seen on the KNWA evening news, in February of 2015 Field Agent sponsored its first ever "Brand Wars" campaign. Through our smartphone app, we visited hundreds of Super Bowl parties across the country to determine which beer, soda, and salty snack brands were winning the appetites (and dollars) of football fans. A dedicated website displayed the results in real-time, with Bud Light, Coca Cola, and Tostitos coming away as champions.
8. Price checking a galaxy far, far away
The release of Star Wars: The Force Awakens was a defining cultural event in 2015. Of course, all the related merchandising was itself a defining retail event. Amid all this buzz, Field Agent sent auditors to four national retail chains to identify the most common prices of popular Star Wars toys. We had even more fun with the new Star Wars film, as suggested by the article, "How Field Agent Audits a Galaxy Far, Far Away."
9. The #1 reason shoppers don't use self-checkout
This brief blog post, in which we detailed the primary reasons grocery shoppers use and don't use self-checkout, surprised us by quickly becoming one of our more popular posts of the year. Let's just say speed is the major attraction, while too many groceries and faulty equipment are among the greatest obstacles.
10. The next indispensable tool for small business
2015 was a watershed year for Field Agent's do-it-yourself service. Much like QuickBooks empowered small businesses to do their own accounting, we redesigned our DIY platform to give small businesses and other clients greater access to market research and retail audits.
11. The pull of "Made in the U.S.A."
In 2015, Walmart rededicated itself to selling American-made merchandise. Field Agent surveyed 500 shoppers to understand the influence of "Made in the U.S.A." As Renee Brandon discussed on an episode of "Focus on Suppliers," almost two-thirds of Americans say they have purchased one product over another simply because it was American-made.
12. Shoppers of the world unite
With operations in 7 different countries, Field Agent conducted a survey of over 2,000 shoppers around the world about their attitudes toward the in-store checkout process. 50% of global shoppers say they would spend more money, or make more frequent trips to the store, if retailers made the checkout process more efficient. Also in 2015, Field Agent demonstrated "5 Benefits of Getting Globile with Mobile."
13. Field Agent goes to college
For years Field Agent has served brands, retailers, and agencies with fast, affordable auditing and research services. Now, through our Academic Solutions program, we also have a growing presence on college campuses. In a recent blog post, we demonstrated how one senior marketing major used Field Agent to gain practical insights into retail operations.
14. On Air: Field Agent
2015 also witnessed the launch of Field Agent's first podcast: Tie Talk. The program is dedicated to sharing insights from original research studies, discussing trends in mobile auditing and research, and reporting news on the Field Agent company and culture.
15. On-location at tailgating parties across America
To demonstrate the value of in-the-moment, location-specific research methods, Field Agent used its mobile platform to attend tailgating parties at college football venues across the country. Our objective was to determine the top food and beverage brands among football tailgaters. The halftime results are already available, with the final results coming soon.
Subscribe to the Field Agent blog
2016 is primed to be the best year yet for the Field Agent blog. Featuring original research, special reports, and educational content, our blog is a go-to resource for the latest news and information on mobile auditing and research as well as the retail industry on the whole.