MVP Brands: What Football Fans Eat, Drink SUPER BOWL Sunday [Survey]
Super Bowl Sunday is a great day for headlines.
Not so much for waistlines.
Americans will, after all, consume more food on February 5—when the Atlanta Falcons clash with the New England Patriots in Super Bowl LI—than any other day this year, with the one exception of Thanksgiving.
This naturally begs the question: What food and beverage brands—salty snacks, soda, beer, and liquor—are the real crowd favorites among Super Bowl viewers?
548 Super Bowl Viewing Parties. At Once.
During Super Bowl 50 last year, Field Agent attended 548 viewing parties across the country, where we surveyed fans about their eating and drinking behavior during the biggest game of the year. We posed several other questions as well—about Super Bowl spending, shopping, social media, commercials, etc.

SEE ALSO: What foods and beverages are consumers planning to eat more and less of in 2017? Download Field Agent's report, "The Nutrition Facts."
Because this survey was administered during the Super Bowl itself, as fans were actually partaking in gametime foods and beverages, the results offer a truer picture than afforded by traditional surveying methods that rely heavily on consumer recall. Mobile research can actually be "in the moment" with consumers, from tailgating parties to Christmas Day gift-opening. Memory fade isn't a problem.
Below we offer 10 "in the moment" insights for you to tackle prior to the big game this year, including the top food and beverage brands from last year's Super Bowl.
To participate in the study, respondents were required to submit a picture of their gameday food and beverage spreads.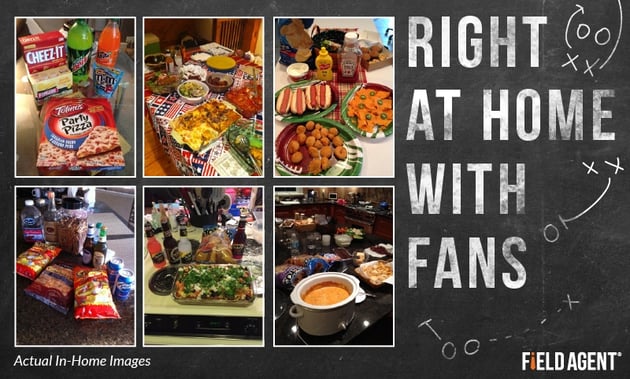 SUPER BOWL SUNDAY: 10 "In the Moment" Insights
1. Bud Light: the king of Super Bowl beers
Fans were asked, "Which beer(s), if any, are you or a member of your household drinking during the Super Bowl tonight?" At 14%*, Bud Light took top spot, followed by Miller Lite (6%), Coors Light (6%), Blue Moon (5%), and Michelob Ultra (5%).
*Based on the total number of beer brands identified by respondents
2. Coke outscores Pepsi for the win
In the sweet competition for most popular Super Bowl soda, Coke put 30% on the scoreboard, compared to its chief competitor, Pepsi, which registered 14%. Dr. Pepper (11%), Sprite (7%), and Mountain Dew (7%) rounded out the top 5.
3. Tostitos recognized as MVP chip
Tostitos tortilla chips scored 24%, making it the favorite Super Bowl chip, followed by Doritos (14%), Lay's (11%), Fritos (5%), and Cheetos (5%). Cheese dip, anyone?
4. An Absolut-ly memorable Super Bowl performance
Absolut Vodka (16%) bested all other liquor brands last Super Bowl Sunday. Bacardi Rum (12%) turned in the second best performance, followed by Crown Royal Whiskey (10%) and Jack Daniels Whiskey (8%).
5. Football fans flock to Walmart
42% of respondents said they shopped at Walmart to purchase food, drinks, etc. for their Super Bowl viewing party. 20%, likewise, shopped at Kroger and another 20% at Target.
SEE ALSO: Want more insight into the shopping habits of football fans? Download the report, "Football Fans as Customers."
6. A $25 Super Bowl party cover charge
The survey asked, "What is the approximate cost of all food and/or beverages purchased by your viewing party for the Super Bowl?" 70% spent at least $25, while 10% spent in excess of $100.
7. A Super social affair
52% of respondents reported engaging in game-related social media during Super Bowl 50. My guess is #KaleChips and #TofuWraps weren't trending.

8. Streaming not steaming. Yet.
Last year, only 7% of respondents reported streaming the big game on their TVs, computers, or smart devices. Everyone else watched via broadcast, cable, or satellite.
Super Bowl streaming hasn't picked up steam yet.
9. Commercials remain a main attraction
82% of viewing parties said they watch Super Bowl commercials, compared to 7% who ignore them, 5% who use them as a "break opportunity," and 2% who change channels or mute the commercials. 3% watch only the commercials.
Altogether, however, 90% say they enjoy watching Super Bowl commercials.
10. Halftime show a must-watch
Almost 3-of-4 viewing parties (72%) reported watching the halftime show during Super Bowl 50. 15% said they watched an alternative to the halftime performance on another channel. Think Puppy Bowl.
Field Agent Blog: Keep Up with the Retail Xs and Os
Stay up-to-date with the latest retail happenings—all the Xs and Os—by subscribing to the Field Agent Blog. You'll receive a steady stream of timely, relevant content on the ever-changing world of retail, conveniently delivered to your inbox.