Mystery Shopping the Magic: A Tour of Target's New Disney Stores
Magic mirror on the wall, show me photos and shopper sentiment from Target's new Disney stores.
You've probably heard. Target has partnered with Disney to open 25 "shop-in-shops," just in time for the holidays.
It's something we're seeing more and more: brick-and-mortar retailers teaming up to share real estate. Field Agent previously reported, for instance, on the Aldi and Kohl's partnership.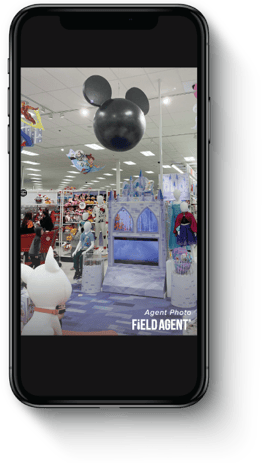 These Disney mini-stores offer a wide range of magical merchandise, from costumes to cookies, all adorned with beloved Disney characters. The shop-in-shops also contain several innovative features, including an entertainment center showing Disney movies and an interactive mirror where children can pose with digital props such as lightsabers and tiaras.
Field Agent sent real shoppers to 11 different Target-Disney shop-in-shops, where they took pictures of their favorite features and shared feedback about the shopping experience.
Their photos are directly below, but scroll further down to read their thoughts about this new partnership between Target and Disney.
Photo Gallery: Target-Disney Shop-in-Shops

Shoppers Share on Target-Disney Partnership
Of 11 agents who visited Target-Disney shop-in-shops, all said they were at least a little more likely to buy Disney products now that they are available in this new store format (four said they were "much more likely").
Agents widely praised the selection of toys, costumes, and other products, as well as the whimsical-looking TV playing Disney clips and music to entertain kids while parents shop:
"They have so many toys, clothes, and anything you could imagine from most Disney movies. I will be returning to Target just for the Disney store."

"I think it is a great push to advertise the new movie coming out, but there are also some over-priced items."

"Target opened this up at the right time of the year. Santa will fill lots of boys and girls lists at Target this year."
The reviews were not, however, without criticism. Some agents wished...
The Disney store was bigger
The space was less crowded and cluttered
The shelves were better stocked
But, overall, the response to the new "shop-in-shop" was overwhelmingly positive.
Disney and Target are not the only ones gearing up for the holiday season. Read all about how retailers and shoppers are planning their holiday shopping in Field Agent's free report, An Omnichannel Christmas. See the details below.
Free Download: 2019 Holiday Preview
From surveys with over 4,000 holiday shoppers, An Omnichannel Christmas, explores a wide range of questions, including:
Which retailers will be most popular this year for toys, electronics, clothing, and holiday groceries?

What role will brick-and-mortar, online, and omnichannel shopping play in gift purchases?

What gifts will be most popular this holiday season, among boys, girls, men, and women?

What foods, drinks, and sweets will celebrants purchase to enhance their holiday?
Covering almost 50 pages, it's our biggest and best holiday report yet.

Download it today. For free!!