The Omicron Survey: How is the Upsurge Impacting Shopper Habits?
With the recent upsurge in Covid cases, thanks in large part to the Omicron variant, this two-year-old pandemic just continues to evolve.
And shopper behavior is evolving right along with it.
But exactly how are shopper habits changing? And what lessons can retailers and brands learn from them?
Well, who better to ask than the shopper?
The Omicron Survey: Impact on Shopping Behavior
To understand the effects of the Omicron surge on shopper behavior, we surveyed 1,250 U.S. adults, January 28-31, through the Field Agent on-demand platform. We asked how the Omicron phase of the pandemic has influenced their habits as they shop for groceries and household consumables in stores.
*All survey respondents were U.S. adults at least 18 years of age and smartphone owners. The survey was executed through the Field Agent platform, January 28-31, 2022, with a non-random sample of shoppers. Demos: Gender - Female (74%), Male (26%), Age - 18-29 (25%), 30-39 (36%), 40-49 (27%), 50+ (11%); Household Income - < $35K (18%), $35-49K (15%), $50-74K (19%), $75-99K (15%), $100K+ (24%); Race/Ethnicity - Caucasian/White (63%), Latino/Hispanic (17%), African American/Black (14%), Other (6%).
Ready to see the results? Let's dig in...
1. Shopper habits, they are a-changin'
Due to the sharp increase in Covid cases, 42% of shoppers said they've changed their shopping habits - just in the last two months. That's noteworthy, considering how much "normal" shopping habits have already changed over the last two years.
Besides the pandemic, shoppers are adjusting to inflation, supply chain delays, labor shortages... Clearly, the evolution continues.
But let's talk specifics. How has that 42% (n = 522) actually altered its habits?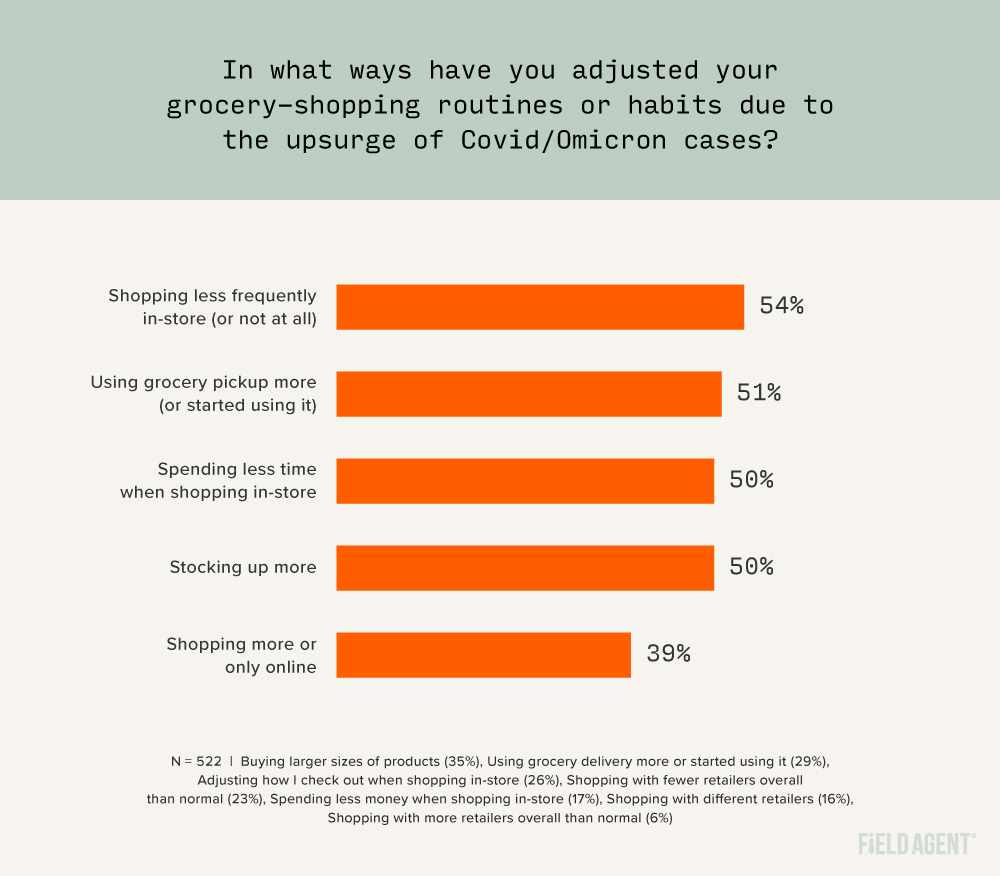 Top of the list? Fewer trips to the store.
This doesn't necessarily mean fewer purchases, however. Exactly half of shoppers who said they've changed their shopping habits due to the spike in Covid cases also said they're stocking up more on groceries and household consumables.
If you need a poster child for shopping habit change, look no further than online grocery pickup (OGP).
We've said it before, but the pandemic is accelerating the digital retail trend. Among shoppers who said they're modifying their habits, over half (51%) claim to be using OGP more frequently due to Omicron.
"I wear a mask and try to buy everything I need for the next two weeks. I try to buy most things online and pick up at the store."

Yesenia D., Killeen TX
And speaking of OGP...
2. It's happening online
When we asked shoppers who use grocery pickup services—937 of 'em—if they're using OGP more than they were a year ago, a full 56% said some version of "yes" (14% claimed to be using such services "much more").
Why such a significant uptick? We asked these more-frequent OGP users (n = 525) to explain themselves: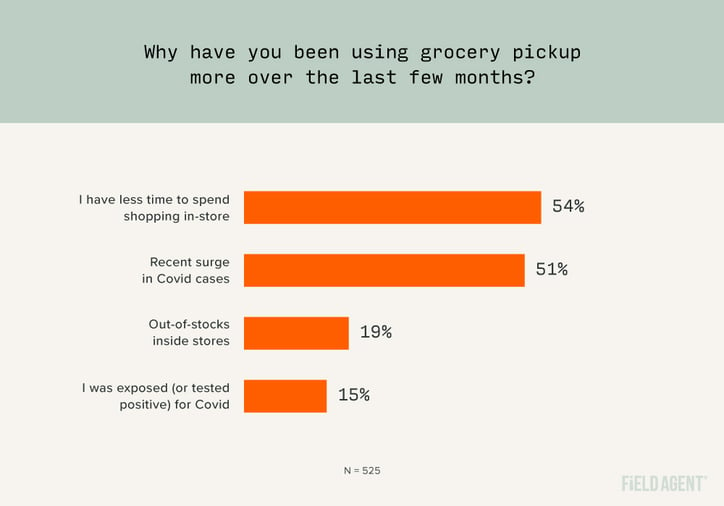 For many, the answer was simple: a sizable number of shoppers (54%) said OGP is convenient when they're too busy to hit the store—Omicron or no Omicron.
But it's not just busy bees using OGP more.
Of respondents using OGP more over the last few months, over half (51%) said they're simply reacting to rising Covid numbers, and 15% have found it a convenient option when they tested positive for the disease.
But whatever the reason, the numbers are clear: OGP is having a moment in the Omicron spotlight.
"I have shifted entirely to grocery pickup and am avoiding shopping in stores at all. I don't want to expose myself and my children during the surge."

Tom M., Pomona CA
3. Shoppers are practicing impulse control
Of course, when shoppers spend less time in stores, they're less likely to snag that tempting soda or eye-catching bag of chips. Impulse purchases may be suffering.
Indeed, 31% of shoppers said they're making fewer unplanned purchases in-store since Omicron first reared its ugly head.
But why? We asked this sub-sample (n = 374) to select the reasons they've been less likely to make unplanned purchases while grocery-shopping inside stores.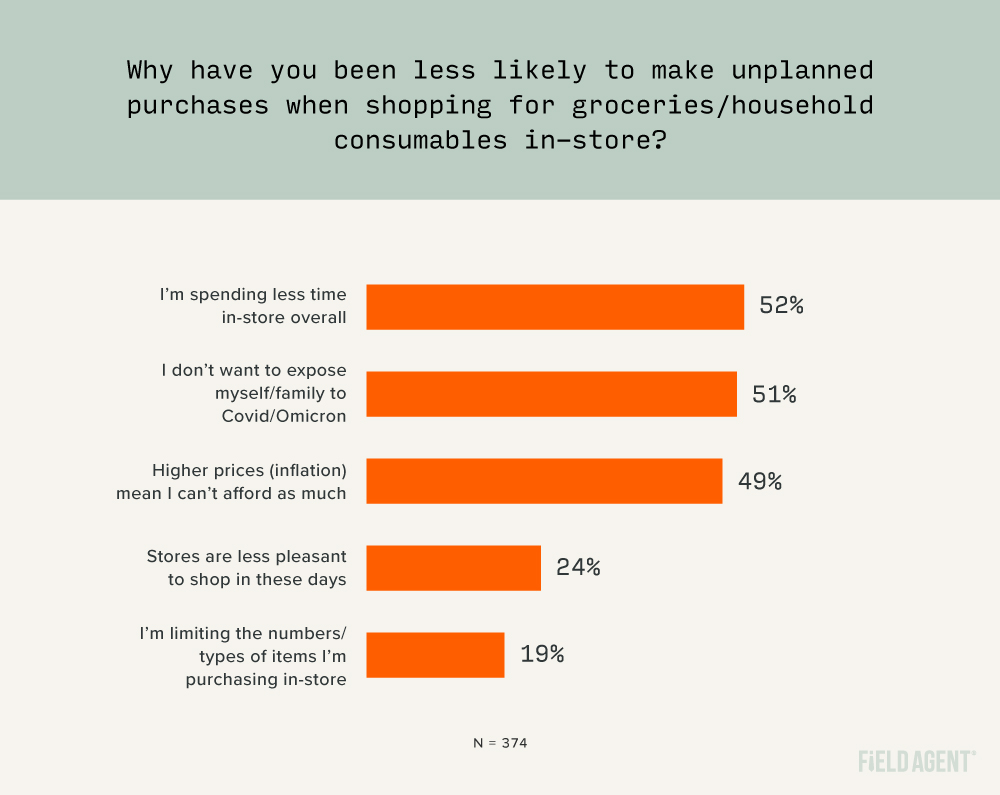 Shoppers are genuinely concerned about the risk of infection while in-store shopping.
And to make matters worse, inflation is pushing prices ever higher, putting "extra" purchases out of reach for many.
"I try to go at less busy times. Also because of inflation I've been really trying to spend smartly and shop the deals."
Denise G., Sun City West AZ
4. In-store, shoppers want to feel safe. Surprise, surprise
If all this sounds dire for brick-and-mortar retail, here's a silver lining:
Of those who are shopping less frequently in-store, 52% say they plan to return - as soon as Covid cases drop locally.
Others say they will return when they feel safer in stores, citing sanitized carts, tighter mask enforcement, and improved social-distancing execution as ways retailers can make them more comfortable.
"We go shopping at times when there are fewer shoppers present. We also wear masks and clean shopping carts prior to using."
Bobby B., Carrollton GA
We asked shoppers who claimed to be "extremely" or "very" concerned about the pandemic (n = 430) to tell us how retailers can make them feel safer as they shop.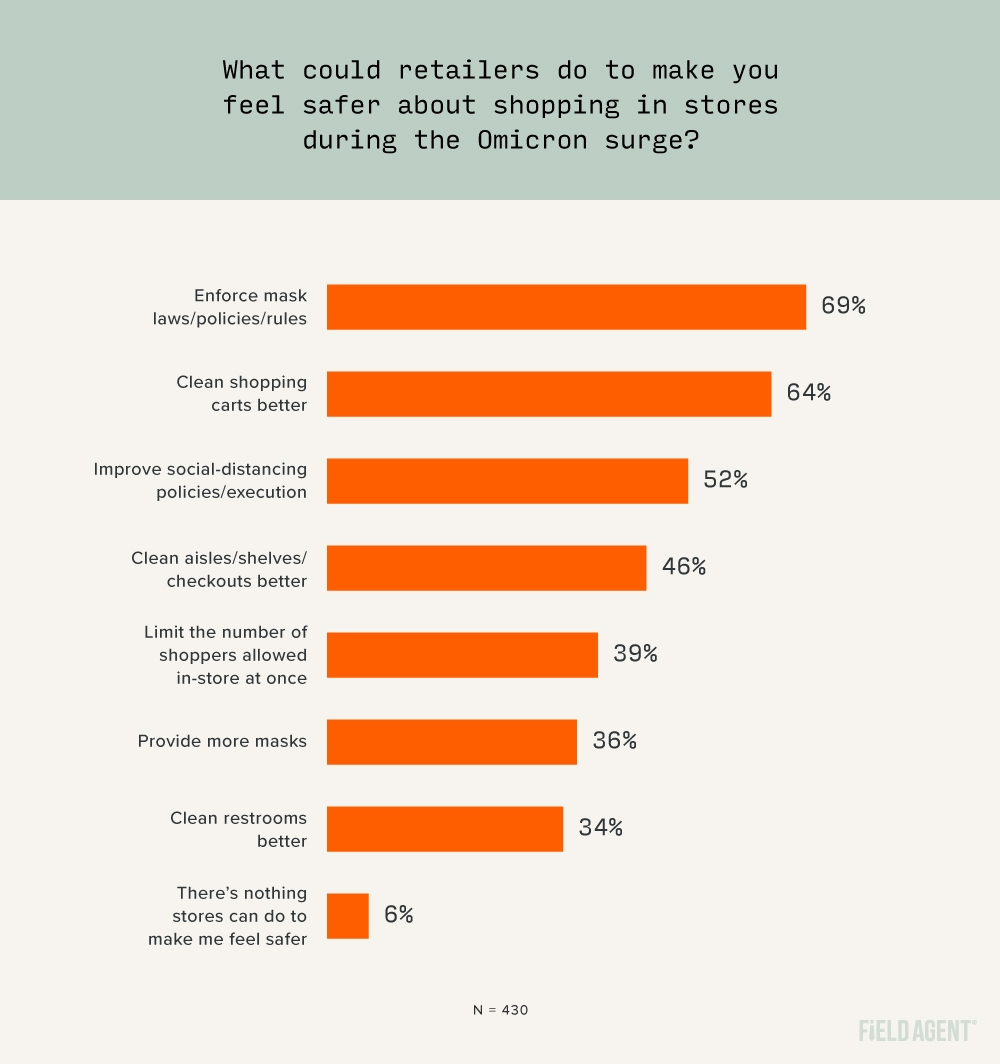 What can brands and retailers do?
When shopper habits change drastically, it's easy to feel overwhelmed. What's a company to do with survey results like those above? Here are three practical responses:
1. Stay close to your customers
Your customers have ever-changing needs, wants, and fears. Are you properly positioned to respond to them? Keep a finger on your shopper's pulse, and you'll earn their loyalty. A survey or a shopalong goes a long way toward understanding shoppers.
2. Invest in your online presence
Many shoppers are shifting spending online, and if your customers are reducing time in brick-and-mortar stores, it's time to up your online game. Take the time to optimize your online product pages, and invest in effective shopper feedback.
3. See stores as shoppers see them
When cautious shoppers do venture into stores, they don't want to see empty shelves or incorrect prices. By auditing your presence in-store, you reduce friction and give frazzled shoppers a break. They'll thank you for it.
4. Help shoppers feel safe
If you're a retailer, one of the best ways to earn goodwill with cautious shoppers is to show them you care about their safety.
Are your carts and checkout areas being disinfected? Are restrooms clean? Are safety policies being enforced? Relieve shopper anxiety by responding to their needs.
Keep Up with Your Customers
From pandemics to inflation, supply chain issues to stimulus checks...events often conspire to greatly impact shoppers and their shopping habits. And, to keep you from growing your business at-retail.
The Field Agent Marketplace has a solution for every retail challenge. Get visibility in-store, gather relevant insights, drive trial of your products, merchandise shelves, and more.
Explore the Field Agent Marketplace today!