Clocking OGP: Which Retailer Has the Fastest Pickup Time?
Few retail developments have shown the promise and transformative potential of online grocery pickup (OGP).
A February Field Agent survey of 1,646 U.S. adults revealed that 64% have used OGP at least once, and, of these (n = 1,061), 47% use the service once a month on average. The full results from this survey are available in Field Agent's free report, "Inside OGP: Answers to 7 Pressing Questions about Online Grocery Pickup."
But all that was before the coronavirus outbreak in the United States.
In a separate survey of 1,509 U.S. adults conducted March 25, 2020, 14% of shoppers said they have started using OGP, or started using it more frequently, as a result of the coronavirus outbreak. It's hard to imagine the pandemic will do anything but entice even more shoppers to use the service—and more often.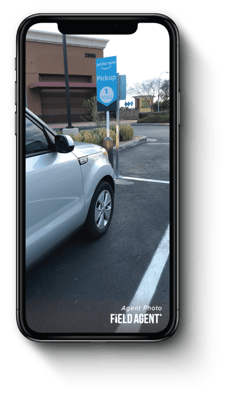 Free Guidebook: 9 Coronavirus Challenges At-Retail...and How to Overcome Them
Yet OGP remains surrounded by a multitude of questions. Questions about the online experience, produce freshness, and customer service.
And while our "Inside OGP" report addresses several such questions, for now, let's consider this one:
Which OGP retailer has the fastest pickup time?
Waiting, after all, can be a real drag on the customer experience.
A Contest of Seconds: OGP Delivery Times
Between January 3-February 6, 2020, just prior to the wide-scale coronavirus outbreak in the U.S., the Field Agent platform enlisted 84 agents to make a multi-item, grocery purchase for curbside pickup through one of four retailers: Amazon/Whole Foods, Kroger, Super Target, or Walmart. Agents ultimately mystery shopped/audited 21 pickup operations for each of these four retailers, capturing photos, answering questions, and, yes, recording times along the way.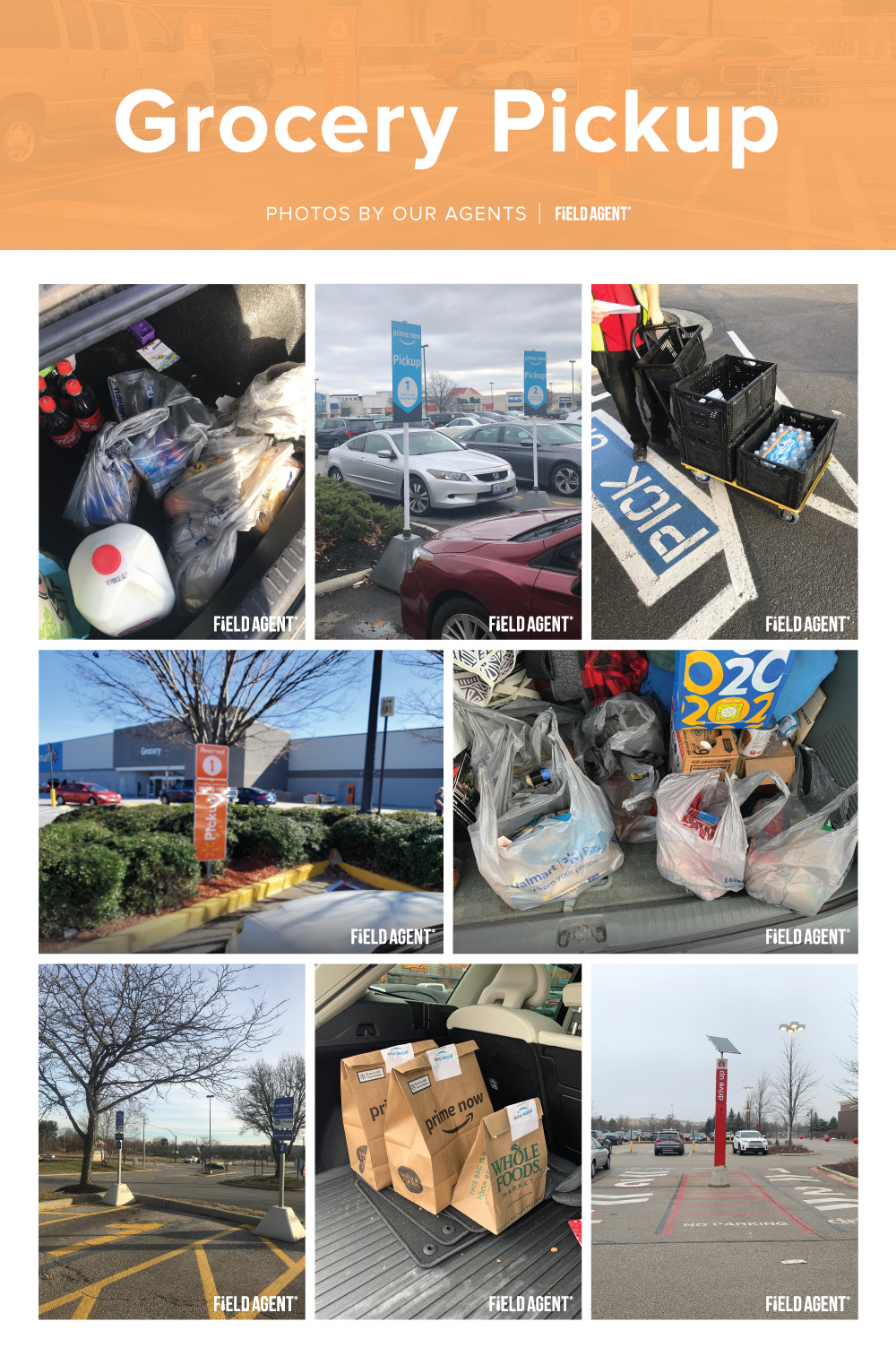 Here's how it worked. For their assigned retailer, agents made a minimum purchase of groceries and/or household consumables, designating the purchase for curbside pickup. At all retailers but Target, which does not presently offer fresh, cold, or frozen groceries through its pickup service, agents were required to buy at least three items of fresh produce. Field Agent did this to collect OGP freshness ratings on produce, which you can read about in the "Inside OGP" report.
In the Field Agent mobile app, agents started a timer the second they checked-in at the pickup site, stopping the timer the moment their order arrived at their vehicle but before the purchase was loaded. Field Agent then tallied the times.
So, who had the fastest pickup time?
Results: And the Winner Is...
Well, it depends.
Keep in mind: Target doesn't currently offer fresh, cold, or frozen groceries through its Drive Up service. Consequently, orders through Target can remain right at the customer service desk until a guest calls-in from the parking lot.
OGP handling and delivery are thus greatly simplified at Target.
It should also be noted that minimum purchases vary from one retailer to another: Target = $20; Walmart = $30; Kroger and Amazon/Whole Foods = $35. This, too, could influence the speed of delivery, particularly in the case of Target and its relatively low minimum purchase.
Target did, in fact, turn in the fastest pickup time—and, given the caveats above, not surprisingly by a long shot. Yet, even with these disclaimers, the check-in-to-delivery time at Super Target, clocked at 1.1 minutes, was impressive.
As one Target guest said, "The speed of order readiness and the speed which it was brought out to the car was very fast." Indeed, 86% of Target OGP users indicated they felt their order was delivered to their vehicle faster than expected, 15 percentage points higher than second-place Kroger (71%).
But what about the three retailers—Amazon/Whole Foods, Kroger, and Walmart—that extend their OGP services to include fresh, cold, and frozen groceries—you know, groceries that require greater care with respect to handling and delivery?
As you can see above, Kroger (4.1 minutes) and Walmart (4.2 minutes) were neck-and-neck. Whole Foods, which fills orders placed through Amazon's Prime Now service, recorded an official time of 4.6 minutes.
Overall, 84 pickup times across four retailers clocked an average time of 3.5 minutes.
If that feels subjectively fast to you, you're not alone. Sixty-seven percent of participating agents indicated their check-in-to-delivery time was faster than they expected. In fact, 39% said much faster than expected.
So, at this point in time, curbside OGP appears to be outpacing users' expectations in terms of speed and wait times. (At least, it was prior to the coronavirus outbreak.)
Yet, speed is just one dimension of OGP. What about freshness, customer service, online experiences, and the like? For insights into these and other matters, download our free report, "Inside OGP" (below).
Special Report: Inside OGP
Ready to go inside the shopping trend transforming how so many people shop for groceries?
Based on mystery shops of 84 pickup operations across four major retailers, Field Agent's free report, "Inside OGP: Insights into 7 Pressing Questions about Online Grocery Pickup," offers a data-driven, shopper-centered look at the OGP operations of Amazon/Whole Foods, Kroger, Target, and Walmart. The report deals with questions like:
What do OGP users think about the online shopping experience?
How fast are OGP deliveries?
What do OGP users think about pickup sites and personnel?
Are OGP users happy with the quality of their fresh produce?
Download this free report today, and go inside OGP today.
Mobile Research, Retail Audit, Mystery Shopping, Omnichannel, Grocery