Display Gallery: 33 Valentine's Product Displays You'll Totally ❤️
Valentine's is all about the love.
And, as you've probably noticed, we at Field Agent LOVE product displays. Especially all those fun, creative, seasonal displays.
For major shopping seasons throughout the year, Field Agent audits 200 stores across 49 different retailers—in search of seasonal, grocery-product displays.
We previously audited back to school, football kickoff, Halloween, Thanksgiving, Christmas, and the Super Bowl.
Below we share some of the loveliest product displays of the 2020 Valentine's season. They're sure to get your heart racing.
We'll soon add these photos—and many others—to our interactive, seasonal display gallery, where retail professionals can keep an eye on display activity across multiple shopping seasons. It's an amazing tool.
But, now, on with the show. Here are some of the best grocery-displays of Valentine's 2020. XOXOXO
Display Gallery: Valentine's 2020
The photos below were captured entirely by agents using the Field Agent mobile app. All audits took place this weekend, at 200 stores across 49 major retail chains.
Below are photos of name brand displays. Scroll further down for some non-branded, store displays.

In addition to the brand name displays above, agents also captured photos of non-brand, store displays. Here's a selection of what they found...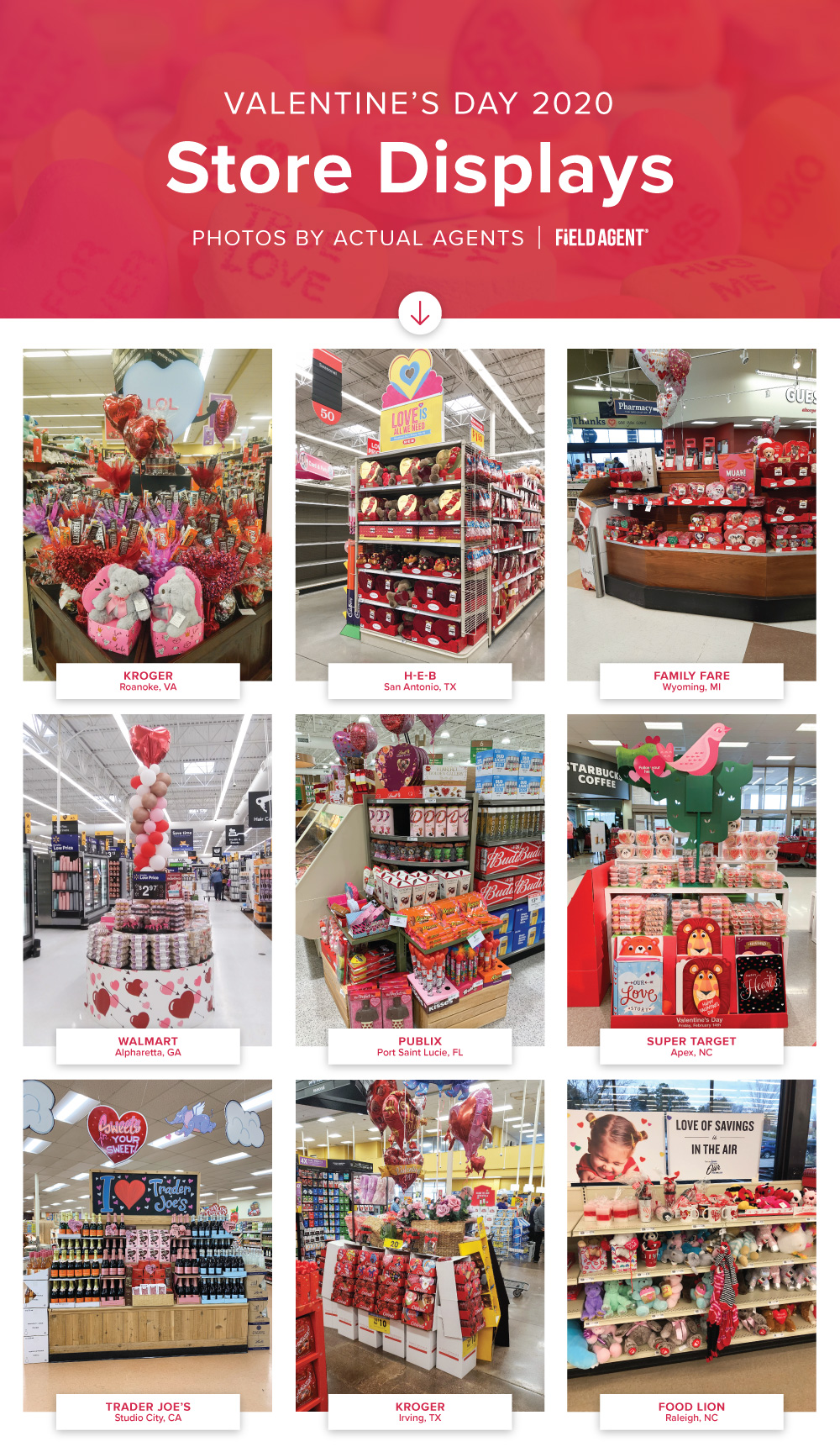 Ready to see more seasonal grocery displays? Sign up for Field Agent's free Seasonal Display Gallery (see below).
The Seasonal Display Gallery
If you like product displays, then you'll love our Seasonal Display Gallery. This free resource helps retail professionals keep a watchful eye on seasonal, grocery displays inside stores across the country.
Click below to see it for yourself!