Follow-Up Survey: How is COVID-19 Changing Shopper Behavior?
Update on 3/2/21: Some data points in our original post were inaccurate. They have since been corrected, and we apologize for any inconvenience. For questions, please contact pr@fieldagent.net.
In Late March, Endcaps & Insights published an article examining changes in shopping behavior following the widespread outbreak of COVID-19 in the U.S. The article was based on a survey of 1,509 shoppers.
"People are working differently, playing differently, communicating differently, and, yes, shopping differently," the article read. "So, now, companies across the retail industry are scurrying to understand how COVID-19 is changing shopper behavior."
The article went on to detail specific changes to shopper behavior in the wake of the pandemic.
Last week, approximately two months after the original article hit Endcaps & Insights, we followed up with 1,010 of the original 1,509 respondents to understand how, if at all, things have changed.
Let's dig in.
Free Guidebook: 9 Coronavirus Challenges At-Retail...and How to Overcome Them
Followup Survey: The Coronavirus & Shopper Behavior
May 26-28, Endcaps & Insights used the Field Agent on-demand platform to conduct a follow-up survey with 1,010 shoppers*. The questionnaire was exactly the same as the original survey administered to 1,509 respondents in March.
*All survey respondents were U.S. adults at least 18 years of age and smartphone owners who participated in the original March survey of 1,509. The survey was conducted exclusively through the Field Agent app, May 26-28, 2020. Demos: Gender - Female (69%), Male (31%), Age - 18-24 (3%), 25-34 (23%), 35-44 (36%), 45-54 (24%), 55-64 (12%), 65+ (2%); Race - Caucasian (78%), Other (10%), African American (8%), Latino/Hispanic (5%); Household Income - < $35K (23%), $35-49K (17%), $50-74K (24%), $75-99K (16%), $100K+ (19%).
Both the original and follow-up surveys sought to understand how shopping behavior is changing in an environment influenced heavily by concerns about the spread of COVID-19.
Below we offer just 6 insights from the follow-up survey, drawing comparisons with the results from two months ago.
Coronavirus Insights: Shopping Changes May 2020
1. 77% of May respondents said their shopping behavior has changed in one or more ways since the outbreak
Both surveys, March and May, asked respondents, "Has your shopping behavior/routine changed in one or more ways since the coronavirus outbreak in the United States?
In March, 82% said "yes," showing a slight decline to 77% in last week's survey.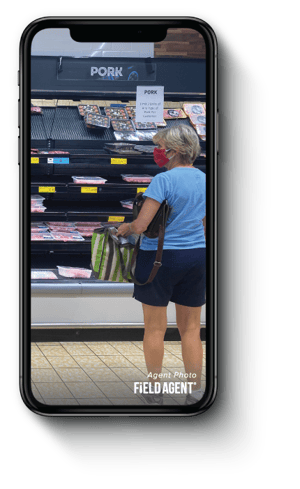 Since some states are opening back up at a brisker pace than others, some respondents, it should be noted, have already reverted back to their pre-coronavirus shopping behaviors and routines.
As one respondent commented, "Early on, my habits had changed. As people were hoarding goods, I found myself shopping more often to find items. Now that the hoarding has stopped and my state is reopened, I've gone back to my normal habits" (emphasis added).
Thus, some respondents may have answered "yes" on the March survey but "no" on the May survey, since they're already back to what they consider normal shopping patterns.
2. Some of the hyper-vigilance may be starting to wane, but other changes are holding steady
Back in March, we first administered a qualitative, free form survey to 300 shoppers, asking them to describe up to five post-outbreak changes to their shopping behavior. From these responses, we identified some 50 themes mentioned by more than one respondent that then became choice options in the larger survey of 1,509.
The results were detailed in the original March article.
Last week, we followed up with 1,010 of these 1,509 respondents, presenting the same 50 themes/choice options again.
Most of the changes itemized in the original article have held steady between March and May. For instance, in March, 63% of respondents said they were making fewer store trips thanks to the pandemic, compared to 64% in May. Likewise, 62% of March respondents, and 64% of May respondents, said they're consciously staying at a distance from other shoppers in stores.
Not much change in either case.
However, last week's follow-up survey did identify several changes to shopping behavior that have appreciably decreased over the last two months. The graph below displays some of the prominent behavioral changes identified in the March survey that registered decreases of at least five percentage points on the May survey.
The results could suggest that some of the hyper-vigilance manifested by shoppers immediately after the coronavirus outbreak may be starting to wear off. Activities like stocking up, being less brand conscious, and buying canned foods might be waning.
At this point, shoppers may feel more secure about the availability of food, and thus see less reason to stock up, purchase shelf-stable foods, and generally "prepare for the worst."
3. 47% say their shopping behavior has changed in at least one permanent way since the outbreak, up 12 points from two months ago
Since the start of the pandemic, there's one question we've heard from retail professionals more than any other: "Will the outbreak permanently change how people shop, or will their shopping return to normal?"
In March, just 35% of respondents said their shopping had changed in one or more permanent ways. But, toward the end of May, that number was up to 47%, an increase of 12 percentage points since March.
It seems more shoppers in our sample are coming to the conclusion they'll never been able to go back to "normal" in at least one way.
4. Shoppers may be permanently souring on crowded stores and store trips, while sweetening to grocery pickup
Of course, the logical next question may be: How do shoppers expect their behaviors to change permanently?
The chart below shows the percentage of respondents, in both March and May, who identified themselves with various permanent changes.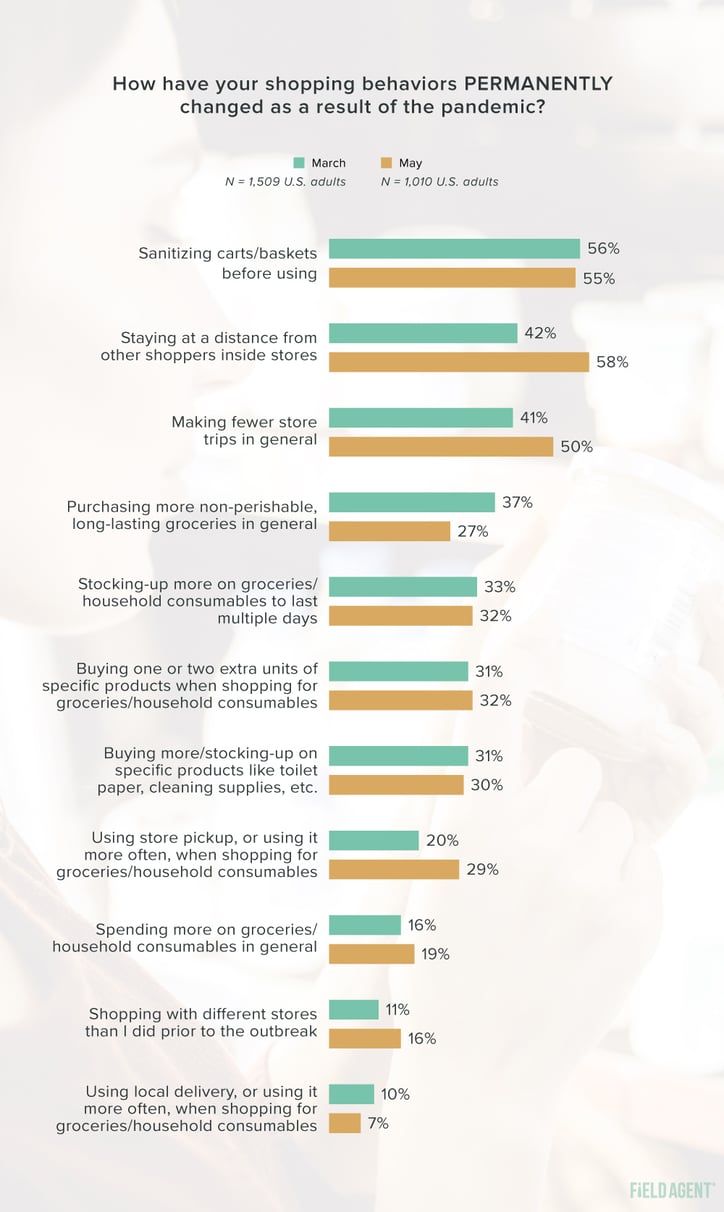 Some noteworthy observations:
In the May survey, 58% of respondents said they plan to stay a safe distance from other shoppers indefinitely, up 16 percentage points from the March survey.
50% of May respondents now consider fewer store trips a permanent change to their shopping behavior, up from 41% in March.
29% of shoppers in the May sample said they plan to use, or use more often, grocery pickup even beyond the pandemic, an increase of 9 percentage points from the March survey.
If this survey is an indication, some shoppers may never again be as friendly to the idea of crowded stores and frequent store trips. Online grocery shopping, on the other hand, may get a permanent boost.
See Also: Free Inside OGP report, with a bonus section on grocery pickup in the age of coronavirus
5. Respondents still say they're shopping less frequently inside stores
Back in March, Endcaps & Insights reported that 70%, 51%, and 40% of respondents said they were shopping less frequently in stores for attire, groceries, and household consumables, respectively.
Two months later, these numbers really haven't budged.
Last week, on the follow-up survey of 1,010 shoppers, 71%, 48%, and 39% reported shopping less frequently in-store for attire, groceries, and household consumables. Again, respectively.
6. But shopping online has seemingly become more popular
While the numbers for in-store shopping look almost identical to what we found in March, the follow-up survey may suggest that, as the pandemic rolls on, shopping online is only increasing in popularity.
For both March and May, the chart below displays the number of respondents who say they're shopping online/in-app more frequently across three categories.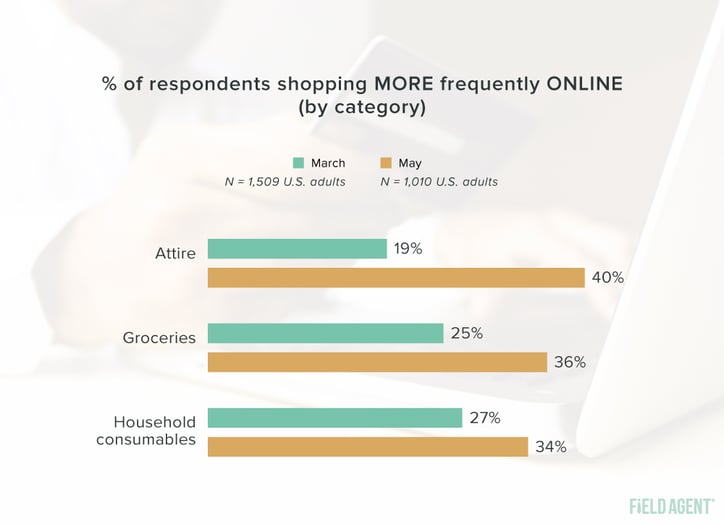 In just two months' time, we've seen a jump of 21 percentage points among shoppers who say they're shopping online/in-app more frequently for clothing, footwear, and other attire. Shopping online for groceries has witnessed a bump of 11 percentage points between March and May.
On the whole, this follow-up survey, administered two months after the original, may suggest at least a few important takeaways:
It could be that some, certainly not all, of the hyper-vigilance shoppers showed immediately following the outbreak may be starting to wear off, yet...
Shoppers by and large continue to show major departures from their pre-outbreak shopping patterns, and...
More shoppers are realizing that some of these shopping changes—e.g., avoiding crowded stores, online grocery shopping—may be permanent in nature, even as...
Online shopping becomes more popular as the pandemic rolls on
But what exactly the future holds for retail is uncertain. Will the coronavirus continue to spur changes to shopper behavior? Will shoppers revert back to normal shopping patterns? What is the "new normal"?
Whatever happens, Endcaps & Insights will continue churning out insights and information on the questions that matter most to retail professionals—through COVID-19 and beyond. Subscribe below to never miss an article.
Follow-up: read the third article in this series, which covers one year of COVID-19 shopper habits.
Subscribe to Endcaps & Insights
Endcaps & Insights is where retail headlines come to life through insights, photos, and video. Subscribe below to stay up-to-date on the latest happenings across the retail industry.