Focus on Shoppers: How Americans Shop Online for Groceries
All the usual purchases were in the shopping cart: bananas, cucumbers, salad kits, protein shakes, and, whew, don't forget that air freshener. Roxanne also made room for one of her favorite hot, ready-to-eat meals: H-E-B's stuffed salmon with fresh broccoli. Delicious.
The total rang up to a reasonable $78.39, and, as normal, Roxanne simply put it on her card.
So far, just your typical, everyday grocery-shopping trip.
Only, for Roxanne, there was no trip.
She made all the day's purchases online—with the groceries sold through H-E-B but filled and delivered by Shipt.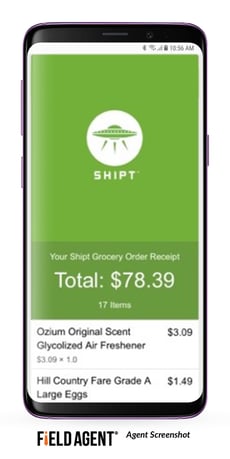 Roxanne, a 38-year-old mother of two from San Antonio, Texas, is just one of a growing number of Americans turning online for basic purchases of fresh groceries and household consumables (HC) like cleaning supplies, paper products, and personal care items.
With grocers big and small aggressively developing their in-store and curbside pickup capabilities, and third-party services like Instacart, Postmates, and Shipt bringing same-day, grocery-delivery to the masses, it's no wonder more and more shoppers like Roxanne are spending their grocery dollars online.
"Such a convenience for busy families," Roxanne said after completing the day's online grocery-purchases. "This service has decreased my stress level and anxiety…"
Notwithstanding the heightened convenience, and despite the prevalence of retailers and third-party services offering fresh groceries via the web, shoppers like Roxanne are still in the minority.
One crowdsourced survey of 9,088 U.S. adults found only 18% of respondents purchase fresh groceries online, while just about a quarter (26%) go online for packaged groceries.1
But with online grocery-shopping becoming more convenient and common by the day, how long can such shoppers realistically remain in the minority?
A tipping point may, thus, be on the horizon, when online grocery-shopping becomes the rule rather than the exception. The headlines, at least, suggest many retailers and services are gearing up for this possibility.
The Question of Online Grocery-Shopping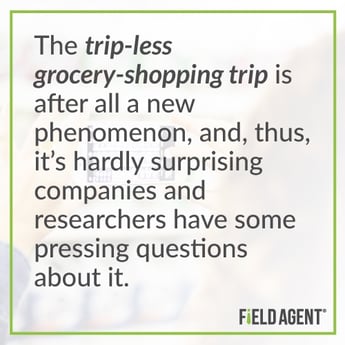 We've had over 100 years to examine and understand how consumers shop for groceries in stores.2 Not to say we've always been terribly deliberate about it, but, nevertheless, much ink has been spilt describing traditional, in-store shopping trips.
But shopping online for groceries and "everyday" household consumables is, well, presently a bit of a mystery.
To this end, Field Agent, a retail insights firm, conducted a series of studies earlier this year exploring the how of online grocery-shopping.
Just how do shoppers do it?
Some of these insights formed the basis of Field Agent's special report,
As this article will now summarize, Field Agent's report illuminated essential characteristics of both online grocery shoppers and shopping.
Meet the Online Grocery Shopper
Who, exactly, is the online grocery-shopper?
A March 2018 screener of 9,088 members of the Field Agent mobile panel found that 1,848, or 20%, purchase at least three of the following four categories online:
Fresh groceries
Packaged groceries
Household cleaning supplies
Personal care supplies
Consequently, this subset of 1,848 shoppers represents a highly "connected" type of shopper: those who purchase both groceries and household consumables online.
In short, with respect to the diffusion of online grocery-shopping through the larger population, these shoppers constitute the early adopters.
They're pioneers.
So, given their significance, what else do we know about them?
1. For most, online grocery-purchases are still the exception
Consider this: Of the 1,848 online grocery and household consumable shoppers analyzed by Field Agent, only 16% could say they actually buy more than half of their groceries/HCs online.
Only 16%.
Three-in-four (74%) online grocery-shoppers, however, purchase more than 10% of their groceries online.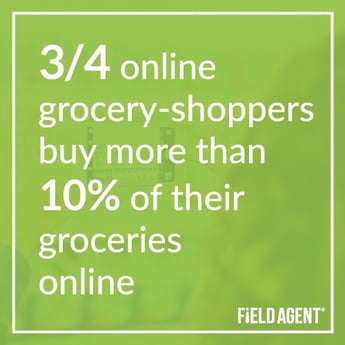 Consequently, even among those who presently shop on the web for groceries/HCs, online purchases have by no means negated the traditional, in-store shopping trip.
2. They spend their online grocery dollar primarily with some familiar names
This same subset (n = 1,848) spends much of its digital grocery dollar on Amazon.com and Walmart.com. Eighty percent reported purchasing groceries/HCs through Amazon.com and 71% from Walmart.com. Forty-two percent said they make such purchases through Target.com.
Moreover, 71% reported having a standard Amazon Prime membership and 6% a Prime membership with the Fresh add-on.
3. In-store pickup is the go-to retrieval method
How do these shoppers (n = 1,848) actually obtain their grocery/HC online purchases?
At 72%, in-store pickup was the most common method in Field Agent's screener, more popular than package delivery (68%), curbside pickup (47%), and local, "fresh" delivery (16%).
Globally Speaking: U.S. Shoppers by Comparison
Yet, for all these characteristics, online grocery-shoppers appear to be less commonplace here in the States than some other major markets.
Consider that 45% of shoppers surveyed in the United Kingdom reported going online to purchase fresh groceries like milk, bread, and eggs.3 Nearly the same percentage of Australians, 42%, could say the same.
By comparison, at 18%, U.S. shoppers—and German shoppers (7%) for that matter—aren't as, let's say, digitally evolved in their grocery-shopping habits as Brits and Aussies.
Not yet, anyway.
How Americans Shop Online for Groceries
Among the studies conducted by Field Agent to understand the online grocery-shopping behaviors of Americans, the firm conducted post-shop surveys with 451 shoppers, immediately following a single online purchase of at least $30 of groceries and/or HCs. Roxanne, featured in the vignette above, was among these shoppers.
These purchases, Field Agent stipulated to participants, must have been made through a grocer with local pickup and/or fresh-delivery capabilities. Thus, the sample was comprised of individuals using, for instance, Walmart Pickup, Kroger-Instacart delivery, AmazonFresh delivery, Jet Fresh delivery and several other retailers or retailer-service combinations.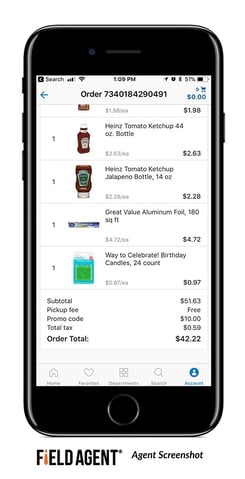 Participants were required to submit proof of purchase in the form of one or more screenshots/photos, and Field Agent scrutinized each submission to ensure all participants were fresh off an "online grocery-shopping trip."
This effort, which is documented more completely in
shed light on several interesting features of the online grocery-shopping experience, some of which are detailed below.
It should be stressed, however, that the select insights below, as well as those in Field Agent's report, are based exclusively on a single online shopping experience. In other words, participants were asked only about the purchases they made just prior to the post-shop survey.
1. Fresh produce is both a common purchase and a common delayed purchase
Fresh produce, along with chilled dairy products like milk, cheese, and yogurt, were the most commonly purchased items among Field Agent's 451 online grocery-shoppers. Both categories were purchased by 65% of participants, compared to 38% who purchased salty snacks, 34% fresh meat, and 33% canned goods.
So, clearly, fresh produce is a popular online purchase among online grocery-shoppers.
Yet, get this: Among those at least moderately likely to make a store trip to "complete" their online grocery-shopping (n = 352), 70% said they expect to purchase, yep, fresh produce on the follow-up trip.
Why? Well, the top reasons for making an additional store trip included, for example:
Need to buy items from a different retailer - 37%
Dislike buying certain items online - 33%
Forgot something while shopping online - 24%
Some items unavailable online - 22%
Consequently, each of these could offer partial explanation as to why some online grocery-shoppers put off buying some or all of their fresh produce until they're inside a store, yet none of these reasons appears to offer the whole explanation.

2. Impulse purchases aren't necessarily a thing of the past
As settings for purchasing groceries/HCs, websites and stores of course differ in marked ways. For instance, without traditional checkout lanes, endcaps, and product displays, websites seem less poised to take advantage of impulse purchases (i.e., purchases a shopper doesn't plan to make).
To be sure, planning, in one form or another, is commonplace among online shoppers purchasing groceries/HCs.
Field Agent found, for instance:
57% of online grocery-shoppers inventoried kitchen cabinets before going online
56% took requests from household members
55% made a shopping list
20% researched meal recipes
In other words, similar to brick-and-mortar shopping, most entered the digital shopping environment with a fairly established idea of what they planned to buy.
Hence, the question at hand: Do online shoppers deviate from these plans to make impulse purchases?
In Field Agent's study, 65% of the 451 online grocery-shoppers reported making at least one unplanned purchase during their digital shopping "trip." Within this subset (n = 294), 31% purchased fresh produce on impulse, while 23% unexpectedly bought salty snacks, 18% frozen meals, and 14% chocolate/candy.
So although websites may not be built (yet?) to accrue large numbers of impulse grocery-purchases, such purchases can and do occur online.
3. Overwhelmingly, shoppers are satisfied with the online grocery-shopping experience
Whatever retailers and third-party services are doing, Field Agent's post-shop surveys with 451 online grocery-shoppers suggest these companies are generally on the right track.
Indeed, 91% of participants were either completely or very satisfied with their online shopping experiences.
"I am 100% satisfied with my online shopping experience with Instacart."

~ 39-year-old Instacart delivery user, Pflugerville, TX
"Love curbside pickup! Super easy and convenient for those on the go!"

~ 34-year-old Walmart pickup user, Santa Clarita, CA
Of course, online grocery-shoppers also have plenty of suggestions for retailers and delivery services.
Among the free-form remarks collected by Field Agent, top shopper suggestions included (in no particular order):
Improving how substitutions are made and communicated
Accepting manufacturer coupons
Paying greater attention to the freshness of produce
Offering a print receipt (mainly to use on receipt apps like Ibotta)
Providing more and/or more flexible pickup/delivery times
Improving communication with personal shoppers
Providing more items and brands online
Allowing shoppers to use their own bags/eliminating plastic bags
Offering the same price online and in stores
Taken together, then, today's shoppers seem enthusiastic and pleased with the direction of online grocery-retail, yet the majority is also quick to point out one or two inconveniences, perhaps preventing them from making even more frequent purchases online.

Online Groceries: Transformation Big & Small
A seemingly profound transformation is underway in how Americans shop for groceries. And, yet, this article suggests many of the behaviors often associated with grocery shopping—impulse purchases, shopping lists, etc.—could go on much like they always have.
Which makes the rise of online grocery-shopping feel at once like a big but small, small but big transformation.
And true to any transformative season, it feels like everyone—companies, researchers, and, yes, even the shoppers themselves—is simply trying to catch up.
Footnotes:
1Field Agent screener of 9,088 U.S. adults at least 18 years of age, March 2018. Gender: female (66%), male (33%); Age: 18-24 (9%), 25-34 (30%), 35-44 (33%), 45-54 (19%), 55-64 (8%), 65+ (2%)
2According to Michael Ruhlman, author of "Grocery: The Buying & Selling of Food in America," the first grocery stores appeared in the United States during the late nineteenth and early twentieth centuries
3International figures are based on a series of surveys conducted by Field Agent, February-March 2018. United Kingdom: N = 1,535; Australia: N = 500; Germany: N = 500